DreamWorks Animation SKG, Inc (NASDAQ:DWA) is an animation film studio, the company monetizes its animated films and characters through theatrical releases, home-video sales, television licensing, television specials, merchandising, and licensing.
At first glance, DreamWorks Animation doesn't appear to be mispriced. As you can tell when you compare the company's P/E ratio to the ratios of competitors like Walt Disney Co (NYSE:DIS) and Time Warner Inc (NYSE:TWX), the three trade around the same level. However, the creator of the Shrek franchise deserves a closer look and here's why: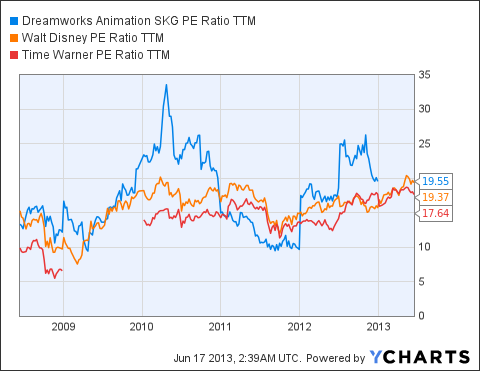 DWA PE Ratio TTM data by YCharts
DreamWorks is a much smaller company than its direct competitors. Its limited release schedule of new productions, and unpredictable competition from releases by larger studios, create lumpy earnings results.
The studio generates about five films every two years, if one bombs that's a big deal in the eyes of investors. A movie that fails for Disney will drag on results, but because of the greater diversification of productions, impact on annual results is dampened.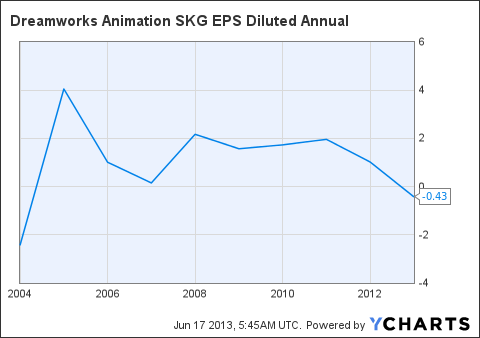 DWA EPS Diluted Annual data by YCharts
So Why Should You Be Interested In DreamWorks?
The pay TV ecosystem is developing fast with battles raging between Amazon (NASDAQ:AMZN), Netflix (NASDAQ:NFLX) and Google (NASDAQ:GOOG) owned YouTube. What shape digital distribution is going to take remains to be seen. One thing is for sure: An improved distribution platform for digital high quality content, like DreamWorks Animation produces, is a positive development for the company.
DreamWorks is in solid financial shape. The company has $76 million in cash and $165 million of outstanding long term debt.
DreamWorks Co-founder and CEO Jeffrey Katzenberg is held in high regard. Katzenberg ran Disney's animated film studio before leaving to form DreamWorks. He doesn't hold as many of the shares as I would like though but has done a great job at DreamWorks as far as production value goes.
Insiders are buying. Ever since reading Peter Lynch classic: One Up On Wall Street, I always check what insiders are doing. They have been buying over the last year, and it's not just the CEO grabbing some shares but a wide range of key insiders participate. As a group they increased their holdings in DreamWorks by 22.38% TTM.
The company has an excellent track record of producing blockbuster movies and consequently a strong library of franchises, the company has released a total of twenty-six feature films, including the franchises of Shrek, Madagascar, Kung Fu Panda, and How to Train Your Dragon. As of June 2013, its feature films have made $11 billion worldwide, with its $430 million average gross surpassing all other studios besides Pixar ($595 million). Three of DreamWorks Animation's films-Shrek 2, Shrek the Third, and Shrek Forever After-are among the 50 highest-grossing films of all time, and sixteen of the films are among the 50 highest-grossing animated films
DreamWorks Valuation
After having looked at the library of hit movies, let's take a second look at the P/E ratios of DreamWorks and its competitors. DreamWorks TTM is actually negative and the acquisition they made in 2012 will remain weighing on EPS. However, if we look at enterprise value / cash flow the picture is a little different, and DreamWorks is suddenly looking much more attractive.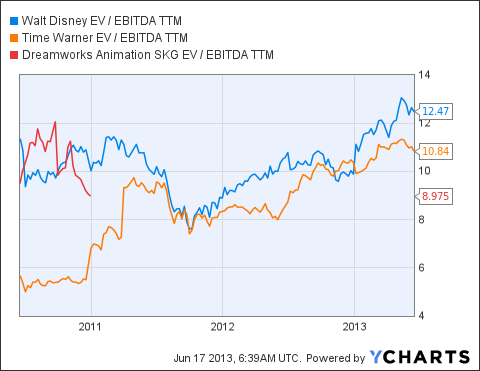 DIS EV / EBITDA TTM data by YCharts
It's a shame their capital structure puts control of the board in the hands of a few shareholders, otherwise DWA could be a very interesting speculative play on a takeover.
Yet, this is still an opportunity to buy shares in a great company at a reasonable price. There is definitely downside risk, which is very hard to avoid when buying media companies, as notoriously lacking in tangible assets as they are. Ultimately, the risk/reward ratio is asymmetric in favor of reward, and that's why I like an investment in DreamWorks at the current price.
Disclosure: I have no positions in any stocks mentioned, and no plans to initiate any positions within the next 72 hours. I wrote this article myself, and it expresses my own opinions. I am not receiving compensation for it (other than from Seeking Alpha). I have no business relationship with any company whose stock is mentioned in this article.