I normally don't invest in stocks for a quick gain, rather I look for investments trading at a significant discount to what I believe intrinsic value to be. In the case of Terex (NYSE:TEX), I believe both parameters to be in play today: a good short term trade, and long term investment.
On June 17, 2013, Terex lost about 10% of its market capitalization, or $350 million, after indicating to investors that it is reducing its full year 2013 earnings guidance to $1.90 - $2.10 from $2.40 - $2.70.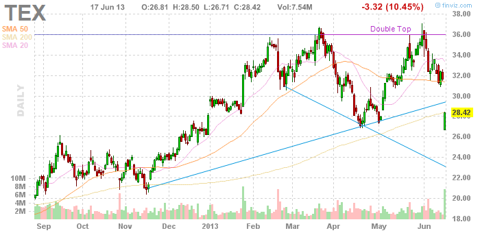 Click to enlarge
The Business:
Terex is a capital goods maker, with a full suite of products in the following segments: (1) aerial work platforms; (2) construction; (3) cranes; (4) material handling & port solutions; and (5) materials processing.
I suspect one reason for the earnings warning was respect to its operations in Western Europe where it does significant business in certain of its segments, particularly cranes (after its acquisition of Demag in late 2011).
The Investment Thesis:
So, you ask, why should you be bold when others are fearful with respect to Terex's future? I mean, Europe is in shambles, isn't it?
Changing Capital Structure
Since the fallout and recovery of its business since the peak of the housing boom in 2007, Terex has been actively restructuring and streamlining the business. Part of the strategy has been to adjust its capital structure to a more optimal mix of debt and equity.
Because of this, equity holders should take note: more of the future earnings and cash flows will be attributable to you.
Since the beginning of 2012, Terex has used its robust free cash flow to reduce its high interest debt outstanding by over $500 million, and refinanced other debt to extend and lower future interest. The result is lower interest expense, which is now redirected straight to shareholders.
2015 Guidance
The global infrastructure build out theme is still in play. Terex is, and will continue to be, a beneficiary of that theme.
Here is what Terex management thinks it can do by 2015: $10 billion in sales at a 10% operating margin, equating to a pro forma EPS of $5+.
The Terex model has significant operating leverage: sales growth combined with expense reduction leading to significant earnings expansion over time. If Terex reaches $5 EPS in 2015, you are buying 2015 earnings at 5.5 times the current share price.
That makes Terex a buy at these levels.
Conclusion:
As always, buy when others are fearful. A 10% drop in price is the precise time to think about buying. A drastic drop in stock price may provide the adequate margin of safety needed to avoid a permanent loss in capital.
Volatility is not risk. Terex has a high beta, 3.84 according to Yahoo Finance, which means its stock is 3.84 times more volatile than the overall market. But buying after a steep sell off is less risky even if the capital asset pricing model ("CAPM") suggests I should apply a higher discount rate to Terex's future earnings and cash flows.
Know why others are selling. In this case, an adjustment to near term guidance caused the share price decline although the medium to longer term story appears intact. These conditions appear to apply to Terex stock. That's why I bought the stock today. And why you should think about it too.
Disclosure: I am long TEX. I wrote this article myself, and it expresses my own opinions. I am not receiving compensation for it (other than from Seeking Alpha). I have no business relationship with any company whose stock is mentioned in this article.