I recently detailed how Apple (NASDAQ:AAPL) investors are basically in a holding period right now. Apple's dividend has been raised, a substantial buyback is in the works, and no new major products are coming for a few months. This will be a multi-step process, and it will take time. Last week, Apple completed phase 2A of the process. Today, I'll explain what that means, and look forward to the next steps in this process.
Recapping Phase 1:
This entire process is a minimum of a three-step process, depending on how you look at it. Phase 1 was the announcement of Apple's cash plans. Apple raised its quarterly dividend from $2.65 to $3.05, and added another $50 billion to its buyback. I recently discussed how investors should truly look at the buyback, because there are some incorrect thoughts out there. Remember, when it comes to earnings per share, it is not how many shares are bought back, but how much the diluted share count comes down. As of Monday's close, Apple's dividend was at 2.82%, mostly in-line with other large cap tech names.
Last week - Phase 2A:
Everyone was looking at WWDC to see what Apple would unveil, and like many figured, there really weren't any surprises. This is phase 2A of the process, because even though some new products and services were announced, they weren't large scale items.
Apple introduced a new operating system called OS X 10.9 (Mavericks). Some benefits include improvements in wake time, CPU efficiency (which helps with battery life), and memory usage. Apple also announced an updated Safari browser featuring better performance and power draw. This makes sense, as many browsers are looking to improve performance. I can certainly say that I'm one user who has been frustrated with browsers hogging memory. Apple also launched iOS 7, which has a "cleaner and flatter" look, and is expected to be more user friendly.
The second item was the launch of some new products. The first was a new set of Macbook Air models, coming in 11" and 13" versions, along with a revamped Mac Pro. The new Macbook Air models contain Intel's (NASDAQ:INTC) low-power Haswell CPUs. I recently wrote about Haswell being one reason why it is now Intel's time to shine. Intel is looking to greatly increase its presence in both the tablet and mobile space, which is a definite area for growth. Apple is getting to a point where its most innovative products have Intel inside. Like Apple, Intel will be a name to watch in the second half of calendar 2013. I'll have more on these names and their second half growth stories in the coming weeks. One thing is certain. The more Intel can get its chips into Apple, the better off both companies are.
The other new item at WWDC was Apple announcing its much anticipated streaming radio service. I won't go into too much detail, because we have been talking about this launch for months. It's finally here. Everyone expects this new service to rival Pandora (NYSE:P), and that's why Pandora stock has come down 22% since its May 24th high. I don't think Apple will destroy Pandora anytime soon, but expect Pandora investors to be a little uncomfortable for the next few quarters. It will be interesting to hear the commentary on the next few quarterly conference calls.
I really don't think anything coming from WWDC is really that big for Apple. None of those new items are really game changers in my opinion. The Mac line contributed just 1/7 of Apple's product line revenues in Q2 (excluding iTunes, software, services, and accessories). In other quarters, that share is even smaller, and they really did not refresh the entire Mac line. The radio service may have some impact down the line, but won't do much right away. Also, pretty much all of Apple's WWDC announcements were expected. There was nothing really unexpected, and nothing really big.
Phase 2B coming next month:
Because I didn't consider WWDC a huge deal when it came to Apple, I've lumped that event into a two-part phase that will continue next month. As you probably can guess, I'm referring to Apple's fiscal Q3 earnings report. We don't know the exact date yet, so figure the last week or two of the month.
The funny part of this earnings report, and I've mentioned this in the past, is that it is a throwaway quarter for Apple. Apple analysts currently expect revenues to rise by just 0.5% over last year's period, with earnings expected to fall by about $2.00 over that period. A table below shows the recent history of analyst estimates. In last year's period, Apple had revenues of $35.02 billion and EPS of $9.32. The yellow line represents estimates on the day of the fiscal Q2 report.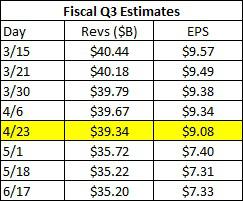 But as long as Apple revenues come in somewhere around that $33.5 billion to $35.5 billion guidance range, I really won't care. Sure, there will be some bears out there screaming if Apple reports a year-over-year decline in revenues, but so what? There was no iPad refresh in March this year, and that pushes the sales timeline back a bit.
I am more concerned with Q4 guidance. I mentioned in the "holding period" article above how Apple's Q4 guidance will basically tell us whether Apple is releasing a new product in that quarter or not. Analysts are currently looking for revenues of $38.22 billion, or roughly 6.3% growth from the year ago period figure of $35.97 billion. I mentioned in the past how Apple needs a new product to meet that $38 billion or so figure, as the iPhone and iPad segments will continue to fall off until their refreshes. If Apple guides to revenues around $33 billion to $35 billion, you probably will figure that nothing new is coming, or it will be very late in the quarter. If the guidance is more towards the $36 billion to $38 billion range, something is probably coming. This will be the second half of phase 2 for Apple, and it will start to set up the second half of calendar 2013.
Phase 3 - if you wait, it will come:
Phase 3 will come when Apple launches some new versions of the iPhone and iPad (including Mini). That process is expected to start either in late August or September, and probably finish sometime in October, especially if Apple wants stuff out for the holidays. We all know that an iPhone 5S is coming, along with a new iPad and Mini. The question will be if Apple releases a cheaper iPhone, and if there is anything else that comes out. Is this the year for an iWatch, or will Apple push further into the TV market? We'll see, but until then, we'll be waiting for a while.
Money still flowing out of Apple:
When people talk about the stock market, they say that it is a leading indicator. People are buying stocks now for the promise that better days are coming, the fact that the economy is turning, etc. Last year, everyone was buying Apple ahead of the iPhone 5 and expected iPad mini. Turns out, those two products really marked a high point for the stock. Currently, investors are starting to pull money out of the market, because they believe that the Federal Reserve will start to taper some of its QE program over the next few months.
So you would think that investors would start buying Apple now in anticipation of the new products that are coming. Well, you really would be wrong. Even with a 15% higher dividend and a $50 billion actual buyback (see my previous articles about the other $10 billion), Apple's stock is up just 6.37% since its earnings report (unadjusted for dividend). In fact, Apple rallied to more than $465, and has lost more than half of those gains, closing at $432 on Monday.
But we aren't just seeing money not go into Apple. Money continues to flow into Microsoft (NASDAQ:MSFT) and Google (NASDAQ:GOOG) as Apple has backed down towards $430. You can see this in the chart below. At this point, Microsoft is about two percent away from its 52-week high, which it hit recently. Google is about four percent away from its high, which it also recently hit. I keep wondering if money will flow out of Google and Microsoft when Apple starts really turning higher, but when will that be? There doesn't seem to be any excitement regarding Apple right now.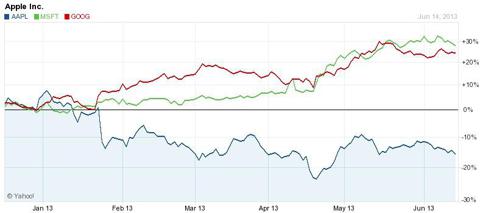 Click to enlarge
(Source: Yahoo! Finance)
Final Thoughts:
Last week, Apple completed phase 2A with some small product and service announcements at WWDC. The status quo has remained, and there really wasn't anything shocking at the event. Now, we start to look forward towards the Q3 earnings report, which I'll discuss in more detail next week. Until then, I encourage Apple investors to stay the course. What does that mean? Well, if you believe in the future of Apple, you can continue to buy on pullbacks, and lock in a higher dividend yield. Apple's yield bounced above 2.90% in May, and I think these chances to get the stock at a 2.80% or 2.90% yield are opportunities. If you are going to wait on a stock, wait on one that at least has a decent dividend coming a few times a year, giving you something for your time. You could certainly do much worse.
Disclosure: I have no positions in any stocks mentioned, and no plans to initiate any positions within the next 72 hours. I wrote this article myself, and it expresses my own opinions. I am not receiving compensation for it (other than from Seeking Alpha). I have no business relationship with any company whose stock is mentioned in this article.
Additional disclosure: Investors are always reminded that before making any investment, you should do your own proper due diligence on any name directly or indirectly mentioned in this article. Investors should also consider seeking advice from a broker or financial adviser before making any investment decisions. Any material in this article should be considered general information, and not relied on as a formal investment recommendation.