We saw markets perform strongly yesterday with all three of the indices showing strength and key names attracting attention. It seems markets are growing content with the fact that eventually the Federal Reserve is going to have to step back from the $85 billion a month bond buying program and lower it in order to slowly exit the market and not send shock waves when they do back out permanently. This week shall go a long ways in figuring out exactly how the Fed is thinking as they have a two day meeting and policy on QE3 will be at the top of the list.
Chart of the Day:
Sony had lagged the Nikkei for much of the run-up, however with Dan Loeb entering the picture and talks of a break-up/spin-off increasing the two have become more correlated when looking at a one year chart.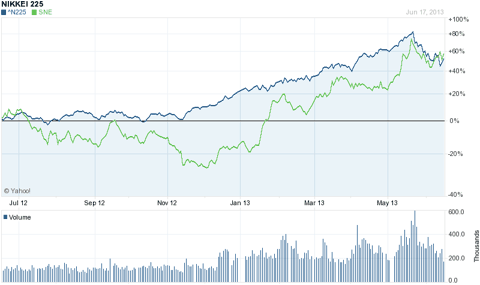 Click to enlarge
Chart courtesy of Yahoo Finance.
We have economic news due out today, and it is as follows:
CPI (8:30 a.m. ET): 0.2%
Core CPI (8:30 a.m. ET): 0.1%
Housing Starts (8:30 a.m. ET): 950k
Building Starts (8:30 a.m. ET): 983k
Asian markets finished mixed today:
All Ordinaries -- down 0.22%
Shanghai Composite -- up 0.14%
Nikkei 225 -- down 0.20%
NZSE 50 -- up 0.33%
Seoul Composite -- up 0.93%
In Europe, markets are higher this morning:
CAC 40 -- up 0.05%
DAX -- up 0.05%
FTSE 100 -- up 0.78%
OSE -- up 0.46%
Technology
With the increased chatter of merger and acquisitions talk in the cable industry lately, following the announced merger of two of the larger local station owners and their fees we started thinking about where all this could take us. Naturally Netflix (NASDAQ:NFLX) came to mind and we began to wonder if they could eventually begin to license or pay a carrier fee to carry the local station owners' news programs and weather and channels such as the weather channel commercial free. It seems only a natural progression for Netflix and far easier to accomplish with these larger players now. The move would draw in the older demographic which tends to keep cable rather than jump to Netflix for reasons such as the news and overall would make Netflix more like a national cable provider than a content hub.
Yesterday we noticed Kandi Technologies (NASDAQ:KNDI) shares were powering higher as shares soared by over 24% and volume was unusually high with 11.4 million shares traded. Investors were gobbling up shares in reaction to the company's announcement that Hangzhou, a large city in China, was beginning to develop a program of vehicle sharing which would require 5-10k of the company's electric vehicles in the first year of the program. The plan over the next five years is to potentially build the program up to 100,000 vehicles. With this story and the shares at $7.79/share, we could see this as an interesting story moving forward...especially with the news that Tesla has created over the past few months.
Kandi, a Chinese Tesla, has seen shares zoom in recent sessions as a program that could use up to 10,000 of their vehicles this year is underway in China.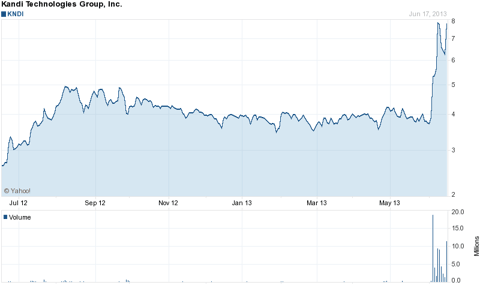 Click to enlarge
Chart courtesy of Yahoo Finance.
One of our favorite technology names over the past year or so has been ARM Holdings (NASDAQ:ARMH), which has seen its share price decline sharply over the past month. The shares ran into resistance at $50/share and since then have fallen precipitously to current levels. The good news is that we have support here, the bad is that we find ourselves this far off of the highs. Earnings powered the shares higher, but there seems to be skepticism that the company can keep up the winning streak with Intel gunning for them and the release of Intel's new chip adding further worry as word of mouth among industry newsletters and such has been what we will describe as 'positive'.
We would like to see a pop back above the $40/share level to give us more comfort, but at these levels it does appear that shares are once again a buy.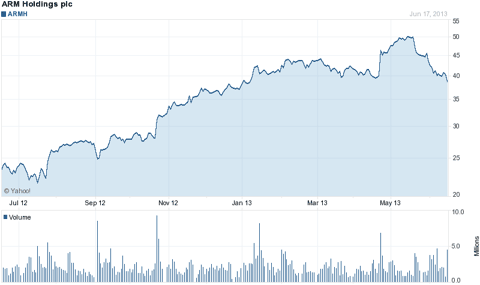 Click to enlarge
Chart courtesy of Yahoo Finance.
Manufacturing
Boeing (NYSE:BA) continues its march higher and continues hitting the new highs, be they 52-week or all-time (lately they have been both). With the Paris Air Show the industry tends to come together and make many sales announcements with Boeing and its competitor Airbus always trying to walk away with the larger sales figures. It is for show for sure as the orders are negotiated leading up to the show and made official while executives are there. Airbus announced a 135 plane, $11 billion deal with easyJet (see story here) with Boeing announcing $30 billion in orders for the 787-10 version of the Dreamliner (article link here). This is a story we can only see getting better.
Whereas Boeing is flying high, the same cannot be said of Terex (NYSE:TEX) whose shares are now grounded due to a lowered outlook for 2013. It seems almost counterintuitive that they would have issues selling equipment to an industry on the upswing after years of being down but according to management they are seeing headwinds. Our viewpoint is that this is not one of the 'blue chip' names one wants in the industry, however we are bullish all things housing and building right now and thus think that the fears here are overblown. This might be a name one can add now on valuation as it is providing a more attractive valuation entry point in comparison to some names. The positive takeaway from yesterday was that the shares got stronger as the session progressed and although they finished down sharply for the day they did end at the highs.
Disclosure: I have no positions in any stocks mentioned, and no plans to initiate any positions within the next 72 hours. I wrote this article myself, and it expresses my own opinions. I am not receiving compensation for it (other than from Seeking Alpha). I have no business relationship with any company whose stock is mentioned in this article.