Each of you already knows that I am the eternal optimist. Especially when it comes to the long term success of dividend investing for a more secure financial future, including retirement. As prudent investors we still must face the facts; no bull OR bear market lasts forever.
If we understand which rotational cycle of just about every phase of business and the stock market could possibly be in, we can further enhance our portfolios to take advantage of the cycle. In this way, we can add more clout to sectors that could outperform, or drop less, than other sectors that get whacked harder during these normal cycles.
Let me be quite clear, I am not advocating dumping ANY of our core dividend winning stocks that make up the majority of the Team Alpha Portfolio. What I am suggesting is that each investor take a look at where we are in the market (and economic) cycle to rebalance your portfolio by lowering allocations in sectors that could perform worse, and increasing allocations in sectors that could perform better.
The Team Alpha portfolio consists of Ford (NYSE:F) Chevron (NYSE:CVX) Apple (NASDAQ:AAPL), McDonald's (NYSE:MCD), Exxon Mobil (NYSE:XOM), Johnson & Johnson (NYSE:JNJ), AT&T (NYSE:T), General Electric (NYSE:GE), BlackRock Kelso Capital (NASDAQ:BKCC), KKR Financial (KFN), Procter & Gamble (NYSE:PG), CSX Corp. (NYSE:CSX), Realty Income (NYSE:O), Coca-Cola (NYSE:KO), Annaly Capital (NYSE:NLY), Cisco (NASDAQ:CSCO), Bristol-Myers Squibb (NYSE:BMY), Newmont Mining (NYSE:NEM), and Wells Fargo (NYSE:WFC).
Where Are We In The Market Cycle?
I found this chart to be quite revealing, courtesy of Fidelity Investments: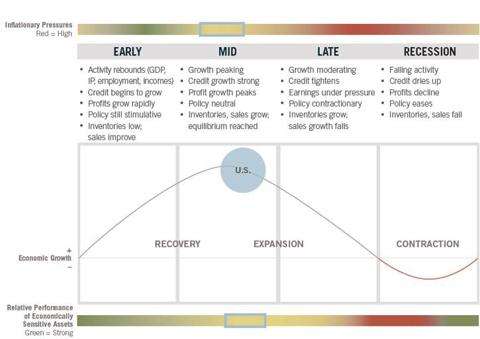 I happen to agree that we are smack in the middle between recovery and expansion in the market cycle. Since I have no way of knowing how long we will stay in this period, I can only look towards a few of the signs that might move us further along in the cycle.
Rising interest rates: As the Fed mulls over the next phase of QE, there has been plenty of speculation as to how high and how fast interest rates will spike. My opinion is that while the Fed might "taper" off of the QE policies, I do not see any reason for them to come to a screeching halt. As a matter of fact, given that the Fed has been so accommodative for the last 4-5 years, it is actually ludicrous to think that they would act in such a dangerous manner. If they did, the global economy, including here in the USA, could go into a recessionary free fall, and inflation as well as interest rates would sky rocket. That is NOT the mandate of our Federal Reserve.
Unemployment rates: If the Fed were to do an about face in policy, if you think 7.6% unemployment is high now, watch what would happen when business cannot gain access to cheap money any longer. No cheap money would mean expansion would stop and hiring would be even less than it is now. Could the Fed do this? Of course, but it could destroy whatever gains they have made, and fall even further behind.
Consumer spending; If business halts expansion, and stops hiring and spending, consumers will have less discretionary income. This will hurt the economy harder than just about anything else, as our GDP is made up of about 2/3 consumer spending. This would be the doom loop, and throw us back into a recessionary cycle that would once again be MORE than difficult to recover from.
Adding these "signs" up, leads me to believe that we will be sitting in the current phase of this secular bull market for quite some time. Having some clues as to that scenario, which sectors could benefit from the stage of the cycle we are in right now?
The Sectors Of The Team Alpha Retirement Portfolio
Keeping it simple, I outlined the business sectors in this previous article.
| | | | | | |
| --- | --- | --- | --- | --- | --- |
| Energy | Technology | Financial | Consumer | Health | Industrial |
| XOM | CSCO | BKCC | KO | JNJ | GE |
| CVX | T | KFN | PG | BMY | CSX |
| | AAPL | WFC | MCD | | NEM |
| | | O | | | F |
| | | NLY | | | |
Having a well balanced, well allocated portfolio, with an income derived from dividends will pay off handsomely in the long term. That does not mean that each sector will perform equally at any given time.
In the cycle we are currently in, from this chart also from Fidelity Investments, we can see that the top performers should be; technology and energy. The weakest sectors should be utilities and basic materials.
If these time tested performances (as researched by Fidelity) stay true to form, I would suggest increasing the portfolio's exposure in the technology sector. We have the 2 best energy stocks already in XOM and CVX, but in looking at the technology stocks, I believe we can add two stocks in this sector that have solid dividends as well as capital appreciation. Especially within the cycle we happen to be in right now.
The two stocks I would suggest considering are not fly by night companies. Each has a wonderful history, "legacy" revenue and profits, and piles of cash. At any moment, these two companies could begin turning up the "heat" in all phases of their business, and not only pay very solid dividends, but have the ability to re-grow their business from within. That could produce significant capital appreciation as well.
Microsoft (NASDAQ:MSFT): Price: $34.95/share, Dividend Yield: 2.75%, ESS Rating: Bullish
For the last 10 years MSFT has had more than its share of difficulties. At times it just seems that no matter what the company does, it cannot hit a homerun. Does it have to? Given the fact that MSFT virtually "owns" the PC market with its Windows operating system, I believe the company will continue to generate enough cash to continue paying dividends, as well as eventually coming up with a few solid introductions.
An enterprise value of $230 billion makes MSFT one of the largest companies on Earth.
A forward PE ratio of 11.42 places the company well below the S&P 500 average.
Operating margins of roughly 36% puts them near the top end of the range.
Quarterly revenue growth yoy was 17.70%, while quarterly yoy earnings growth was 18.50%.
Total cash is roughly $71 billion with a 5-1 ratio over debt. For a company of this size, that is a spectacular balance sheet.
A dividend payout ratio of just 44% falls right in the sweet spot for a dividend winning stock.
Intel (NASDAQ:INTC): Price: $25.33/share, Dividend Yield: 3.70%, ESS Rating: Neutral
With the oft talked about demise of the PC and the fact that INTC has been behind the eight ball in the mobile device market, Intel has seen its share price decline and stagnate over the last 10 years. The bright spot is that the company pays a very sweet dividend yield of 3.70%, and also has plenty of cash to move in a direction that can regain some of the growth it has enjoyed in its long and successful history. Keep in mind that the business that the company already does has not fallen into oblivion, and like MSFT, INTC has legacy products that produce consistent revenue and profits.
An enterprise value of more than $120 billion places INTC into the elite class of mega cap blue chip companies.
A forward PE ratio of 12.54 is well below the S&P 500 average.
Solid operating margins of over 25% puts them ahead of their competition.
While both quarterly revenue and earnings have declined yoy, the company has $17 billion in cash which exceeds debts by 50% roughly.
A dividend payout ratio of just 44% is just what dividend seeking investors like to see. I believe it is not only sustainable, but increases are likely.
New products (Haswell, for example) could move the company forward within the PC market and further expansion into mobile smart devices could give the company capital appreciation.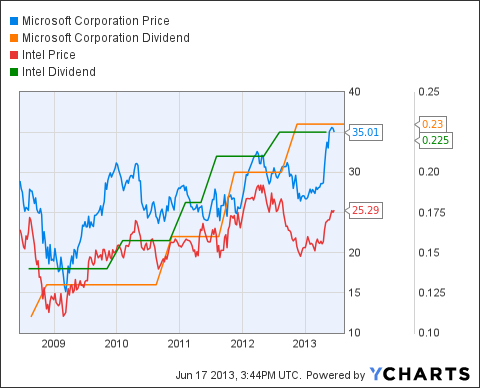 Both stocks have historical charts that support my opinion, as you can see.
My Opinion
Given the fact that we are currently in a solid expansion cycle for business and the stock markets, but not at the very beginning, technology stocks and the sector as a whole should outperform other sectors.
With dividend yields of 2.75% and 3.70% respectively, I believe both Microsoft and Intel should be considered for inclusion within the Team Alpha Retirement Portfolio.
While I like both stocks at the current prices, prior to making any decisions, I am looking for your feedback here to decide if these stocks should be purchased, and at what price.
I look forward to your input.
Disclosure: I am long AAPL, BKCC, BMY, CSCO, CSX, CVX, F, GE, JNJ, KO, MCD, NLY, NEM, O, T, WFC, XOM. I wrote this article myself, and it expresses my own opinions. I am not receiving compensation for it (other than from Seeking Alpha). I have no business relationship with any company whose stock is mentioned in this article.