Given the weak same-store sales results from the likes of Yum! Brands (NYSE:YUM) and Chipotle Mexican Grill (NYSE:CMG), it's hard to argue that the entire service sector has grossly underperformed. This, however, has not impacted shares of McDonald's (NYSE:MCD) which has been up by as much as 18% on the year.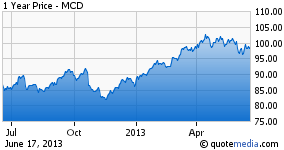 McDonald's, though, which recently posted 1% revenue growth, has not been immune to the macro weakness. Granted, given the sheer size of this company, revenue growth alone is not always an accurate indicator of McDonald's overall performance. But I do wonder, though, how much longer investors are willing to wait for growth to recover. After all, in this environment, gains of 18% is nothing to sneeze at.
What's more, with the stock trading at price-to-earnings ratio of 18, the stock is not exactly on the "value menu" - not when compared to Darden Restaurants (NYSE:DRI). While McDonald's does have a solid dividend payment history, with a strong reputation of innovation, is that enough to buy indefinite patience? Or should investors seek value elsewhere?
Concerns regarding same-store sales growth make loving McDonald's current valuation a little bit more difficult than it should be. As noted, McDonald's is not alone here. These concerns (among others) have impacted Yum!, which is also dealing with health-related issues in China - causing Yum! to post a 20% decline in China same-store sales.
When will this end? I'm inclined to believe that either eating out is no longer in vogue among consumers or is there another underlying fundamental issue with these two giants? Has the market become saturated? Interestingly, though, when digging deeper into Yum!'s numbers, the company actually posted better-than-expected results in the U.S. where same-store sales increased 2% year-over-year and a 2.4% increase in restaurant margins.
This suggests that Yum! is actually outperforming McDonald's by a pretty decent margin. Likewise, when compared to Chipotle, which posted 1% growth in comps and is not nearly as large as McDonald's, it's discouraging that McDonald's comps was down 1%, especially since worldwide sales have not been up to the company's usual standards. Is it possible that Chipotle's presence in the U.S. is beginning to hurt McDonald's?
For McDonald's, if Chipotle's popularity was not enough, now there is also the rebirth of Wendy's (NYSE:WEN) to contend with. After years of under-investing in its business when compared to McDonald's and Burger King (BKW) which have been transforming the appearance of their U.S. restaurants for several years now, Wendy's recently decided it was time to take on a similar endeavor and announced plans to remodel 20% of its U.S. restaurants over the next two years.
This means that 1,300 stores will get facelifts out of the 6,500 locations that Wendy's has in North America. In Wendy's most recent quarter, the company posted 2% revenue growth. Although the company still missed estimates, it was still enough to outperform McDonald's 1% growth. Meanwhile, Wendy's also posted 1% growth in same-store sales for North America, which matched Chipotle's performance and was slightly better than McDonald's.
I'm not suggesting that Wendy's is suddenly going to emerge as the "death knell" of McDonald's, but I don't believe that Wendy's should be overlooked. And it's certainly plausible that Wendy's transition has appealed to customers that would have otherwise gone to McDonald's. Admittedly, Wendy's still has a long way to go to catch McDonald's and Burger King in its transformation process. But margins and profitability are nonetheless trending in the right direction.
McDonald's has responded to its profit challenges by dropping a few items off its menu, including chicken selects and its fruits & walnut salad. The company also added new items such as egg white sandwiches, chicken wraps along with various Dollar-Menu offerings to help drive better results. With competition on its heels from the likes of Yum!, Chipotle, Wendy's and Burger King, I wonder if these recent moves will be enough to revitalize same-store sales.
I don't disagree that the company knows how to push the right buttons. But in an environment where Chipotle and Wendy's have been raising prices to boost their bottom line, it's tough to see McDonald's as an excellent buy at this level. I still love McDonald's. But the stock is too rich for me right here. Before buying, I'm willing to wait one or two more quarters to see the results of management's recent strategies.
Disclosure: I have no positions in any stocks mentioned, and no plans to initiate any positions within the next 72 hours. I wrote this article myself, and it expresses my own opinions. I am not receiving compensation for it (other than from Seeking Alpha). I have no business relationship with any company whose stock is mentioned in this article.