Ivanhoe Mines Ltd.
Ticker IVN
Position: Open
Signal: Long Date: 22nd July 2009
Entry Price: $7.87
Target Price: $8.60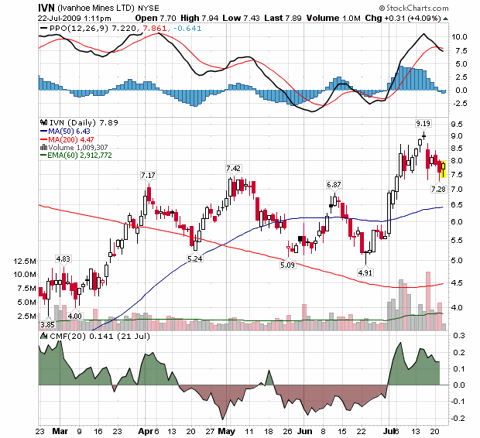 Click to enlarge
The essence of Pawlewski's system is that it is able to distinguish between appreciating stocks that are experiencing a short term pull back but will imminently rally and stocks that are falling and will continue to do so with near uninterrupted momentum. Using statistical analysis Pawlewski's system can identify long trade candidates, which he would typically hold for an average of 10 days.
Similarly, by using 'reverse' statistical analysis the system proposes short positions. The exact details of the process are confidential, but it is clear that Pawlewski can identify the 'genetic' code within a stock's chart which under analysis by the Pawlewski system provides information regarding the future direction and pace of a stock's movement.