When a company has nearly a 100% institutional ownership and a very low average trading volume (this Yahoo Finance chart shows the tremendous decline in volume signaling the loss of interest for the Zillow stock from the public), like in the case of Zillow (NASDAQ:Z), the price of the stock can skyrocket without any news. On top of this, the short % of float is a staggering 37.10% according to Yahoo Finance. This most likely means that all of the institutions are hedging their bets and taking a short side as well as they do not fully believe the current price level is justified. But another key fact is that individual investors are most likely selling this stock short and when they do so, their brokerages have to buy Zillow stock, which continues to drive the price up. These uncertain bets can be explained by Zillow being a "growth stock" (analysts deem a stock with very low earnings, but having the possibility for aggressive growth), since its EPS is currently 0.01, giving it a P/E ratio of 6,276, which is one of the highest P/E ratio's of any publicly traded companies.
The current run up in price is a multi-level bet by financial institutions that Zillow's continued aggressive marketing will directly translate into higher website traffic and higher sales through the website (by signing up more real estate agents to premiere packages). The Zillow CEO is selling analysts on the idea that the market for real estate advertising spend is $5 Billion higher than what a survey from real estate agents puts it at, according to my previous article on SeekingAlpha.com, which references that survey. Thus when analysts look at industries, like the real estate industry, that will most likely rebound in the upcoming years, they look at companies that can have big profits from the rebound. However, as the real estate industry rebounds, real estate agents might not have to work as hard to bring in business, so some are not sold on the theory of tying Zillow so closely to the real estate rebound. This can be seen in this following chart, showing aggressive insider selling and planned sales by Zillow's management after the stock shot up.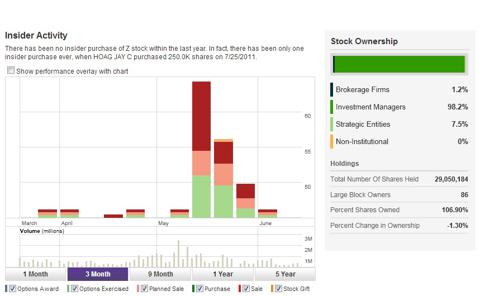 Lastly Zillow is betting it all on advertising, increasing ad spend to $15M, and willing to take a negative quarter(s) to try to gain more traction with average households around the country. This plan is summarized quickly in this Wall Street Journal article, and some would say is a desperate measure to compete with up and coming competitors like Trulia (TRLA) and Redfin.com, which plans to go public in the near future. Although Zillow is currently the best known real estate website out there, the competitors are gaining traction, which will test Zillow's earnings in the upcoming quarters. Since Zillow offers little additional value to its competitors (all these sites simply show housing data and their value is selling the real estate agents their site traffic in the way of traffic to the agent's listings), the earnings will go to the company with the most traffic. Thus Zillow is betting a lot of money (and will most likely have a negative second quarter) on low viewed cable networks such as CNN, HGTV and USA to garner more interest in their website. Only USA had several shows in the Top 25 at the end of May, according to this article, but most people have DVR service, where they record shows and skip the commercials when they watch them. Thus this marketing strategy is risky and Zillow is betting almost half of its quarterly revenue on this increased ad spend.
In conclusion, investors should be wary of the current price of Zillow. The shares available are very scarce thus the movement is heavily based upon short sellers and institutions trading with each other. The housing rebound seems to still be alive and housing starts, according to this article, are expected to continue to grow. But with a stronger economy, the Fed may ease or stop economic easing, which most analysts say would bring the Dow Jones back down to reality. This should be given careful consideration as Zillow has a Beta of 1.7, which can bring the stock tumbling if the overall market makes a big retraction. Another source of competition is the MLS, and in this article, it describes how it will be coming out with better ways to compete with Zillow. This might be a big threat, as Zillow does not seem to give its premiere agents exclusive listings and territories and it never publishes its agent turnover rate, so many agents may be leaving already after testing Zillow out. Lastly, Zillow's earnings are largely based upon growing the premiere agent subscriptions, so the main question you have to ask yourself, are agents going to need Zillow in a strong real estate market, or will they be able to make plenty of sales through word of mouth and a strong overall market action?
Disclosure: I am short Z. I wrote this article myself, and it expresses my own opinions. I am not receiving compensation for it (other than from Seeking Alpha). I have no business relationship with any company whose stock is mentioned in this article.