This week marked the first keynote speech from Apple (NASDAQ:AAPL) CEO Tim Cook since last Fall and the announcement of the first new product or service since the release of the iPad Mini on November 2, of last year, in the form of iTunes Radio. Apple seems to many a bumbling latecomer to the streaming radio market, as the Cupertino-based firm will now be forced to chase down market leaders Pandora (NYSE:P), iHeartRadio and Spotify, three companies that have already gained significant traction in the market. The iTunes radio service has notable advantages, however, certain of which could be key elements in a forthcoming rout of its competitors, and despite the relative maturation of extant services the streaming radio market remains very much in a stage of infancy.
As of the fourth quarter of 2012 streaming radio still controlled a smaller market share than did AM/FM amongst listeners 13-35, though the market for the former was expanding at the expense of that of the latter. The NPD Group reported a 17% year-over-year increase in streaming radio patronage in this demographic, and a 2% contraction in the analogue market in the same period and group. The same report showed that, despite growing by leaps and bounds, streaming services still control less than a quarter of music consumption in the United States. Digital file distribution, a market in which Apple is the leader (63% of this particular market is made up of iTunes users), accounted for a relatively stable 15% of the market. iTunes Radio is designed to take advantage of both of these sectors, as users of the streaming service will be gently encouraged to purchase songs from the iTunes store as they listen. iTunes Radio looks the most likely of the market leaders to effectively monetize through subscription as well, the ad-free premium service in 'iTunes Match' is to be offered for $24.99 per year, which compares favorably with Pandora's $36 annual fee and Spotify's $10/month fee for cross-platform availability.
The iTunes Radio announcement informed investors of several key points of deviation between the service and its competitors. Likely the most important (from an audiophile's point of view) is the fact that Apple has many more robust licensing agreements with major record labels, and as such can offer a broader field of content on a global scale (Apple's agreements with content producers will allow it to eventually offer the service in all 119 countries in which Apple has a presence). For comparison, Pandora's service is limited to the United States, Australia and New Zealand and Spotify, though available in a comparatively large number of markets worldwide, is still not a global service. Apple's radio service, as the name would suggest, is based out of the extant iTunes track library, a compendium that currently boasts 26 million songs. The competition falls short of Apple's standard again in this category; both Spotify and Pandora have limited or no licensing agreements with multiple music labels, a weakness that has left Pandora with just a 1 million song library. Pandora was notably forced to limit free accounts to just 40 hours of streaming per month on mobile devices due to issues regarding content costs, a move that has succeeded in driving down the aforementioned expenses but one which also paradoxically offset these gains through losses in advertising revenue.
The impressive breadth of iTunes Radio availability will not be limited solely to geographic diversity; the service can be handily integrated into all existing Apple platforms and will be a key element of further iOS expansion. iTunes Radio has the benefit of being only a click or tap away from installation on all Apple devices, be they mobile phones, tablets, or laptop or desktop computers. Though the service will be exclusively available on Apple hardware, it will be ubiquitous on these platforms shortly after release while Pandora and others continue to battle for market share on Android's and others' platforms. The arena will soon spread further into automobile integration as well, a realm in which iTunes Radio could, in conjunction with full iOS implementation, possess a significant advantage over Pandora. In addition to Apple Maps and iTunes Radio, Apple Vice President Eddy Cue seemed to intimate a push for greater Siri compatibility in the car, a feature that would allow for unrivaled convenience in the use of iTunes Radio. Despite some preexisting iOS presence in automobiles, this is a realm in which Apple will again have to come from behind as Pandora is already built-in to a number of vehicles, and is available in an even broader array in after-market devices. Apple's greater bargaining power will likely see it achieve better integration in standard dashboard integration, but this process will take time due to the test and safety controls placed on automobile development and release times.
In the face of what seems to be incontrovertible evidence of Apple's streaming successes it would seem that the market would have little choice but to coalesce to the bull side. This has not occurred. On the day the program was revealed in the keynote shares in Apple dropped .7% on the close, while Pandora experienced a 2.5% lift. Since that day Pandora has been trading along a relatively tight, sideways trajectory while Apple has maintained a distinct, negative trend line. In a recent Bloomberg article analyst Douglas Anmouth of JPMorgan Securities LLC referred to the release as 'underwhelming'. This seems to be a common concern on the street despite many tech bloggers' enthusiasm for the project. Shares in Apple have dropped precipitously as hardware developments, namely in mobile and tablet computing, have stalled. Apple bulls may take some solace in the aggressive optimism from the company's executives at the conference, but the opacity that continues dominate the iPhone and iPad update discussions will blunt any enthusiasm over these new service developments until release dates are clarified. On the positive side of things these changes (iTunes Radio and an overhaul of iOS) will undoubtedly kindle greater enthusiasm for these projects at the point that they are released. These complications make any near-term Apple trades a shot in the dark, but the belief that the company will shamble out of stagnation and back into the spotlight has led many to believe that the stock is cheap and a rally will come well before the year is out.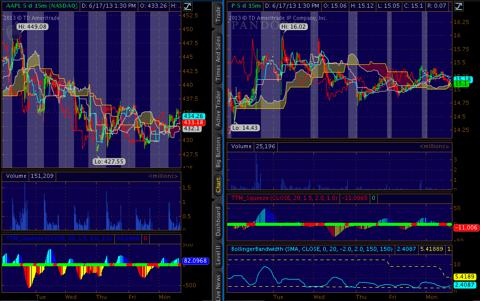 Chart courtesy of TD Ameritrade's ThinkorSwim platform.
Disclosure: I have no positions in any stocks mentioned, and no plans to initiate any positions within the next 72 hours. I wrote this article myself, and it expresses my own opinions. I am not receiving compensation for it (other than from Seeking Alpha). I have no business relationship with any company whose stock is mentioned in this article.