At this year's Worldwide Developer Conference, Apple (NASDAQ:AAPL) announced plans to launch a streaming music service to compete with Pandora (NYSE:P) and Sirius XM (NASDAQ:SIRI), called iTunes Radio. The first pictures of it make it look suspiciously like Pandora. Also, it appears that it's going to operate in the exact same fashion.
- source apple.com)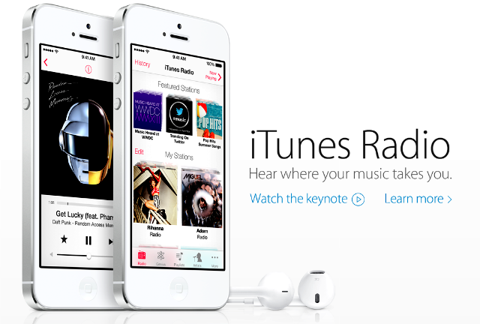 Techcrunch.com reported on the unveiling of iTunes radio:
iTunes Radio is essentially what we've been hearing it would be: a streaming music service that takes your tastes into account in order to play tracks that are likely to be in line with your tastes. Apple really has essentially taken its Genius jukebox-style feature, which combs your library and builds genre-based playlists, or suggests recommended artists and tracks based on what you're currently listening to. The difference with the new service is that it can access the entire iTunes catalog, which, at this point, is well over 26 million tracks. Sony, Universal and Warner are all on board.
While I'm sure that iTunes Radio will hold its own and square off with both Pandora and Sirius, I can't get the argument for not just buying Sirius satellite radio out of my head. Sirius is heading in the direction of internet streaming, so is Apple. It makes sense to me. The purchase of Sirius would not only get Apple arguably ten steps ahead in the streaming radio department, it would add partnerships, revenue, and almost $9 billion in assets to the balance sheet.
Here's what seem like the 5 most obvious reasons to me for why Apple should pony up the dough and buy Sirius XM.
1. Apple Can Afford It Easily
With a market cap of just over $20 billion, it would literally be nothing for Apple to make a tender offer for Sirius. Apple has well over $100 billion sitting in the bank and is banking about 5 billion a quarter and taking on debt. At this rate, Apple would have Sirius paid off in just a year and its cash pile back to the shape it was in pre-offer.
So, the cash isn't an issue.
2. It Makes Apple's Smart Move Into Cars Much Easier
I spent the better part of a previous article about the WWDC on Apple commending them on their decision to get into automobiles. This is an incredibly smart thing to focus on that will also prove to be lucrative if Apple can execute - and I believe they will.
In my last article, I noted:
As reported by The Verge:

Apple added turn-by-turn directions to its last version of iOS, and it's expanded vehicular options with iOS 7. A new "iOS in the Car" system will mirror your iPhone on the infotainment displays found in many cars: it's supported on everything from Kias and Hondas to Jaguars and Ferraris. That means Maps, Siri, Messages, and more will be available directly on the dashboard. You'll have to wait a while to use it, though; car manufacturers will begin adding the feature in 2014.
This is a big one for a couple of reasons - getting iOS into vehicles is going to be another place where you're interacting with the Apple ecosystem. You're going to have Apple available everywhere you have media available.
I started to allude to this in my previous article about Apple, speaking about how Apple is moving from current products to products that we use in all facets of life.
Even though Apple has already made allusions at WWDC 2013 to the partnerships that they've made when dealing with car manufacturers, Sirius also has long standing relationships with many car companies.
According to Forbes, the long standing partnerships that Sirius has with car vendors remains one of its biggest assets:
Every year Sirius XM pays a large sum to its OEM (original equipment manufacturers) partners to keep its radio equipment flowing into the new car market at around a 60% penetration rate. Of these 60% who buy a car equipped with satellite radio, just under half (45-46%) tend to convert to self-pay subscribers after the promotion trial runs out.

That's a healthy rate and therefore Sirius XM will continue to benefit from its relationships with the car makers. For instance, the company has a deal with General Motors which is valid till September 2020. It also has entered into long-term contracts with other car makers such as Ford, Toyota, Kia, Bentley, BMW, Volkswagen, Nissan, Hyundai, and Mitsubishi. Several trucks, boats and recreational vehicles also include Sirius XM radios as standard installation.

Car sales in the U.S. are picking up with a gradual improvement in the economy. This automotive market growth is being further helped by higher availability of financing and lease deals. Overall auto sales in the U.S. stood at around 14.5 million in 2012 and are expected to cross 15 million in 2013. Furthermore, tax breaks on vehicles up to $49,500 including passenger automobiles, motorcycles, motor homes and trucks are likely to spur sales. Additional tax credits for choosing hybrid, fuel cell, alternative fuel and advanced lean-burn technology vehicles have been offered since 2005.
3. It Gives Apple Instant Access to Serious Infrastructure
This is the biggest benefit if you ask me. Sirius, with $8.6 billion in assets, already has absolutely everything and anything necessary infrastructure-wise in place. A deal of this magnitude would link Apple up with a major infrastructure network and would expand their streaming internet audio to also include satellite - something they're not planning on currently going into.
SA Contributor "Crunching Numbers" points out, aside from the obvious, another "hidden" asset that Sirius has:
Before Sirius and XM merged, each company had FCC licenses covering 12.5 MHz of Satellite Digital Audio Radio Service, or SDARS, spectrum. After the merger formed Sirius XM Radio , the company had licenses that covered 25 MHz of SDARS spectrum. Since the two companies had broadcast similar programming, it would seem like there is an extra 12.5 MHz of bandwidth, doesn't it? It should be extra bandwidth that the company can use to increase programming or sell.
Gurufocus.com also points out the access Apple would have to Sirius's satellites:
The fascinating detail regarding how SIRI works is in its satellites. SIRI owns nine orbiting satellites total, combining the satellites in the SIRIUS system with the satellites in the XM system, and a tenth satellite that is on reserve as a spare. The company has an additional satellite being developed and hopes that it will be launched at some point this quarter. SIRI's satellite radio services also extend beyond the automobile. SIRI has radio channels with Dish Network (DISH) and a number of radio channels available through subscriptions with major mobile phone companies such as AT&T (T), Sprint (S), and Research In Motion (RIMM). SIRI has minority ownership in Sirius Canada and hopes to continue to extend its presence globally.
4. It Locks Up an Insane Amount of Content
Think getting your foot in the door with the automobile manufacturers is a huge step ahead? Think of the content that Apple would lock up and have access to immediately upon purchasing Sirius.
From Sirius's website:
SiriusXM is also one of the world's largest pure-play audio entertainment companies and we are among the largest subscription media companies in the United States, offering an impressive array of exclusive content that spans virtually all genres and interests, including Howard Stern, Oprah Winfrey, Dr. Laura, Jamie Foxx, Opie & Anthony, Bob Edwards, Chris "Mad Dog" Russo,Cristina Saralegui, Jimmy Buffett, Elvis, Eminem, The Grateful Dead, B.B. King, Willie Nelson, Ozzy Osbourne, Pearl Jam, Tom Petty, Frank Sinatra, Bruce Springsteen, and Tiësto. SiriusXM is the ultimate destination for sports fans, offering listeners sports talk and live play-by-play from the NFL, Major League Baseball®, NASCAR®, NBA, NHL®, PGA TOUR®, IZOD IndyCar® Series,FORMULA 1, soccer, college sports, and more.
5. It Saves Sirius From Apple & Puts Major Pressure on Pandora
One of the main points I made in my last article is that iTunes Radio isn't only just going to be great for Apple, it's going to be terrible news for Pandora and Sirius. By Sirius and Apple joining up, it reduces the risk that Apple is going to have a negative effect on Sirius and sells the company at the highest valuation it's ever had.
Gurufocus.com makes the case for going long Sirius versus Pandora:
In 2010, SIRI told investors that the company would grow its subscriber base by 500,000 and by year-end, SIRI had more than doubled that amount with 1.4 million new subscribers. Also, free cash flow from 2008 to 2010 has increased from $-283 million to positive $201 million and SIRI has experienced growth in net income over the past two years from $-352.04 million in 2009 to $43.06 million in 2010. These are two sure signs that SIRI is focused on expanding its customer base and making growth a priority. Capital expenditures have been decreasing for SIRI and after the launch of their next satellite into orbit in the fourth quarter of this year their satellite replacement cycle will be done. This is significant because this will enable satellite capital expenditures to decline by nearly $90 million in 2011 and by an additional $100 million in 2012, which will amount to nearly zero capital expenditures for satellites until 2016 or 2017. With the company not spending the extra capital on satellites, this will enable them to work on other research and development projects and further expand their radio presence.
So, combining the two companies would almost certainly push out Pandora, as the struggling startup would ultimately not have a chance against an Apple/Sirius partnership.
Conclusion
I'll first conclude by running through some of the bearish arguments on why this might not work. Some would argue that Sirius is expensive and overvalued, as it's trading at nearly its all-time highs. For a company with $8.5 billion in assets that is growing at the rate Sirius is, I don't think it's expensive.
Also of note would be the hardware issue. Naysayers would argue that the Sirius receivers in cars would be a big difference from what Apple intends on doing with iOS in cars. However, that's moot due to the fact that eventually all cars will be outfitted with touch screens for their radio and other controls. Before 2015, it'll likely be the standard across the board. New cars that are coming out today, like the Ford Fusion, all control their Sirius through touch screens - I'd argue that make its even easier to integrate iOS with Sirius in cars.
Finally, some would argue that it would make Apple too big and bloated and that there could an anti-trust issue. This is probably the biggest issue to be considered. If Mel Karmazin was still at the helm at Sirius, I'd say that he'd get it done (as his track record suggests), but regulatory difficulty would likely be the biggest hurdle in this situation.
I hope this article puts some perspective on how likely an event like this could actually be. When I brought this up to several investor friends of mine, it was chuckled at - until I made this case. Whether you invest in Apple, Sirius, or Pandora, I wish you the best of luck as always.
Disclosure: I have no positions in any stocks mentioned, and no plans to initiate any positions within the next 72 hours. I wrote this article myself, and it expresses my own opinions. I am not receiving compensation for it (other than from Seeking Alpha). I have no business relationship with any company whose stock is mentioned in this article.