We have liked the stock market for a while, but we haven't loved it. Our guarded emotion is directly related to the understanding that the run to new all-time highs has been artificially supported by the Federal Reserve.
That support was admittedly crucial in the throes of the financial crisis that rocked the world nearly five years ago. It helped turn the tide of negative sentiment, it helped get credit flowing again, it helped drive down interest rates, and it certainly helped boost the stock market.
Excluding dividends, the S&P 500 at its high last month was up 153% from its intraday low on March 6, 2009.
There were a few stumbling points along the way - mostly when a round of quantitative easing was nearing its end or Congress was making a fool of itself - yet there's a whole lot to like about a return of that magnitude.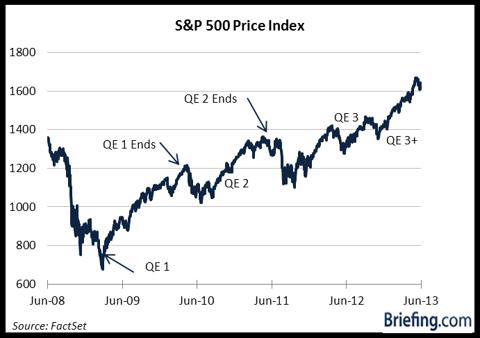 Just because you like something, though, doesn't mean you have to love it.
We don't love this market right now and we are questioning whether we even like it.
Markets Get Agitated
We'd be more enamored of the stock market's behavior if it had been maintained on account of the U.S. economy achieving escape velocity, global economies getting back on track, revenue growth increasing, earnings growth accelerating, and the Fed being out of the mix.
That isn't happening though.
The U.S. economy is stuck in a stupor of subpar growth, the eurozone is in recession, China is slowing, revenue growth for S&P 500 companies is basically flat, earnings growth is decelerating, and the Fed... well, the Fed is still flooding the market with liquidity in an attempt to promote a stronger economic recovery. Congress, meanwhile, remains M.I.A.
It is little wonder then that the capital markets have grown agitated of late over the idea that the Fed is contemplating pulling back on its policy largesse. That idea hit home on May 22, when Fed Chairman Bernanke appeared before the Joint Economic Committee and innocuously said the Fed in its next few meetings could reduce the pace of its asset purchases if it sees continued improvement in the economy and has the confidence that it is going to be sustained.
In the wake of that remark, the S&P 500 suffered its first 5% decline in more than six months, the 10-year note yield has jumped 19 basis points, the U.S. Dollar Index has fallen 4.3%, the STOXX Europe 600 has declined 6.5%, and Japan's Nikkei Average has plummeted 20%.
If one needed any proof that the capital markets have been riding the unbridled horse of policy support, there you have it. Markets are clearly squeamish about the Fed starting to rein in some of its easy money.
One Constant
We said at the end of last year that 2013 was loaded with potential to be a fundamentally disappointing year, but that the stock market might not get caught up on that fine point given the Fed's influence over things. By and large, things have panned out in that manner.
Global GDP growth forecasts for 2013 have been lowered by both the IMF and the World Bank, inflation rates are falling because of weak demand, revenue growth is paltry, and earnings estimates have been revised lower for all quarters this year. The S&P 500, however, is up 14.1% year-to-date.
The one constant of course is that major central banks have continued to do "whatever it takes" to keep the easy money flowing.
The Fed continues to buy $85 bln per month of long-term Treasuries and agency MBS, the ECB has lowered its key lending rate to a record low 0.5%, and the Bank of Japan dove head first into uncharted waters with a quantitative easing plan that makes the Fed's QE program look small by comparison.
Frankly, it is astounding that real economic growth is as weak as it is and that inflation rates are as low as they are with all of that monetary policy largesse out there.
For the U.S. specifically, real GDP growth has averaged just 2.0% since the second quarter of 2009 and PCE inflation is up just 0.7% year-over year, which is close to a 50-year low (excluding the brief period of deflation in 2009).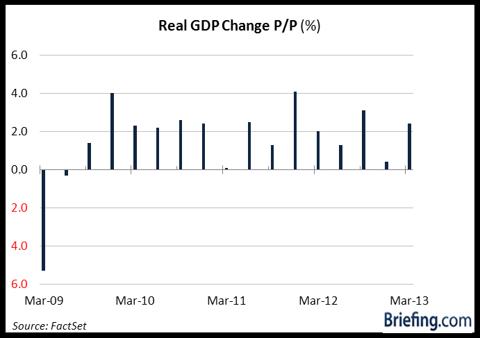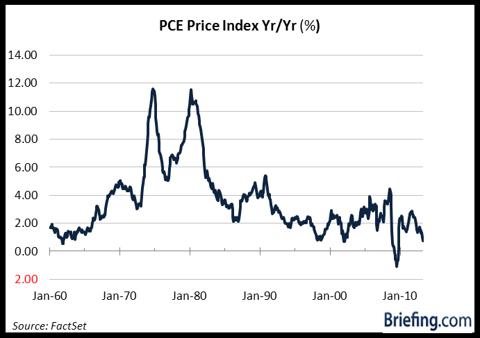 The vapid state of economic affairs can be attributed in large part to fiscal austerity measures. It is more than that though. Consumers are deleveraging, banks have tightened credit lending standards, and corporations are sitting on cash because they don't have confidence that demand is going to increase strongly enough to justify adding new capacity and expanding their workforce rapidly.
Did we mention that the S&P 500 is up 14.1% year to date?
These Are TINA Times
To be fair, the stock market advance hasn't been devoid of fundamental support. Earnings per share growth, while decelerating, is still growing thanks in part to stock buybacks; and of course the inflation rate and interest rates are near historically low levels.
The rally in the stock market this year, though, has been highlighted by multiple expansion. The top-down EPS estimate of $108.96 for 2013 is basically unchanged from where it stood on December 28, according to FactSet estimates, yet the 2013 P/E multiple has increased to 15.1x from 12.6x in the intervening period.
On a trailing-twelve month basis, the market trades at 15.8x earnings versus 13.9x at the end of 2012.
The market's valuation is not outlandish relative to the level of inflation and interest rates, yet it is less likable when taking into account that profit margins are already near record highs, revenue growth is paltry, and interest rates are close to a bottom. Without a pickup in demand that drives stronger top-line growth, it will become even more challenging for companies to grow their earnings.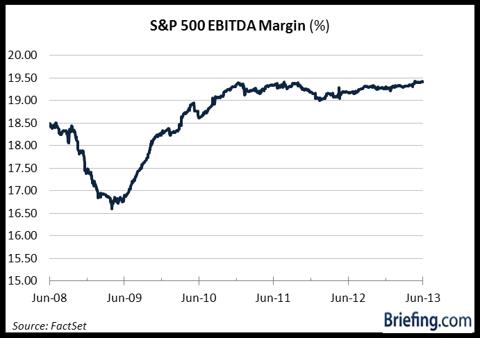 Since we are not as taken as others are with the notion that economic growth is going to accelerate above potential in the second half of the year, we think earnings estimates are still at risk of being revised even lower.
Over the last three months, the third-quarter earnings growth estimate has been reduced from 10.1% to 7.7% while the fourth-quarter growth estimate has been cut from 15.7% to 13.1%.
Even more remarkable is that the estimated revenue growth rates for those periods, according to FactSet, are just 3.2% and 1.7%, respectively. The latter estimate in particular doesn't mesh with an estimate for double-digit earnings growth unless there is a big expansion in profit margins that seems unlikely.
Many participants, though, continue to embrace the TINA argument, which is that "There Is No Alternative" right now to stocks. The lamentably low yields offered by bonds is at the heart of that view.
It is a view that resonates with the Fed angling to suppress long-term interest rates. It is a catchy acronym to be sure, yet there is inherent risk in its simplistic view because it is tantamount to saying, "there is no risk, just buy stocks."
On that note, we recall some other TINA times as well that worked beautifully until one day they didn't.
There was that period in the late 1990s when fundamentals didn't matter and one just had to buy technology stocks.
There was that time shortly afterwards when one just had to buy a home, because even though stock prices go down, home prices never do.
And this year one just had to short the yen and go long the Nikkei because, well, one couldn't lose with that position given what the Bank of Japan is doing (incidentally, since May 22 the yen has risen 8.2% against the dollar and the Nikkei has declined 19%).
Be careful not to take the TINA view for granted.
As an alternative to bonds, there is a good relative value argument to be made for long-term investors to own stocks given the 483 basis points spread between the forward earnings yield and the 10-year yield, but recognize that it won't always be smooth sailing for stocks like it has been for the most part over the last six months when the TINA idea has gotten popularized.
In the inevitable rocky periods, TINA might not look so attractive.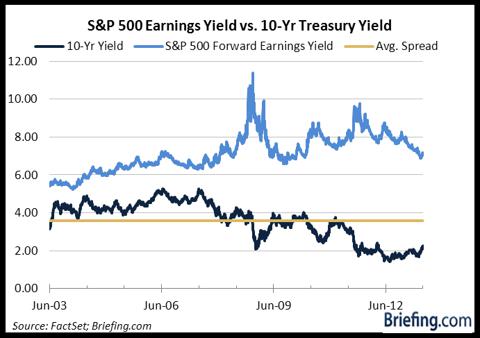 Confusing Times
The stock market has gotten so dependent on central bank support that we find it difficult to believe it will handle a return to normalcy on the policy front with the same level of enthusiasm it has greeted the turn to abnormal policy.
The return to normalcy is a long way off still, but investors have gotten a taste lately of the difficult task the Fed faces in getting its timing right and managing the market's expectations about a turn in policy, however subtle that turn might be.
The struggles since the Fed chairman's May 22 testimony reflect the market's angst about the path of monetary policy. The Treasury market has seen a backup in bond yields, presumably on the sense that the Fed is going to taper its asset purchases soon.
Fed Chairman Bernanke has said on many occasions that it will take convincing signs in the data that the economic recovery is gaining traction and is self-sustaining before the Fed alters its policy course. Accordingly, if bond yields were rising because market participants are discounting a better economic environment that would lead to fewer asset purchases by the Fed, the stock market should be enthused by that premise. Instead, the stock market has gone down, not up, since the May 22 testimony and the subsequent increase in long-term rates.
In turn, the U.S. Dollar Index has weakened 4.3% since the May 22 testimony, which is counterintuitive if interest rates are headed higher because economic growth is picking up.
What there is right now is a good bit of confusion about the path of monetary policy. Not surprisingly, volatility has picked up here and abroad, particularly in Japan and emerging markets.
It is difficult to ascertain the true meaning behind these moves. It could range from a belief that rates are headed higher in the U.S. because the economy is getting better to a lack of belief in the effectiveness of monetary policy. The latter is certainly the bigger risk and it has gained some credibility with the drop in inflation rates and the subpar growth seen nearly five years after the Fed entered the world of abnormal monetary policy.
We stand by our view then that the Fed risks inviting a confidence crisis if it pulls back on its asset purchases simply because it thinks the costs outweigh the benefits. To do so without the data providing sufficient evidence the Fed is meeting its dual mandate would be akin to admitting its policy approach has been a failure.
What It All Means
The summer months aren't known for being a particularly strong period for the stock market. That doesn't mean they are always weak, just that the overall performance tends to pale in comparison to other parts of the year.
This summer has gotten off to a bit of a shaky start and we don't like what we are seeing.
The volatility in Japan and the emerging markets is unnerving. Currency volatility, and stock market volatility, are increasing. Economic growth remains disappointing. Bond markets are adjusting in an adverse manner that is perplexing. Political tension is percolating with impending debates on immigration reform, the budget, and the debt ceiling. And central banks have left market participants guessing.
The Federal Reserve has the capability to calm things down at its upcoming FOMC meetings, but there are enough Fed officials on record now pushing the need for tapering sooner rather than later that we are not sure the market is going to be convinced like it once was about dovish-sounding signaling.
We suspect the coming months will be a period of introspection for the market that leads to some fitful trading behavior as participants recognize valuation isn't as attractive as it once was, monetary policy isn't as impactful as it once was, and earnings growth isn't as strong as it once was.
Accordingly, we think it is advisable to harvest some profits from the easy-money rally that began in mid-November and to take a more neutral approach for the time being as the market wrestles with questions about the effectiveness of monetary policy and the enduring nature of the artificial policy support structure.
Disclosure: I have no positions in any stocks mentioned, and no plans to initiate any positions within the next 72 hours. I wrote this article myself, and it expresses my own opinions. I am not receiving compensation for it. I have no business relationship with any company whose stock is mentioned in this article.