With the rise of healthcare reform, and the implementation of Obamacare just six months from now, so has risen Cerner (NASDAQ:CERN), a company whose mission is to contribute to the systemic improvement of healthcare delivery and the health of communities.
CERN aims to change the way people use and share healthcare information, pay for health and care, and think about health.
CERN started out by digitizing paper-based processes. Today Cerner provides a comprehensive offering of software solutions, expert services, and device connectivity. Cerner solutions are implemented in physician offices and ambulatory healthcare centers as well as in large hospitals and multi-facility organizations.
In fact, Cerner solutions are currently licensed to approximately 10,000 facilities worldwide, including more than 2,700 hospitals and 4,150 physician offices.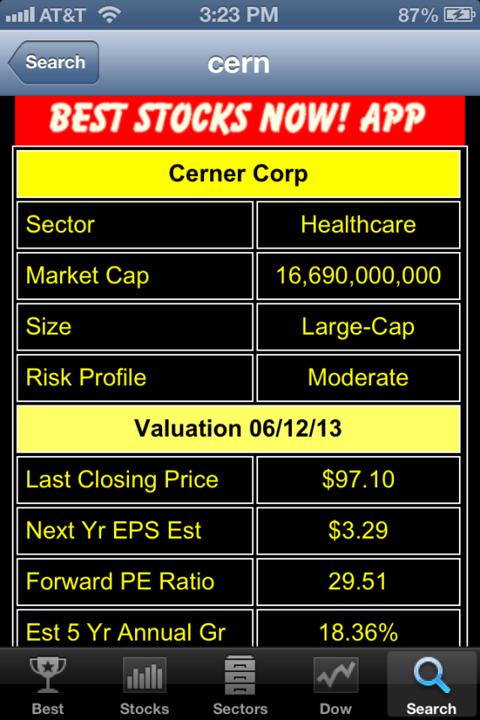 Data from Best Stocks Now App
So let's take a look at this stock that has risen up in the ranks recently. CERN is a stock that I own here at Gunderson Capital Management in my conservative growth accounts. It is a large-cap stock that I assign a moderate risk profile to. The stock has been one of the biggest winners over the last 10 years in the market!
I grade stocks based on the following formula:
Performance: short term, intermediate term, and long term where possible. I compare the performance of the stock with its peers and against the other 3,400 stocks that I monitor.
Valuation: While I like performance, I have seen way too many momentum darlings come crashing back down to earth due to astronomical valuations. We have learned huge valuation lessons from incidents like the crash of the Nasdaq in 2000-2001, the crash of the housing market in 2006, and many other such bubbles. VALUATION DOES MATTER.
A healthy stock chart: I don't like sideways trends (Apple would be a good example of this), I despise downtrends (Inverse ETFs would be a good example of this), and I get very nervous with extended uptrends, unless the valuation is still compelling. And of course the most dangerous trend of all is a topping out trend that is beginning to roll over.
So first let's talk about performance.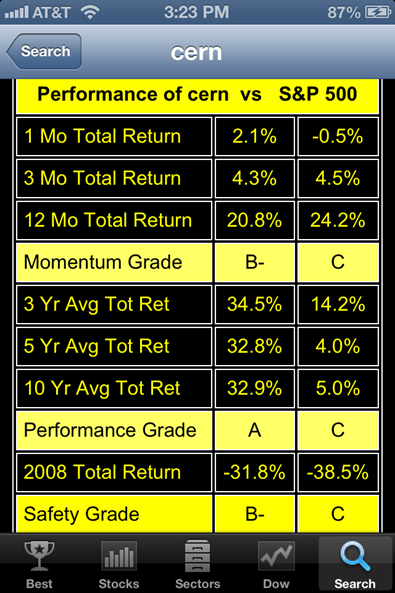 Data from Best Stocks Now App
CERN has been one of the top performing stocks of the decade, delivering 32.9 percent per year, while the market has only delivered an average of 5 percent in the same time frame.
During the last five years, CERN has continued to deliver 32.8 percent per year while the market has only delivered 4.0 percent per year. This means that CERN has delivered returns of about eight times the market over the past 5-10 years.
Over the last three years, it has delivered 34.5 percent per year while the market has only delivered 14.2 percent per year.
Now let's talk about the performance of CERN over the past 12 months. Cerner has reported four consecutive positive earnings surprises in the past four quarters, with an average surprise of 5.4 percent.
Positive earnings surprises have contributed to the shares moving higher. Cerner reported first-quarter adjusted earnings per share of 62 cents beating the Zacks Consensus Estimate of 59 cents and the year-ago earnings per share of 51 cents. Revenue in the first quarter rose 6.1% year over year to $680 million, missing the Zacks Consensus Estimate of $709 million. Bookings amounted to $801.6 billion up 23% year over year and a record for the company in any first quarter (read more).
Over the last 12 months, CERN is up 20.8 percent while the market has been up 24.2 percent. I haven't owned the stock over the past year but I recently got into it again. The performance grade I give CERN in comparison to the other stocks in my database is an "A."
The short term or momentum of the stock is currently improving as evidenced by the one-year stock chart below: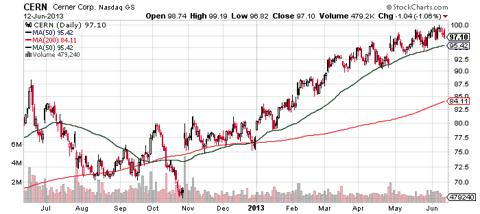 The stock recently broke out of an eight-month saucer shaped consolidate. This is one of the main reasons I am back in the shares.
Now let's talk about the second piece of my grading formula: valuation.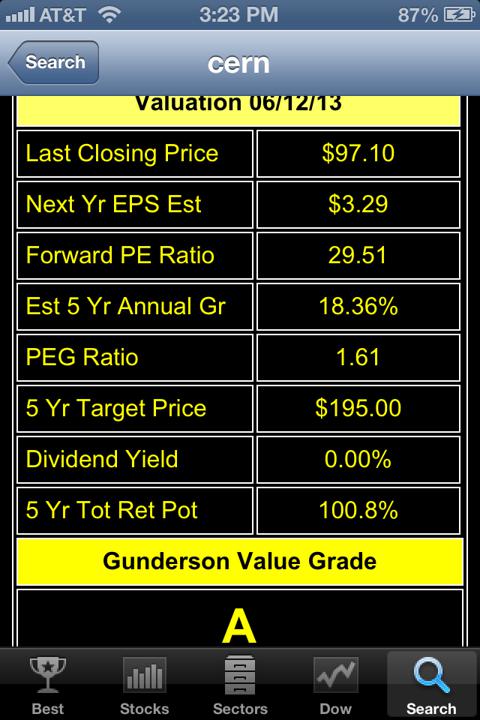 Data from Best Stocks Now App
We've learned the hard lesson over the past few years that valuation does matter (i.e. 2000 with the high tech bubble, 2006 with the housing bubble, etc.). CERN has commanded some premium multiples over the years, however. Why? Because it's one of the fastest growing areas of the market.
CERN has been a superior growth stock over the last five years. Its average EPS growth is 18.4 percent per year. When I take the current earnings estimates of Cerner and extrapolate them out over the next five years at about 18-19 percent per year and I apply a very conservative multiple that I think Cerner deserves at this point in its life cycle, I come up with a target price of $195.
Below, I have listed the factors that I have weighed in determining the multiple:
The current forward average P/E ratio of the 3,400 stock that I track is currently 17.8.
The current forward P/E of CERN is 29.5.
The current average forward P/E for the group is 25.
The average P/E ratio of Cerner over the last ten years has been 35.
I am using a multiple of 30 on Cerner.
Five year EPS estimate=$6.50 X 30= $195.00
With the stock currently trading just under $100 per share, the stock still has significant upside potential over the next five years. There are no guarantees that the stock will hit $195, but stocks trade based on expectations and right now, when we take the expectations on the stock and apply a little bit of math, the expectations remain high.
The last piece of my formula is a visual check (quality control!). As you saw earlier, Cerner has a beautiful one-year stock chart right now. It broke-out in March from a sideways consolidation trend and it's been rising ever since.
Based on my proprietary stock grading system, CERN currently places at No. 97 of about 3406 stocks and gets an "A-" overall grade.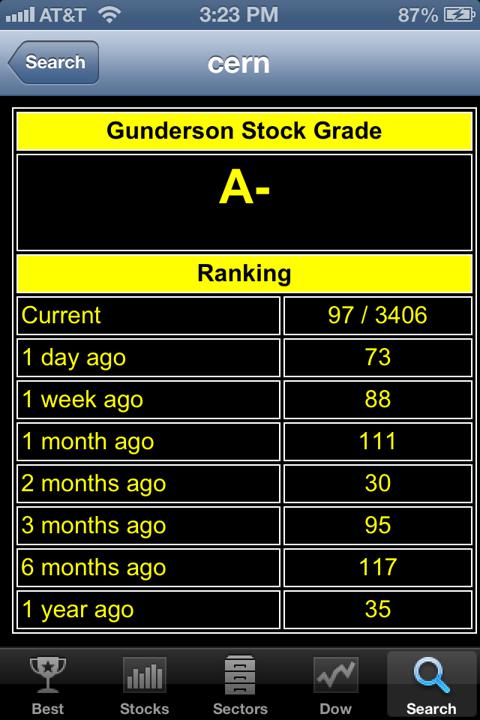 Data from Best Stocks Now App
Disclosure: I am long CERN. I wrote this article myself, and it expresses my own opinions. I am not receiving compensation for it (other than from Seeking Alpha). I have no business relationship with any company whose stock is mentioned in this article.