China Ceramics (NASDAQ:CCCL) engages in the manufacture and sale of ceramic tiles for exterior siding and interior flooring for buildings in China and internationally. The stock is down by 16% from this time last year and the stock has recently taken a hit due to a slow macroeconomic environment in China and stiff competition. However, China Ceramics is well positioned to take advantage of long term trends.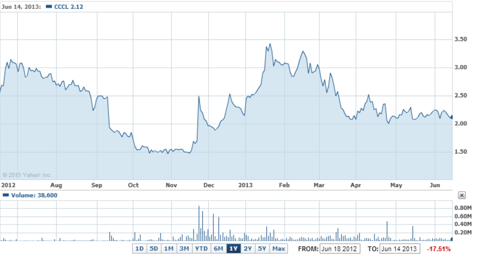 source: Yahoo! Finance
Company Summary
The company was founded in China in 1993. The company's products are sold under the Hengda or "HD" brand and they are distributed through a network of exclusive distributors or directly to large property developers. The ceramics industry in China is very competitive and China Ceramics estimates that its current market share is 5%. The company is intent on capitalizing upon China's urbanization trend. The customer base is established and loyal with 88% of products going to 40 exclusive domestic distributors and 6 international distributors. The top 10 customers for China Ceramics have purchased from the company for over 10 years each. Also, the company was named as one of "Asia's 500 Most Influential Brands." Numerous key developments have taken place in recent years for the company. The company completed a merger with SPAC in November 2009. In addition, 4 patents are now owned with the right to use 11 more. In 2010, the company was listed on the NASDAQ and the Hengdali facility was acquired. With the completion of the Hengdali acquisition, the total manufacturing capacity of its two plants now measures 56 million square meters.
Real Estate Growth In China
One of the promising aspects of this stock is the long-term trend of real estate growth in China. China's total urban population reached 691 million in 2011 versus 450 million in 2001 and according to projections nearly 70% of the population will live in urban areas by 2035. The scale and pace of this growth is unprecedented. 219 cities are projected to have a population of more than a million and an aggregate population that is near 1 billion is projected by 2025. The country's urban population is very low at the present time with many figures placing it around 50%. By comparison many developed countries like the U.S. or U.K. have urban populations The expected future increase in China is equal to the total amount of a number of European cities today. China Ceramics believes that any corrections that could be seen in this growth will be short lived. In addition, the growth in the ceramic tile market in China is heavily correlated with this long term trend. The Chinese government initiatives stipulate for 36 million new affordable housing units by 2015 at a cost of nearly $800 billion. The ratio of residential property under construction to sales is expected to rise in 2013.

source: China Ceramics
Research and Development
The company's R&D spending is key to its competitive advantage. China Ceramics' R&D expenditures were over 2% of its revenue in 2012, which is a respectable figure for the building materials industry. The 86 person R&D team for China Ceramics has developed over 2,000 different product combinations. The R&D team has developed a product that reuses heat and energy that saves up 20% of the cost. The company is currently working on ultra thin and lightweight tiles.
Key Statistics
| | |
| --- | --- |
| Market Capitalization | 43.31 million |
| Price to Earnings | 1.63 |
| Earnings Per Share | 1.30 |
| Dividend Yield | 9.40% |
| Average Volume | 76,878 |
| Debt to Equity | .04 |
| Price to Book | .19 |
Fundamentals
The stock has a P/E ratio of 1.63, which is well below the industry average. The P/B ratio is .19, which is much lower than the industry average. The debt to equity ratio is healthy at .04. On June 10, China Ceramics announced its first semi-annual cash dividend. The new dividend gives the stock an impressive 9.4% yield. Free cash flow is positive at $9.9 million. The stock has a Return on Equity of 11.94%, which is well above the industry average of 4.1%. Net income is also positive at $26.36 million. The CEO of the company is Huang Jia Dong. He founded the company in 1993 and he was previously involved in the construction materials distribution business.


Q1 2013 Results
China Ceramics reported lower than expected financial results for the first quarter of 2013. The results were lower than expected to due to challenging conditions in China's real estate and construction markets. These conditions caused lower sales volume and average selling price of the company's ceramic tile products. Cash flow remained positive, lower prices significantly forced margins and revenue down. Given that the company's earnings were lackluster, the company believes that it is well positioned for a turnaround. The company is waiting for a macroeconomic inflection point and the company's production capacity will help the company to quickly return to pre slowdown levels. The company is confident that urbanization and demographic trends in China are a long term phenomenon. Real estate fluctuations will be less drastic over the long run. The worst news from the conference call were revenues. Quarterly year over year revenues fell by 59%. The gross profit margins were also very thin at 3.4%. The Chinese government's support of building new residential properties was positive news from the conference call. Also, the company believes that many existing structures in China need to be upgraded.

source: Y Charts
Risks
The stock is a microcap stock with a market capitalization of only $43 million. While the company has major potential, it is also very risky. The 3 month average volume is extremely light at only 76,878. It is important to note that while long-term trends in China will continue to drive growth, the company's near term situation is very unclear at this point. The company still has positive cash flow and low debt, so this will help to protect the company during these near term uncertainties.
Conclusion
China Ceramaics has a quality brand image and the company operates in a very competitive market. Over the long run, millions more Chinese citizens will be living in urban areas. The company is well positioned to take advantage of the urbanization of China. Motivated distributors and direct company sales drive revenue. The company has effectively adapted to short-term macroeconomic concerns, yet they are still positioned to profit from long term trends. Ceramics made by the company are becoming more and more environmentally friendly as time goes on. While revenues did drop by 50%, cash flow remained positive in the first quarter and the debt to equity ratio stayed at low levels. One of the more attractive aspects of this stock is its dividend yield, which is at 9.4%. The 9.4% yield will help protect investors from any major downturns in the near term. Despite weak Q1 results, the stock is poised to perform well over the long term.
source: Data from Yahoo Finance
Disclosure: I have no positions in any stocks mentioned, and no plans to initiate any positions within the next 72 hours. I wrote this article myself, and it expresses my own opinions. I am not receiving compensation for it (other than from Seeking Alpha). I have no business relationship with any company whose stock is mentioned in this article.