As the world becomes ever more connected, the rising demand for data storage continues to grow at a rapid pace. For a traditional hard-disk drive [HDD] manufacturer such as Seagate Technology (STX), the growing transition to cloud storage continues to provide a pressing reason to be bullish on the company. After all, large interconnected networks requires large servers and their redundancies in order to store significant quantities of data.
Seagate now trades with a $15.78 billion market capitalization at its present price of $44.01. According to analysts, the company carries a forward price-to-earnings ratio of 8.03 based on earnings estimates of $5.48 in 2014. This trades alongside industry peer and primary competitor Western Digital Corporation (WDC), which carries a forward price-to-earnings ratio of 8.13 at its current share price of $64.65. While the two companies inherently trade in a practical duopoly following the large consolidation of the hard-disk drive industry, one must wonder if these share prices remain fair valuations of the industry's future potential.
Indeed, both of these companies appear to be trading somewhat low in light of future growth opportunity. This is especially so considering the long-term outlook being positioned by the primary capital equipment manufacturer that likely supplies both companies. Intevac (IVAC), is the world's leading supplier of magnetic media processing systems. Its primary manufactured system now processes approximately 60% of all the magnetic disk media produced worldwide. In the company's more recent earnings call found here, Intevac's CEO states the following regarding the outlook of disk media:
One major drive company reported 35% year-over-year increase in gigabytes per drive. We also believe this validates that in the ongoing race between total data stored and aerial density improvements, total data storage is winning. What this means is that as time goes on, more and more disks will be required to meet the market needs. Some estimate that nearly 6,000 exabytes of storage will be shipped per year by 2020, more than 10x the current level. With aerial density growing at around 20% per year, this means around twice as many disks will be required by then.
Indirectly, what these thoughts suggest is that the need for data storage is increasing faster than technology's ability to compact it. This in turn translates into the need for more disks and more drives. As a result, when one considers that the solid state drive [SSD] market has continually lagged the HDD market in terms of growing storage capacity, the long-term future of HDD demand is likely to remain high. This bodes well for both Seagate and Western Digital, whose long-term outlook have often been placed into question in light of improving SSD technology.
Concerning Seagate, the company continues to provide an enticing long-term opportunity for investors. The following points are taken from the company's fiscal 3Q 2013 earnings call found here:
Healthy balance sheet. The company generated $678 million in operating cash flow over the last quarter, paying $379 million for the early redemption of some of its long-term debt. Seagate ended with $2 billion in cash and investments.
Looking after shareholder interest. Over the first nine months of 2013, the company returned 75% of its operating cash flow to shareholders in the form of dividends and share buybacks.
Goal to reduce outstanding shares. Management maintains its goal to decrease the outstanding share count to 250 million shares by the end of 2014. This represents a nearly 30% decrease in share count.
Overall, Seagate now enjoys the benefit of its shared dominance in the HDD space. The company now offers a 3.5% dividend yield with an annual rate of $1.52. This too continues to rise as seen in the chart below.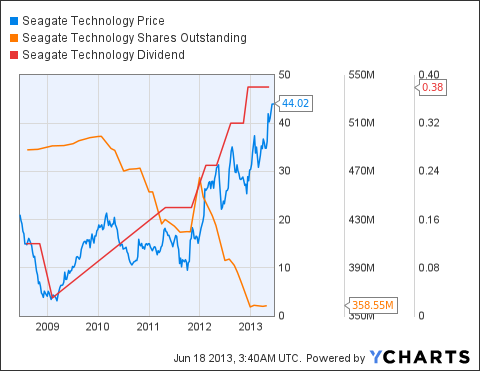 STX data by YCharts
Seagate continues to impress as the company returns value to shareholders while subsequently improving its balance sheet. Likewise, the drive to the cloud and the increasing demand for data storage continues to suggest that the industry itself may be undervalued. Above all, with its continued pursuit to reduce the share count, Seagate provides investors with an ongoing reason to stay long the stock. Because of this, investors gain the benefits of a correlated rise in share price, higher earnings, and a reduction in cash outflows from dividend distributions. With such upward pressure at hand, the company continues to remain a convincing long-term stock to hold.
Disclosure: I am long STX, IVAC. I wrote this article myself, and it expresses my own opinions. I am not receiving compensation for it (other than from Seeking Alpha). I have no business relationship with any company whose stock is mentioned in this article.