Charles Schwab, one of the world's best known and largest asset management firms, recently took another step towards finally breaking into the rapidly-expanding ETF industry.
Earlier this month, Schwab filed paperwork with the SEC to launch nine ETFs. The proposed funds will have the benefit of the Schwab name (and the tremendous resources that come along with it), but will still face an uphill battle, given the firm's late arrival to a now very crowded market.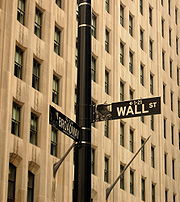 According to ETF Trends, Schwab's first nine ETFs will include six broad-based domestic funds and three international funds. The domestic ETFs will track Dow Jones indexes, while the international ETFs will follow FTSE benchmarks:
While Schwab is highly-regarded in the investment community, they will likely encounter difficulties grabbing market share away from the more entrenched ETF leaders such as iShares, Vanguard, and State Street.
According to David Hoffman, the fact that Schwab is going after the pure "beta" segment of the ETF market (i.e., offering funds that track popular equity indexes) means that increased focus will be placed on the expense ratios of the new funds.
"They are offering pure beta products, which are a commodity," said Richard Romney, president and founder of ETF Portfolio Solutions, Inc., a firm with about $50 million in AUM.
Although the filing with the SEC contained numerous details on the new funds, it was lacking perhaps the most important fact: the expense ratios.
As presented below, many of the products with which Schwab's new ETFs are likely to compete have attracted a large amount of assets, allowing them to offer alarmingly low expense ratios (mutual fund buffs may want to avert their eyes):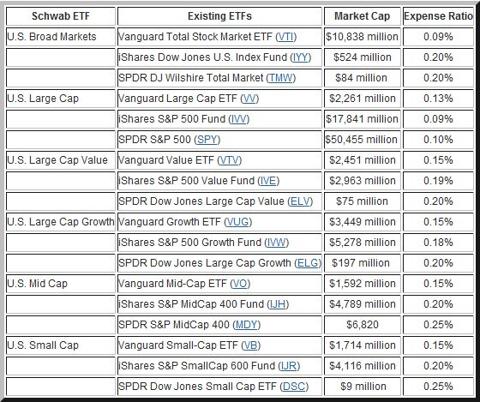 Unfortunately for Schwab, the above table is my no means exhaustive – there are a number of other ETF issuers offering exposure to similar equity sizes and styles.
Personally, I think the Schwab funds have a chance to be a success, but it isn't going to all come overnight. Many investors have grown comfortable with a particular fund or fund family, and are going to take some convincing to jump ship.
Of course, money is a great motivator, so we'll have to wait and see where Schwab's expense ratios shake out (I would guess they'll be between 10 and 20 basis points) before we can make a good prediction on the viability of their new ETF family.
Disclosure: Long IVV.