Corning Inc. (NYSE:GLW) focuses on making specialty glasses, ceramics, and related materials and equipment and serves markets worldwide. If you are reading this article on your mobile device then you probably are viewing it through a Corning Gorilla glass screen. If you're using a high speed or cable connection then it's likely your data is streaming on Corning's fiber optic material.
Not satisfied with a monolithic presence in telecommunications and computing, Corning is now moving to be the gorilla in the vehicle for automotive markets too.
Corning's improved Gorilla Glass not only gives it entrée to the automotive glass markets but also advances its penetration into phone, computer, and display markets thanks to its lighter weight, greater scratch resistance, thinner and stronger dimensional properties and ability to be supplied in larger sizes for touch screen, TV, windows, and other large scale applications. The growth of touch oriented systems such as android and windows 8 will further drive continued expansion of demand for both displays and Gorilla Glass.
Not only are the markets for Corning's display glass and LCD components growing in breadth and depth, the optical fiber market has also reversed a decade long trend of price declines and is now rising. Demand for optical fiber is forecast to expand 28% over the next 5 years.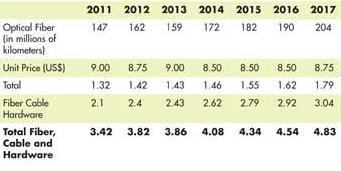 (source: photonics.com)
Today, Corning and View, Inc. announced a joint collaboration under which Corning is investing in View's Advance Dynamic Glass Technology. This move into architectural building glass for energy and environmental control has the potential to make all other corning markets pale in size in the long term. It is a further demonstration of the company's strategic vision and planning which keep it adapting to change and evolving beyond reliance on any single family of products and industries.
Share prices for GLW have risen off the double bottom $10.70 low of mid November 2012 and advanced through long term resistance of $14.50 that has prevailed since August 2011. This $14.52 has now become a weak support level since the end of April 2013, having been tested once on June 13th. A second test of the support is likely in the near future and if shares can maintain strength rising off that level then a breakout to $20 or even $23 is possible.
(source: yahoo.com)
Since achieving a golden cross on February 14th, the 50 day moving average has offered very strong technical support. This support level is now at $14.70. With shares trading near $15.00, only slightly above support) and breakout potential on the upside to $23, the asymmetric upside potential for appreciation is large.
Strong margins and a low share price/tangible book value ratio offer solid value. The modest 12.96 P/E is attractive and the strong rising trend here indicates investors are eyeing increasing value for growth.
GLW Book Value Per Share data by YCharts
Management efficiency, as measured by rate of return on investment, shows a mixed result. While performance on these metrics is far down from the high flying days of early technology leadership for several groundbreaking products, the returns are still attractive and highly competitive with the industry and peer groups.
GLW Return on Assets data by YCharts
The case for Corning is compelling.
Founded in 1851, the company has 162 years of proven ability to change and grow with the times.
A stable of patents and products spanning Gorilla Glass, LCD screens, fiber optic cable, scientific lab ware, pharmaceutical materials, optical switching and connecting equipment and myriad other products with global demand give the company a moat that is bullet proof in the short to midterm and the strength to build on its long history of innovation and marketing to meet all long term challenges.
Corning's product mix places it firmly at the interface where high tech meets old fashioned manufacturing, marketing, and distribution, a very lucrative environment to dominate.
Expansion into the automotive window glass arena promises significant revenue and profit growth poised to add to the bottom line immediately.
A steady history of dividends since 1982 (with a gap for 2002 through 2006). This includes a strong history of dividend growth in recent years, rising from $0.05 quarterly in August 2011 to $0.10 for the most recent quarter paid May 29, 2013.
A current yield rate of 2.7%

(Click to enlarge)

GLW data by YCharts
Profit margins of 22.11% and operating margins of 18.39%.
Value metrics include
Book value per share of $14.49, trading at only 1.04X book based on current share price of $15.00
Trailing P/E = 12.99, Forward P/E = 10.77
Dividend yield = 2.70%, payout ratio 28%, dividend distribution/share doubled in 2 years - including an 11.11% increase in May 2013.
Return on asset = 3.18%, return on equity 8.18%
Price target
Clearly, Corning meets a very attractive package of investment criteria by combining a proven history spanning over 162 years with a superior dividend yield and dividend growth rate, a product and patent moat and asymmetric upside potential for 33.3% near term versus downside of 18.3% according to analysts estimates.
The use of covered call sales can further enhance this opportunity by selling an at the money Jan. 18, 2014, $15 call for a premium of $1.27. This represents an 8.47% return for 215 days on the $15.00 share price (annualized return rate of 14.37% non-compounded). This on top of the 2.70% dividend yield offers a very low risk 17% yield before even considering share price growth potential.
One significant factor remains that will likely moderate growth and earnings: The Precision joint venture 50/50 partnership of Corning and Samsung (OTC:SSNHY) makes glass substrates for LCDs used primarily in notebooks and televisions. This division has seen steady declines in profitability since 2010 and is expected to continue this trend. I believe this drag on performance is already well priced into the shares and does not constitute a potential for any negative surprises.
Conclusion:
Corning offers investors a hat trick: Value, Dividend yield & growth, and large asymmetric upside potential.
Disclosure: I am long GLW. I wrote this article myself, and it expresses my own opinions. I am not receiving compensation for it (other than from Seeking Alpha). I have no business relationship with any company whose stock is mentioned in this article. I also have sold Jan.18, 2014, $15 covered calls on my long shares.
I am not a licensed securities dealer or advisor. The views here are solely my own and should not be considered or used for investment advice. As always, individuals should determine the suitability for their own situation and perform their own due diligence before making any investment.