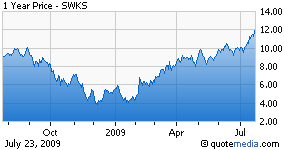 Skyworks Solutions, Inc., (NASDAQ:SWKS) which designs, manufactures, and markets wireless semiconductor solutions for the mobile communications industry, yesterday reported revenues of $191.2 million, down 11% from a year ago but up 11% sequentially and surpassed management's guidance of $182.0 million.

Non-GAAP gross margin improved to 40.5% from 40.0% in the previous quarter, flat sequentially, and in line with management's expectations. GAAP EPS came in at $0.12. Non-GAAP EPS (excluding extra-ordinary items) came in at $0.16 beating consensus estimate of $0.14.

The better-than-expected results were driven by strength in analog markets (China base stations, energy management), growth in smart phones, net books, 3G infrastructure, and mobile video and energy management applications.

Skyworks serves top OEMs, such as Samsung, Motorola, Nokia, Siemens, Sony Ericsson, and LG. With competition in the handset market intensifying, SWKS faces stiff competition from RF Micro Devices (RFMD), Anadigics (NASDAQ:ANAD) and TriQuint Semiconductor (TQNT). RFMD is expected to report a strong June quarter as it seems to have gain market share with Samsung and Nokia. Meanwhile, TQNT already topped market expectations driven by strength in its handset, and defense and aerospace product revenue. TQNT also provided a strong forecast for the third quarter as the company foresees a sustained demand in the second half of 2009 for handset and defense products, and continued recovery in the networks market.

Going forward, management stated that although it remains cautions on macro economic environment, it expects a stronger second half of 2009 based on expanding product lines and customer base. The company expects revenues in the September quarter to be grow 10% sequentially to $210.3 million against consensus estimate of $196.1 million. Non-GAAP EPS is projected around $0.19 against estimate of $0.17.

The company's diversified exposure across both handsets (smart phones) and analog markets continues to benefit the top line. Additionally, we believe SWKS is well positioned to capture the significant growth opportunity in the handsets markets propelled by the launch of 3G in China. We maintain our Buy on the stock.