About a month ago, I cautioned readers about valuations in the REIT sector, given the powerful move many had made without supportive fundamentals. While the speed and severity of the sector-wide sell-off that took place soon thereafter, including widely held Realty Income (NYSE:O), may have come as a surprise to many, it was a needed flushing of stock price excess in my view. In a later article I examined the fundamentals and valuation of O and came to the conclusion it was still pricey at $50 a share. I opined that optimistic investors might consider getting their feet wet at the $43-44 level, but that total return geared pessimists would probably be wiser to wait until around $40 to step in.
Realty Income - 3 months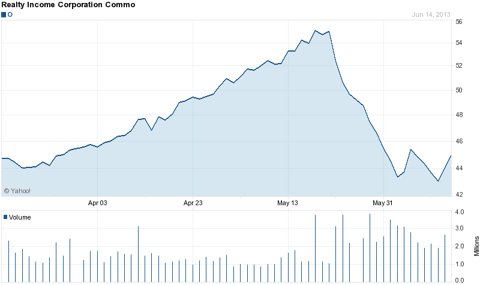 The Very Near Term
For now, it appears the optimistic camp has provided an initial floor under the stock, as the proverbial falling knife has lost its momentum. Whether these levels hold or not is yet to be seen. Near-term stock action will probably be predicated on summertime bond market movement, the next round of 'Fedspeak,' and/or additional forward color from the company when it reports second quarter operating results next month.
Looking beyond the recent interest rate "noise," REIT investors continue to be attracted by Realty Income's lofty current 5% payout, viewing it as an attractive oasis in a lower yielding risk-free world. But in the background, the perception and fear (or reality) of rising rates poses a "double whammy" for REITs. First, it tends to signal a more difficult operating environment, and second it reduces the relative allure of real estate yields, as risk-free investments and bonds become more attractive. A third "whammy" for Realty Income, in my view, rests on the valuation premium it continues to command relative to other REITs in the market.
Meanwhile, O continues to reap the rewards of its accretive acquisition of American Realty Capital Trust (former ticker ARCT), which was consummated earlier this year. The move enabled the company to bump up its dividend substantially and provide inflated FFO (operating) guidance for this year. This was a needed acquisition for O, for without it, FFO guidance probably would have been low- to mid-single digits in 2013, with a dividend increase likely equally as anemic. It was one of the reasons I stated the following in an article critical of ARCT management's handling of the merger:
For whatever reason, it appears they, ARCT, negotiated from a position of weakness instead of strength, as my perspective tells me ARCT is probably more valuable long-term to O than vice versa.
Though the ARCT acquisition was the catalyst enabling O to juice its payout to investors near term (last bar on below chart), one should not discount its previous dividend track record of consistency and reliability. Perhaps most impressively, Realty Income was able to increase its dividend, albeit only nominally, during the fiscal crisis in 2009. This was a period of time when many REITs were forced to slash or suspend payouts, given the cash flow difficulties that plagued sector constituents.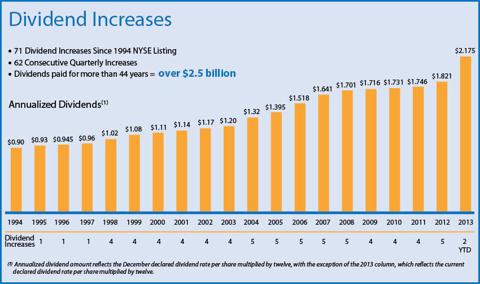 And while the company's track record of returning cash to investors is impressive, future FFO and dividend growth is what should be honed in on. What I continue to find concerning about the Realty Income story going forward is its ability to generate attractive FFO and AFFO growth, given its massive single tenant portfolio. Prior to the ARCT acquisition, O was showing signs of stunted growth, thus the impetus behind the decision to make a large, strategic acquisition. Now that the one-time benefit of the merger is starting to wane, investors should be keying on and perhaps suspect of what to expect in 2014 and beyond.
Sector Challenges
Given the slew of variables that contribute to O's and the overall sector's growth trajectory, we should consider the macro-environment backdrop. In a recent article fellow SA author Brad Thomas wrote the following with regard to the sector:
The multiple expansion that we've seen over the last couple of years has happened because FFO expansion is ahead of us -- and if you don't buy at current prices, you're going to miss the opportunity to get the dividends that will be paid as a result of FFO growth.
he further stated in a comment thread:
Arguably current REIT stock prices appear high relative to current Funds from Operations (or FFO), but that's because REIT investors understand that FFO is going to grow dramatically as the economy improves.
While I don't foresee constriction of sector growth, I'm not so sure I can go along with Brad's notion that FFO growth is going to be dramatic industry-wide, even in a slowly improving economy. An assumed spur in same store rent growth may afford incrementally increased NOI, but we also have to assume that real estate prices and other internal operating costs may likewise escalate, acting as a headwind to both NOI and cap rate expansion.
Thus, I would posit that forward FFO and dividend growth will continue to be predicated primarily on the amount of portfolio investment and disposition activity that can be generated as opposed to any vast improvement in operating organics. The current low rate environment has and continues to be optimal for deal flow, but I'm unconvinced that an "improving" economy will provide a bounty of incremental revenue. So though I think there's still growth to be had, investors considering Realty Income should temper their expectations and not anticipate anything dramatic, barring another large, accretive acquisition.
Further I would advance the notion that recent valuations were extended, and may still be somewhat extended, not because of a strategic assumption that FFO is going to grow, but more because of a deemed safe risk-adjusted flight to yield. Now that the sector has made its manic depressive move over the past three months, investors are much more inclined to scrutinize valuations and growth prospects as well as the macroeconomy's influence on the space and specific constituents. And rightly so.
Bottom's Up - Is O Headed Higher?
There appears to be two types of investors considering shares of Realty Income. One is a pure income investor who is looking for a reliable dividend stream and pays little attention to stock price fluctuation. The other is a total return investor, such as myself, who likes the idea of a plump dividend, but is preoccupied with valuation and forward stock price appreciation potential.

For better context on value and total return potential, I think one needs to compare Realty Income's current vitals to others in the triple net space. I think American Realty Capital Properties (ARCP) and National Retail Properties (NYSE:NNN) make for two of the best triple net comparables.
| | | | | |
| --- | --- | --- | --- | --- |
| REIT | Current Price | P/FFO (midpoint of 2013 guidance) | 2014 estimated FFO Growth | Current Yield |
| O | 44.40 | 18.9 | ~5% (analysts) | 4.9 |
| ARCP | 14.95 | 16.4 | 25% (company) | 6.1 |
| NNN | 36 | 19.3 | ~5% (analysts) | 4.4 |
At current pricing, O and NNN appear to mirror each other, while ARCP trades at about a 15% operating discount. The ARCP discount can probably be explained by its lack of long-term track record, non investment grade borrowing costs, and investors' skeptical take on its aggressive acquisition style. Personally, I think it should trade at a premium given its growth trajectory, but am an admittedly biased shareholder.
My bottom-line feel on O's bottoming-out is that with rather meager Street growth expectations for next year, far from bargain basement pricing, and a lukewarm sector backdrop, I'm unconvinced that we have seen the lows for the stock over the near term. While dipping in at these levels may be an acceptable strategy for investors seeking a dependable stream of income, total return investors may do better waiting on the sidelines and perusing the market, both inside and outside the REIT sector, for better opportunities.
In a recent article, Brad tried to argue that Realty Income is a buy despite not being a bargain, one assumes appealing to income investors looking for a reliable dividend source. If that's one's strategy, I don't think I'd necessarily argue with it. My counterpoint to total return investors however is that since it's not a bargain, you probably shouldn't buy it. Personally, I'd like to own a company like this with a clear shareholder focus. But not at any price.
Disclosure: I am long ARCP. I wrote this article myself, and it expresses my own opinions. I am not receiving compensation for it (other than from Seeking Alpha). I have no business relationship with any company whose stock is mentioned in this article.
Disclaimer: The above should not be considered or construed as individualized or specific investment advice. Do your own research and consult a professional, if necessary, before making investment decisions.