There was a recent article on Seeking Alpha stating the bullish case for Brinks Security (CFL). I would quickly like to point out the bearish case.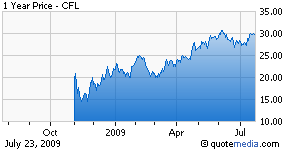 Home security in this country has many players, including large corporations and many mom and pop outfits. The industry is fragmented.
Although the financial data may be positive for Brinks, a new kid on the block is joining the mix. There is a little company named Comcast (NASDAQ:CMCSA) is that is offering home security to spruce up its "triple play" package.
Needless to say, Comcast will have a huge advantage entering this market. The biggest advantage is that it already has the pipes in place to carry any message from the home to a monitoring center. And because of its vast network of cable wire and its wide base of service reps, this will be an easy market for Comcast to enter.
I am not a fan of Comcast's stock, as it seems that the company is run more for the Roberts family than for the other shareholders. But that is just my opinion. I do however think the home security rollout will be accretive to future earnings.
It will be interesting to see how wide spread the rollout is for home security. I am sure Verizon (NYSE:VZ) is right behind Comcast. Time will tell. In any case, I think that the Comcast rollout will be disruptive to the future of Brinks.
If any other Seeking Alpha readers can think of other applications that a Verizon or Comcast could roll out with its networks, I would be interested in any feedback.
Disclosure - author has no positions in CFL, CMCSA or VZ