At the end of 1Q 2013, Yongye International Inc. (NASDAQ:YONG) has $3.64/share of cash + $2.25/share of incoming cash from accounts receivable + $2.78/share of inventory on its balance sheet. With little debt, the company has a book value of $8.66/share. Sales are growing at 25% per year (and potentially more). Current P/E is 3.1 and forward P/E is 2.5. Currently trading at around $5.00/share, the market dynamics imply significant upside in the near term with reasonably limited downside risk.
| | | | | |
| --- | --- | --- | --- | --- |
| | 2012A | 2013E | 2014E | 2015E |
| Diluted EPS (GAAP) | 1.62 | 2.03 | 2.53 | 3.16 |
| P/E | 3.09 | 2.47 | 1.98 | 1.58 |
Yongye sells relatively high-end fulvic acid agricultural nutrient in China. To a certain extent Yongye's multi-level distribution model is similar to that of Herbalife (NYSE:HLF), and in China this business model is more widely accepted and less disputed. Yongye's growth is still in its early stage and its growth rate has been above 80% in every year prior to 2012. In 2012, the company announced a management-led buyout.
Going back to May 2011, multiple Chinese companies were under attack by short sellers and some were being delisted by exchanges. Morgan Stanley Private Equity Asia announced that it agreed to invest $50 million in Yongye, which was a rare deal highlighting Morgan Stanley's confidence in the company amid all the bear raids. Yongye shares closed at $5.33 upon the announcement of the deal. Morgan Stanley Private Equity Asia Managing Director Homer Sun joined Yongye's board of directors.
Fast forward two years. Most short sellers including Citron Research and Muddy Waters Research have largely exited the Chinese company bear raids business, having researched almost every likely-fraudulent company in the field. After a 3-month NASDAQ T-12 trading halt, trading in Yongye's stock resumed on June 17, 2013. Before 2013, dozens of Chinese companies have gone into the NASDAQ T-12 trading halt, which is the ultimate moment of truth, and all of them were delisted after the halt. NASDAQ initiates the T-12 halt with the intention of an eventual delisting. It is the perfect exit for a company, if it were fraudulent in any way. If the management sits back and does nothing, shareholders would lose big. Yongye, on the other hand, managed to climb back and proved it's real in its commitment to shareholders. There is perhaps only one other Chinese company that managed to come back after T-12 - Trunkbow (NASDAQ:TBOW)'s trading resumed in May but the sales went down 84% in 1Q 2013. By comparison, Yongye is still growing at 25% per year, if not more than that.
Since 2010, Yongye's revenue has more than doubled, growing from $214 million in 2010 to $443 million in 2012. Diluted EPS has grown from $1.05 in 2010 to $1.62 in 2012. And that is after the management slowed down the growth in 2012, typical of a company under a proposed management-led buyout, which we will go into details later.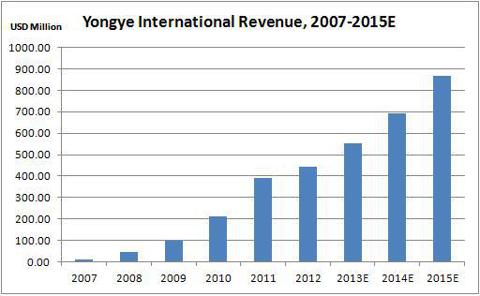 Click to enlarge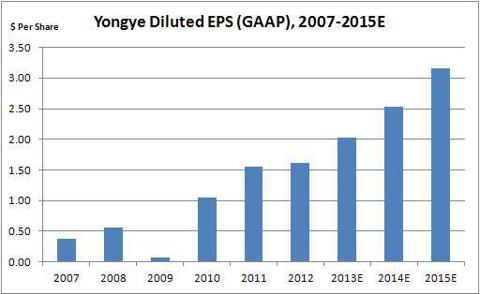 Click to enlarge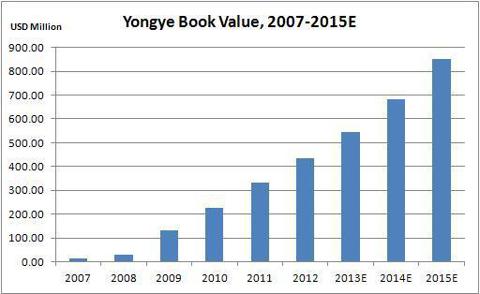 Click to enlarge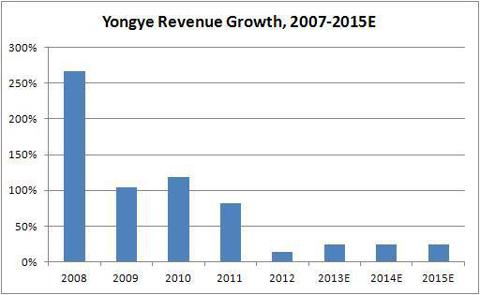 Click to enlarge
In 2012 and 2013, Yongye reduced shipment of products to distributors and the management stated that the goal was to incentivize distributors to pay off accounts payable in a timely manner. From January through April 2013, total shipments have increased approximately $28 million, or 20%, over the same period last year. The company continues to expect total shipments in 2013 to be in the range of $650 million to $680 million, representing a growth of 20% to 25% over 2012. And the company can easily beat that conservative guidance.
As in all of the other privatization cases, the company's sales growth slows down around the time the management-led buyout is announced. In the Focus Media (NASDAQ:FMCN) and Chemspec International (NYSE:CPC) privatization deals, for example, the sales growth slowed down significantly, or even declined. One feature of Yongye's business model is that the management can slow down the growth when it seems fit. In this case, it may have the incentive to do so, if it can build a case to buy out the company at a low price. Before 2012, the company's revenue grew at more than 80% in every year. Without the management-led buyout, it's likely that kind of growth rate may continue. The company expects that its branded retailer network will be expanded to 36,000 by the end of 2013, which represents a 3% increase over the 2012 year-end number of 35,058. Previously the company's branded retailer network was growing at over 25% per year. The company may be intentionally slowing down growth.
One effect from the management stepping on the brakes is that, the company starts to accumulate cash. With the current cash on its balance sheet, the company can pay a $5.89/share dividend without taking on any additional debt, while continuing to fund operations by selling inventory. After the dividend the company can still sell for 8x P/E which gives shareholders another $12.96 per share. Or, say Yongye leverages its business and issues $200 million of debt, then it can pay a $9.80 per share dividend.
How about a share buyback? The $184 million cash + $114 million incoming cash from accounts receivable is enough to buy back all of the outstanding shares. If Yongye were much bigger, say a billion dollar business, Carl Icahn and Daniel Loeb would be all over this, launching proxy battles and fighting for dividend/buyback. Activist investors can potentially launch proxy fights and unlock significant shareholder value in this case. Compared to the Dell (NASDAQ:DELL) deal and other deals that Carl Icahn is working on, the Yongye deal has so much more value on the table and much more growth going forward.
The China Development Bank (the policy bank of China) agreed to provide financing for Yongye's privatization deal. No privatization deal has ever failed when CDB agreed to provide financing. Not even the epic Harbin Electric (NASDAQ:HRBN) privatization battle. But in this case, the role of CDB is almost diminutive. Spending $6.60 per share to buy a company with $5.89/share of cash and incoming cash, plus $2.78/share of inventory, with very little debt, and sales growing at 25% per year? Any bank in the world would love to finance a deal like this.
In summary, Yongye has $5.89 per share of cash and earns more than $1.60 per share per year. The company is growing at an annual rate of 25% (and potentially much more). Intelligent investors should position themselves accordingly and the panic sale of its shares at this deeply discounted level will not last forever. The management teamed up with a buyers group and is trying to take away the company at $6.60 per share. As business people they are profit-driven and they cannot be blamed for trying to buy a valuable business at a low price. If they can pull it off, that could be the deal of the year. Their only obstacle, if there is any, might perhaps be the intelligent investors who hold the stock.
Disclosure: I have no positions in any stocks mentioned, but may initiate a long position in YONG over the next 72 hours. I wrote this article myself, and it expresses my own opinions. I am not receiving compensation for it. I have no business relationship with any company whose stock is mentioned in this article.