This is the first in a series of charts that I plan to post weekly, charts that should be of interest to bank stock investors. I'll keep the commentary brief; the charts will largely speak for themselves.
The chart below shows quarterly pre-tax earnings and assets for JPMorgan Chase (NYSE:JPM) since Q1 2007: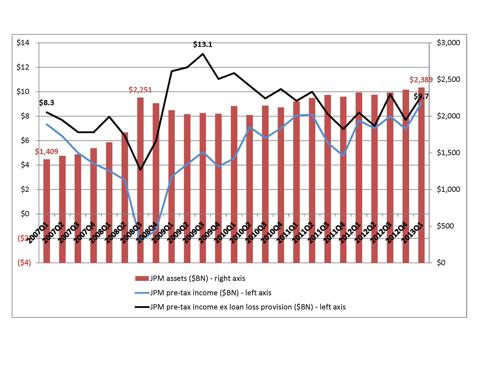 What does this chart tell us? The blue line is JPM's quarterly pre-tax income, which has risen steadily since its low of ($2.2) billion in Q3 2008. Hence the last several years of record earnings for JPM. The black line is pre-tax income ex provision for loan losses. High loan loss provisions in recent years were a major reason for depressed bank earnings. If you remove provisions from JPM's pre-tax income, you get an entirely different trend line. Pre-tax income ex provision peaked in Q3 2009 at $13.1 billion, and has trended down since then. And note how the blue and black lines have converged. The provision has gotten smaller and smaller.
The earnings boost that JPM has gotten from reducing its provision is gone.
This earnings trend is especially surprising when you look at JPM's asset growth over this period. The red bars show total assets. JPM's total assets have grown from $1.41 trillion in Q1 2007 to $2.39 trillion in Q1 2013, or at a compounded annual rate of 9.2%. A big portion of this growth came from the Washington Mutual acquisition, which closed in September 2008. WaMu increased JPM's assets by nearly $500 billion, or 27%. Since then, assets have grown by only 6.1%, 1.3% if annually compounded.
If JPM's assets grew by 70% (uncompounded) from Q1 2007 to Q1 2013, why did quarterly pre-tax earnings grow by only 24%? JPM has become more conservatively capitalized over time, but its current return on assets is still meaningfully below where it was in Q1 2007.
Will an interest rate increase jumpstart JPM's earnings growth from here? JPM CEO Jamie Dimon seems to think so. He has stated that a 300 basis point interest rate increase would increase JPM's pre-tax profits by $5 billion over a one-year period.
Lots of JPM watchers are pondering his math. I think his comment is tied to how JPM is gapped. But that's a topic for another chart.
Disclosure: I have no positions in any stocks mentioned, and no plans to initiate any positions within the next 72 hours. I wrote this article myself, and it expresses my own opinions. I am not receiving compensation for it (other than from Seeking Alpha). I have no business relationship with any company whose stock is mentioned in this article.