Below is a look at the year-to-date percentage change of ten major commodities.
As shown, orange juice, natural gas and oil are the only three that are up on the year, while the other seven are down. Orange juice is up the most with a gain of 25.46%, followed by natural gas at +14.20% and oil at 6.88%. Silver leads the way on the downside with a decline of 27.88%, followed by gold (-17.58%), wheat (-14.28%) and coffee (-14.15%). While gold and silver are down big, platinum has held up much better with a YTD decline of just 6.65%.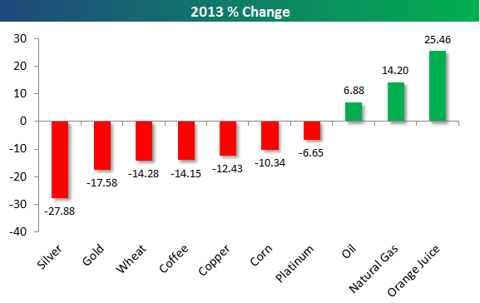 Click to enlarge
Below is a look at our trading range charts for the ten commodities shown in the chart above. For each chart, the green shading represents between two standard deviations above and below the commodity's 50-day moving average. Moves to the top of or above the green zone are considered overbought, while moves to the bottom of or below the green zone are considered oversold.
As you can see, oil has moved to the top of its trading range, and it is looking to break out of a one-year sideways range. The top of oil's range is right around the $100 level, so watch out if it breaks out to the upside. It could see a big breakout higher in a short period of time.
While oil is at the top of its range, natural gas is at the bottom. Unlike oil, though, which is in a sideways pattern, natural gas remains in a long-term uptrend.
An uptrend is the last word you would use to describe the patterns for gold, silver and platinum. Since last September, these three precious metals have been in severe downtrends. At the moment, they are showing no signs of breaking these downtrends either.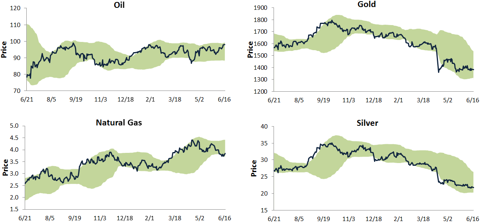 Click to enlarge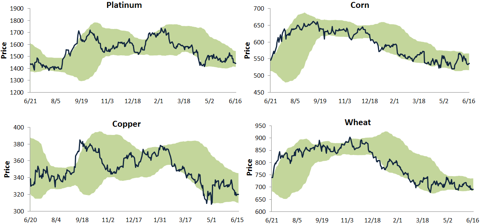 Click to enlarge

Click to enlarge