After releasing its earnings results on May 23, Sears Holdings Corporation (NASDAQ:SHLD) showed investors an initial glimpse of its financial performance under CEO Eddie Lampert during his first quarter in charge of business operations. Needless to say, the results were not pretty, with losses of $2.63 per share on a $279 million net loss for the three-month period that ended on May 4. In the quarter, revenue dropped to $8.5 billion from the year ago's $9.3 billion, resulting in a staggering $818 million decrease in year-over-year performance. The dismal results are only the most recent in a long string of disappointing quarterly financial reports for the beleaguered goliath. As one would expect with the release of such earnings results, shares of Sears Holdings took a beating by dropping nearly 20 percent in the wake of the announcement of its first quarter performance.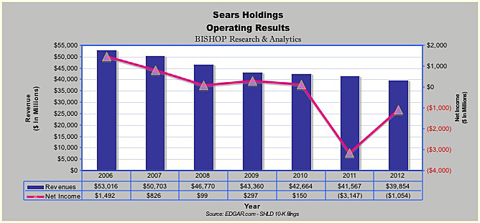 Aside from the update on Sears Holdings' gloomy quarter, several other decisive pieces of information were conveyed by Lampert and his team on both the conference call and actions taken in the opening months of 2013. These developments are far more important to deciphering Lampert's intentions regarding the outlook for the company and enable investors to form a more substantive forecast of Sears Holdings' stock performance in the years ahead. This analysis will focus on the three most likely outcomes for Sears Holdings for the next 18 months:
1) The strategy for its retail operations
2) Likelihood of an accelerated timeframe for substantial asset monetization and liquidation
3) Prospects for enduring status quo performance as a going concern in the retail business
From these considerations, an approximate valuation of Sears Holdings will be calculated based on available information. This will be used to impute a realistic estimation of the value of the company, comparing it against its current market capitalization of $4.98 billion.
Through the results of this analysis, an 18-month price target will be estimated based on an appraisal of the true shareholder value of Sears Holdings Corporation.
Boom or Bust Perspective
Sears Holdings is one of those unique stocks that animates bears as much as - possibly even more so - those bullish on its prospects. The price of SHLD shares often mystifies both points-of-view at various points in time, with little room for compromise. Shorts shake their head in disbelief during the nearly parabolic rallies the stock periodically experiences at least once or twice a year. Those long SHLD, or favorable to the logic underlying the case for owning shares, are incredulous that so many others do not comprehend the fundamental basis of the company's structure that is driving most of the bull claims, as well as the tremendous value of the company's underlying assets. Indeed, many investors and business journalists tend to adopt the extreme points of view that the company is either headed toward the pink sheets or that it is the next Berkshire Hathaway (NYSE:BRK.A). Sears Holdings generates $40 billion in annual revenue and, rather consistently, bleeds red ink from quarter to quarter. Somewhere between penny stock status and $172,710 a share, there is an appropriate stock valuation for Sears Holdings, yet the noise generated by so many outlier opinions make it difficult for investors - both longs and shorts - to price it with any degree of accuracy. The question is how to assign a valuation on this company without digressing into a binary perspective of its prospects as a going concern.
Volatile Stock Price History
As you can see from the data table below, Sears Holdings shares have an incredibly volatile price history in the eight years they have traded as a unified company. This is attributable to a variety of different factors, yet is overall reflective of the aforementioned all-or-nothing, boom-or-bust sentiment that accompanies most outlooks of this company. In general, investors either love this stock or hate it, with similar regard directed toward Eddie Lampert and his prospective ability to unlock the company's potential. With an annual mean price variance of $68.72 a share since the 2005 merger, SHLD averages a larger yearly travel-range in price than its mean low-price over that period. The volatility in this stock is so substantial that the variance between its high and low prices for the year was greater than SHLD's low-price for that period in four of the last five years. Last year, SHLD's variance of $57.01 was double its low price of $28.89, with the stock nearly tripling from that price to $85.90 early in the year. Such volatility is illustrative of one very prominent attribute regarding Sears Holdings Corporation: the market has difficulty providing accurate price discovery for this stock at any given point in time.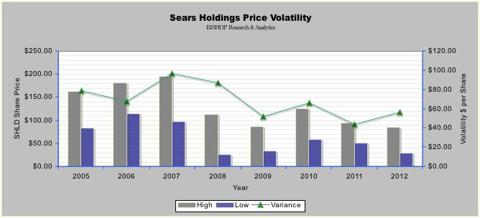 Retail Turnaround
The first quarter 2013 earnings report by Sears Holdings proves that those looking for an enduring long-term turnaround of the company's retail operations are still waiting after 8 years of agonizingly unpredictable financial results. That is, if one looks at a turnaround in the sense of Sears or Kmart ever restoring their former positions in the retail industry. Part of the misconception about Sears Holdings lies in the notion that these two retail names could ever be returned to the levels of success they once enjoyed. In truth, the brand of retail most closely associated with Sears and Kmart is anachronistic in the modern retail environment.
On the face of it, combining two of the worst performing retail chains - one recently out of bankruptcy, the other a directionless sinking giant - never made any intuitive sense. Clearly, a savvy businessman like Eddie Lampert must have understood that the traditional retail business models represented by Sears and Kmart were in a stage of terminal decline when he merged the two companies in 2005. By that time, Wal-Mart (NYSE:WMT) firmly dominated the discount market, with Target (NYSE:TGT) growing into a formidable top-tier competitor, so that the recently-bankrupt Kmart had very little chance of meaningfully competing - let alone overtaking - either of the retail powerhouses. Similarly, Sears was beset by strong competition in hardware, garden supplies, and appliances from companies like Home Depot (NYSE:HD) and Lowe's (NYSE:LOW). Over the course of the 1990s, Sears had become a virtual afterthought in the minds of most consumers for home electronics after stores like Best Buy (NYSE:BBY) and Circuit City became popular nationwide retail chains. Sears seemed to many to be following a path to extinction that claimed one of its contemporaries, Montgomery Ward, less than a half-decade before Eddie Lampert merged Kmart Holdings with the company.
Critics of Lampert's turnaround efforts point to three areas where Sears Holdings failed to meaningfully improve: increased capital expenditures to remodel and upgrade stores, using bigger sales promotions and discounts to take market share from competitors, and recruiting top management talent from other retail companies. In each case, Lampert's skeptics claim his management philosophy is to blame for the disappointing results.
Capital Expenditures
Many observers criticize what they regard as insufficient investment by the company for investing in upgrading and refurbishing Sears and Kmart stores. According to these critics, a good portion of the poor retail performance by Sears and Kmart are attributable to stores being old, uninviting, and in general need of modernization in order to attract more shoppers. By creating a more beautiful and contemporary environment for its shoppers, the logic of advocates for increased capital expenditures predicts that greater sales and higher profitability will follow as a consequence.
This logic does have several key flaws that Eddie Lampert addresses in his February 2013 chairman's letter. Notably, Lampert cites the 300 stores that have either lost money or were barely squeezing out a profit in 2006, many of which were closed in the last couple of years. Lampert claims that the company would have essentially thrown good money after bad if it had invested $3 million a store in those flagging locations. That amount of investment would have equaled $900 million, which would have likely not produced a positive return when the stores ended up being closed later for poor performance anyway. Rather than waste nearly a billion dollars trying to save 300 sinking ships, Sears was able to save that amount and add another $1 billion from the proceeds generated by closing the unprofitable locations.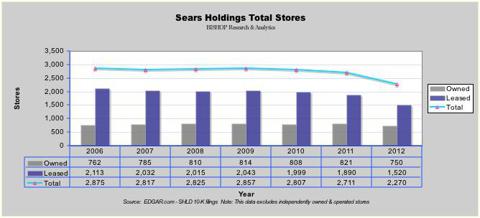 The other misconception about capital expenditures is the belief that only retailers with the most alluring or modernized shopping environments can succeed. Few would describe a shopping expedition to Costco (NASDAQ:COST) or Home Depot as a glamorous outing, yet both are among the nation's most successful retail chains. By all accounts, the shopping experience at Sears' now-defunct Great Indoors stores was far more inviting than either of those retailers, yet it failed to produce profits like both of those two chains.
Conversely, the enormous resources J.C. Penney (NYSE:JCP) poured into investing in its stores in 2012 - many of which are in locations similar to Sears stores - is proof that consumers are looking for more than a modernized shopping environment when making buying decisions. Ultimately, if heavy investments in stores were the lynchpin of retailing success, then chains like Virgin Megastores and Sharper Image would still be around today. Anyone who ever walked into an Incredible Universe store in the mid-1990s knows it takes more than a spectacular shopping experience when deciding to make a purchase, which is why the failed consumer electronics chain was unable to take market share from Best Buy or even outlast Circuit City.
Discount Sales
Many critics point to product pricing as the weakness causing Sears, and particularly Kmart, to struggle against the likes of Wal-Mart and Target. Eddie Lampert mentioned this topic within the framework of a slightly different context during the first quarter 2013 conference call on May 23. While responding to a question from Morningstar retail analyst Paul Swinand, Lampert discussed deep discounting and sales promotions in the context of restoring the company's operations to profitability.
Specifically, Lampert pointed to the impact a seemingly small 2 percent change in price can have when aggregated on the scale of $8 billion in revenues for a quarter. The difference equates to $160 million, which would have made up about 60 percent of the $279 million loss in the first quarter of 2013. While it is true that non-competitive high prices usually result in lower revenues and lost sales, Lampert's main point is that heavy discounting will not compensate for unprofitable sales. It assists with inventory turnover, but only exacerbates operating losses. Kmart and Sears do not have the established merchandising infrastructure, ordering and inventory systems, product sourcing, and leverage in third-party vendor relations to profitably compete solely in terms of price on most items with Wal-Mart and Target.
Retail Transformation
While Lampert has not engineered a successful turnaround of Sears Holdings' retail operations, the company is embarking on a transformation of the way it does business with its customers. The company is essentially trying to emulate facets of Amazon's (NASDAQ:AMZN) business model by shifting its focus to becoming a membership driven enterprise. In 2009, Sears Holdings introduced its Shop Your Way rewards program, which gives the company the ability to micro-target sales and product promotions to its members using granular data to identify shopping habits.
By logging into the Shop Your Way website, members can access deals and find discounts for the products they are shopping for, in addition to receiving emails announcing special offers. In this sense, the program is similar to the way Amazon and eBay (NASDAQ:EBAY) display product information to their members when logging into their accounts.
Some grocery store chains such as Kroger (NYSE:KR) are successfully using similar rewards programs to enhance sales and strengthen loyalty with their members by offering targeted promotions, digital coupons, and a highly personalized shopping experience. Elements of the Shop Your Way program resemble aspects of a Facebook (NASDAQ:FB) style social media platform that enables members to inform friends and family in their online network about new products and promotions. Beauty products retailer Ulta (NASDAQ:ULTA) is enjoying great success with a similar rewards program that, like Shop Your Way, offers members points based on purchases that can be applied toward discounts on future shopping visits.
The result is that purchases from Shop Your Way members now account for 60 percent of Sears Holdings' retail sales. Lampert elucidated further on this development during the latest conference call when he claimed that the company is discovering its members are much more likely to make multiple purchases at Sears and Kmart throughout the year. The company is clearly hoping this means they can generate higher sales with fewer customers by correctly identifying the buying habits of its core shoppers.
The transformation of Sears Holdings to a membership based company is intended to create a retail ecosystem similar to Amazon and eBay. Sears Holdings is also taking such Amazon ideas as offering a prime membership for Shop Your Way that include free shipping and the formation of the Sears Marketplace that enables third-party retailers to sell items with fulfillment by Sears warehouses and stores.
One immediate observation would be that a digital ecosystem with Sears and Kmart will never be able to grow to a size capable of competing with Amazon and eBay. While true, that is also not necessary in order for the membership model to work as Lampert envisions for Sears Holdings. The goal of the membership approach is to rely less on massive discount sales promotions and expensive scattershot marketing campaigns to lure key shopping demographics. The fact is, the Shop Your Way program is eminently scalable, yet does not need to become anywhere near as large as Amazon or eBay to be successful at achieving Lampert's goal of a smaller brick-and-mortar footprint through integrated retail.
Integrated Retail
Lampert's vision of the future of the industry is something he calls "integrated retail," which is essentially a way of adapting to technology's role in empowering consumers by making it the primary method for Sears Holdings to connect with them. The company issued tablets and mobile devices equipped with credit card readers to its sales associates in 2012. This enables salespeople to process transactions, reference product information, and check inventory levels in a face-to-face manner with shoppers. The technology platform also allows customers to directly communicate with sales associates through their own mobile devices. The purpose is to facilitate a more convenient shopping experience where customers get helped efficiently, won't have to wait for a salesperson to run back from the warehouse to find out if a certain item is in stock, and can either leave with the item or make arrangements for it to be delivered in a timely manner.
Along with this initiative, the company has a policy where shoppers can buy online and pick the item up at the store, which is similar to Wal-Mart's Ship-to-Store program. Sears Holdings also offers promises of Ready-In-5 and Return-Exchange-In-5 that allow customers to buy or fill-out a return/exchange request online or with a mobile device before arriving at the store to complete the actual transaction. The guarantee is that customers can get in and out of the store in five minutes or less. This policy would seem to limit foot traffic and the potential for impulse buys by shoppers who will likely dash off after the transaction is done. However, it is fitting with Lampert's focus on shifting Sears and Kmart stores away from relying on offering "loss-leader"-type products like inexpensive DVDs in an effort to concentrate on bigger ticket items and, eventually, a shopping experience that requires less stores.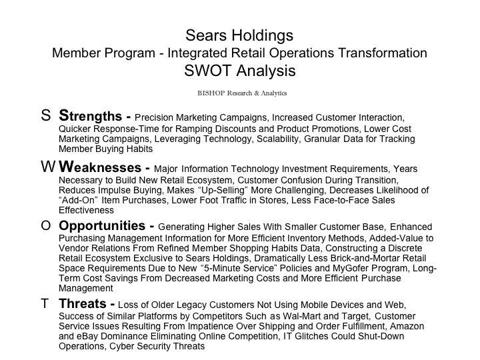 The transformation at Sears Holdings under Eddie Lampert's vision of integrated retail appears to be intended to achieve three concrete goals: building an online ecosystem focused on generating higher sales through a smaller customer base of members with identifiable shopping habits, leveraging technology to create a seamless shopping experience with less reliance on stores and showrooms, and dramatically reducing the amount of square feet required to successfully operate as a retail company. All three of these goals are vital ingredients to the future of Sears Holdings. The first two allow the company to grow its ecommerce business to a point when the necessity for its brick-and-mortar presence becomes less and less critical to its success as a retailer.
Shop Your Way members currently constitute 60 percent of the company's sales. At a certain inflection point, Sears showrooms will become less relevant to the company's ability to sell products and much more costly to retain in their present form and scale. To a lesser extent, these membership programs and integrated retail will impact the size and requirements for Kmart stores, particularly the massive super-center locations. The company already offers same-day, next-day, and two-day delivery shipping options through its MyGofer website, which essentially turns its stores into pick-up locations and distribution centers. As these programs develop, the need for so many brick-and-mortar Sears and Kmart stores is greatly diminished. When this inflection point between integrated retail and brick-and-mortar is approached, Lampert will be able to extract much greater value from Sears Holdings' real estate portfolio by closing stores and eliminating redundancies.
Store Closings
From the time of the merger in 2005, many observers believed Eddie Lampert's true intention was a liquidation of inventories and closing stores in order to sell or re-lease the properties. A closer look at actual events reveals that, even if those were Lampert's intentions, he did not begin implementing any significant store closing policy until 2011. The chart below shows that the number of store closings - excluding independently owned and operated locations - did not begin to pick up until the last three years and, in particular, the last two years. In 2010, Sears Holdings had a net decrease of 50 stores - once again, excluding independently-owned and operated locations - that was doubled to around 100 in 2011. The net decrease figure more than quadrupled in 2012, dropping to a total of 2,270 stores from 2,711 the year before. As you can see from this chart, the number of store closings has risen dramatically in the last two years and seems to be gathering momentum based on Eddie Lampert's comments in his 2013 letter to shareholders and first quarter conference call.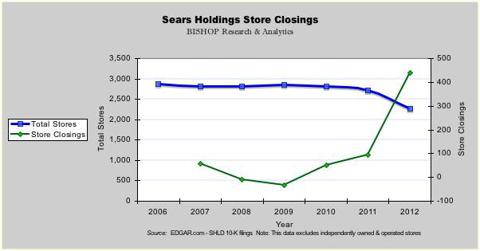 Real Estate Valuation - Actual Closed Store Lampert Model
One of the primary considerations for those analyzing Sears Holdings is forming an accurate appraisal of its real estate portfolio. As the rate of store closings increases year-over-year, Lampert and his team's ability to harvest the underlying value of these properties through sales or subleasing to new tenants will be vital to monetizing these assets. Estimates vary wildly on what the true market worth of these properties actually is - if any - with back-of-the-envelope calculations accounting for most of these analyses.
By taking the figures Eddie Lampert cited in his 2013 letter to shareholders, we can deduce an approximate value of the remaining stores based on the proceeds generated by Sears Holdings from the store closings that have already taken place. From these figures we can arrive at one approximation of the company's real estate portfolio based on historical case study of store closings and liquidations so far. This analysis excludes independently-owned and operated stores and is based on Lampert's claim in his February 2013 letter to shareholders that Sears Holdings closed a net 300 stores that were not contributing meaningfully to EBITDA since 2006 for a total $1 billion net gain.
Lampert further explains in his letter that the cash generated by liquidation of net inventory - free of obligations - at these locations typically covers and exceeds severance pay and all other costs related to closing the stores. When stores are sold or re-leased to a new tenant, the corresponding liabilities are likewise removed from the Sears Holdings balance sheet and a net gain or loss over the amounts at which they were carried according to GAAP rules can be realized.
Taking these claims into consideration, we can estimate the value of the underlying real estate applying net inventory liquidation as settlement of costs related to closing the store. The $1 billion net proceeds from 300 closed stores since 2006 - most of which occurred in 2012 - implies around $3.3 million net gain for each closed store. From the chart below, you can see how this is applied in a straight-line projection for the value of the remaining 2,270 company-owned or leased stores.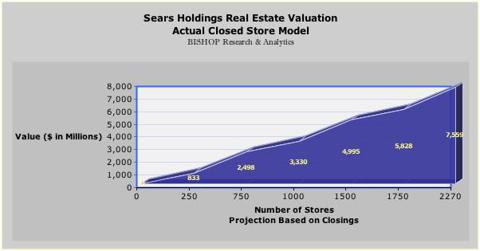 Applying this model, you can see that including all 2,270 stores - which would effectively render the ongoing brick-and-mortar operations of Sears and Kmart non-existent - results in $7.5 billion using this particular valuation model. The major weakness of applying this model is that, while using actual historical results, it does not account for the differences between owned real estate and leasehold interests. This distinction is potentially quite significant when valuing the entire retail commercial real estate portfolio of Sears Holdings.
Real Estate Valuation - HBC Model
Another method of valuing the real estate of Sears Holdings is to base its worth on the terms Target agreed to purchase in leasehold interests of up to 220 closed Zellers discount stores from Canadian retailer Hudson's Bay (TSX - HBC) in 2011. Target paid $1.825 billion for the lease rights, most of which had 15 to 25 years remaining with $5 per square foot rental rate terms, and sold the rights to 39 of the locations to Wal-Mart, as it planned the appropriate sites in bigger cities to launch its initial foray into the Canadian retail market. The sizes of the former Zellers stores ranged from 48,000 to 128,000 square feet, which is smaller than the range of Sears locations to Kmart super-centers that average 94,000 to 168,000 square feet.
From this commercial real estate transaction in the retail industry, a useful model can be created to estimate the value of leasehold interests for Sears and Kmart stores. Using these figures, Target paid around $114 per square foot for the Zellers leases. Multiplying that amount by the conservative approximation of 150 million square feet of store leases held by Sears Holdings equals $17.1 billion, which is more than triple the company's current total market capitalization.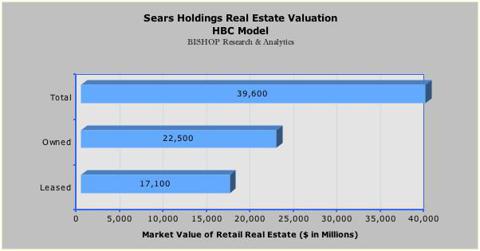 Using HBC's sale of one of its Alberta stores for a reported $10.5 million in 2012, a similar model can be implemented to estimate the value of retail real estate owned by Sears Holdings. A 42,000 square foot HBC store sold for $10.5 million equals around $250 per square foot. Sears owns 750 stores averaging around 120,000 square feet each for a total of 90 million square feet. If Sears were able to sell all of its store real estate at that price, it would generate $22.5 billion. As you can see from the chart above, when combining store lease and sale values under the Hudson's Bay model, the implied value of the retail real estate of Sears Holdings is approximately $39.6 billion.
Please note that the HBC model excludes independently-owned and operated Sears stores and is based on an exchange rate near parity in 2012 between the U.S. and Canadian dollars. It is also likely that retail commercial real estate prices vary considerably between the Canadian and U.S. markets, although that variance largely depends on the specific metropolitan areas in each country and is likely to understate the value of Sears Holdings' property values.
Real Estate Valuation - Retail CRE Five-City Composite Model
One of the primary reasons for the opposing views regarding Sears Holdings' real estate portfolio is due to the diverse values of commercial real estate across the U.S and varying perceptions of the strength of market prices. One source of these differing perspectives may arise from the difference between the value of retail commercial real estate in affluent urban and exurban communities, and the lower prices typically found in suburbs and rural areas with older shopping centers and malls.
For instance, Sears Holdings operates nearly a dozen stores in the affluent San Francisco and San Jose areas of Northern California where retail property prices are still averaging over $250 per square foot. Retail lease rents are currently averaging $27.80 per square foot in the San Jose market and $37.66 per square foot in San Francisco, according to LoopNet Market Trends. Similarly, Sears and Kmart stores abound in locations throughout the Maryland and Virginia suburbs in cities like Dulles, Herndon, Sterling, Manassas, Centreville, Chantilly, and Fairfax where retail commercial properties command prices averaging around $210 per square foot. Rents for retail leases currently average $23 to $34 per square foot in these metropolitan areas of Northern Virginia.
High market prices for retail lease rents can be found in the New York metropolitan area where Sears and Kmart have locations in Brooklyn, Staten Island, Bronx, and Flushing as well as many more throughout the affluent northern New Jersey counties of Somerset, Morris, and Hunterdon. The sales trends for retail properties in New Jersey cities like Edison and New Brunswick are averaging anywhere from around $250 to nearly $300 per square foot with leases renting for around $28 per square foot. Sears has stores in New York City locations, like Brooklyn, where retail rents exceed $100 per square foot. These premium locations in high-priced areas for retail commercial properties can be found throughout the Sears Holdings real estate portfolio.
Clearly, not all of the Sears and Kmart retail locations are in these types of areas. The company also operates a large number of stores in economically disadvantaged places like Detroit, Cleveland, and Stockton, California. Sales and lease prices for these metropolitan areas are significantly lower than places like the aforementioned cities. For example, rents for retail leases in cities like Cleveland and Detroit are averaging around $12 per square foot. Sales prices are averaging $76.91 per square foot in Cleveland and a paltry $55.50 per square foot in Detroit. Specific data for Stockton's San Joaquin County shows retail leases renting for $14.81 per square foot and property sales averaging $101.62 per square foot. Even in these economically depressed areas, retail commercial real estate still has value, although it could take a considerable amount of time to clear the market.
Five-City Composite
Due to these wide disparities in prices for retail commercial real estate, this analysis will create a composite average from five metropolitan areas that are representative of an average market in the U.S. These cities are: St. Louis, Cincinnati, Dallas, Atlanta, and Milwaukee. The high-end is Atlanta with retail rents at $18 per square foot and sale prices of $133 per square foot, and Dallas at around $98 per square foot sales prices and retail rents averaging $16 per square foot. The lowest for retail lease rent is Cincinnati at around $12.50 per square foot. The lowest sales prices for retail commercial properties are in St. Louis for around $80 per square foot. By averaging the data for these five cities, a sales figure of $108.42 per square foot and retail rent of $15.02 per square foot is revealed. Rounding these numbers to $100 per square foot for sales and $15 per square foot for rents, they can serve as primary data in this model.
Notably, in their U.S. National Retail Report, Cassidy Turley Commercial Real Estate Services forecasts retail rental asking rates per square foot averaging $15 for free-standing stores to $19 for shopping mall locations nationwide in 2013. The price trends from the Cassidy Turley report align almost precisely with the data used in this model's analysis that is provided by LoopNet, which allows it to serve as a secondary source to reinforce the five-city composite model's results.
For purposes of this model, we will assume that the stores of Sears Holdings, as well as the markets they are in, are more or less normally distributed throughout the U.S. We will weight the analysis by using the five-city composite for 80 percent of Sears Holdings' square feet of owned and leased retail space. The other 20 percent will be divided equally between the $55 per square foot sale prices and $12 per square foot rents of Detroit, and the $250 per square foot with $28 per square foot lease rents found in places like Northern California, the D.C. Metro area, and New York Metro area.
The leasehold interests, when using a 4 percent interest rate and 50-year lease term to calculate an approximation of their value for these markets, equal $199 per square foot for the high-priced Northern California, D.C. metro, and NYC metro area. The five-city composite equals $106 per square foot and the Detroit market is $85 per square foot for approximate leasehold values in these markets.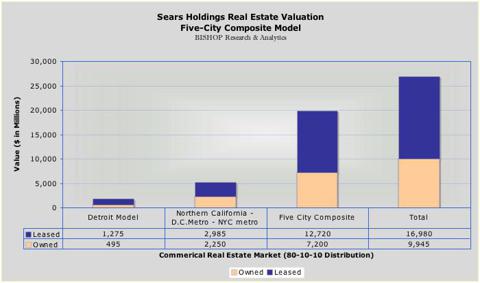 As you can see from the chart above, applying 10 percent of the square footage each to both the Detroit and high-end market prices, with 80 percent at the five-city composite prices, results in $9.945 billion for the owned stores and $16.98 billion for the leaseholds. In total, this five-city composite model estimates the value of Sears Holdings' store real estate to be worth $26.925 billion.
Real Estate Valuation - GGP/Cadillac Fairview Model
Note the very conservative estimation of the five-city composite model's leaseholds when placed in the context of Sears Canada's (TSX - SCC) $43 million sale of its lease interest in 40 percent of Medicine Hat Mall in Alberta in late 2012. In that transaction, the price was $200 per square foot for the 40 percent interest in the 539,000 square foot mall that was co-anchored by a former Zellers store, which had its leasehold purchased by Target in 2011. In April 2012, Sears Canada also returned its leasehold interests to landlord Cadillac Fairview for a total price of $170 million for three stores: Chinook Centre in Calgary, Rideau Centre in Ottawa, and Pacific Centre in Vancouver. Three stores, totaling nearly 1 million square feet, equals $170 per square foot for the leasehold buyout price paid to Sears Canada by Cadillac Fairview.
Notably, all three of the former Sears Canada stores will be replaced by new Nordstrom (NYSE:JWN) stores after significant renovations that will cost an additional 50 percent greater amount than the leasehold interests. At Vancouver's Pacific Centre, the Sears store was 600,000 square feet and spanned an entire seven-story building. Variance in prices will result from different lease terms and interest rates for each property; therefore, for purposes of the five-city composite model, a very conservative 4 percent rate with 50-year lease duration was used as a baseline. It is likely, based on studies such as the one Bruce Berkowitz of Fairholme Funds conducted, that most lease terms extend beyond 50 years and would use different discount rates, which would likely result in much higher values for Sears Holdings' real estate portfolio. Consideration of the Cadillac Fairview and Medicine Hat Mall leases serve as a useful model of actual leasehold interest sale results.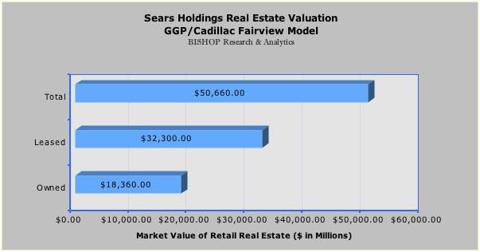 The Cadillac Fairview deal was for three stores and totaled $170 million for the leaseholds. If a similar amount could be obtained for leasehold packages for every three of the 1,520 stores the company currently rents, Sears Holdings' leases would be valued at $86.19 billion. Since the size of the Pacific Centre store is five times the size of an average Sears, and the Rideau Centre and Chinook Centre stores combined are the square footage of three average-sized Sears stores, a more precise estimate would be to apply eight stores to the $170 million figure. Using this methodology, the value of Sears Holdings' leasehold interests is $32.3 billion.
The February 2012 sale of 11 stores to General Growth Properties (NYSE:GGP) for $270 million offers a similar template of an actual transaction at the high-end of the valuation scale for purposes of this model. Significantly, the package's valuation was driven by one store in Honolulu that accounted for $200 million to $250 million of the deal, which translates to around 80-to-90 percent of the total. If only one-out-of-eleven of the 750 company-owned stores approaches such a lofty valuation, or if 68 separate 11-store packages could be sold for an amount similar to the GGP deal, then this would infer Sears Holdings owns an $18.36 billion market value portfolio of retail commercial real estate.
Combining the leaseholds with the owned portfolio under the GGP/Cadillac Fairview model, the total valuation of Sears Holdings' retail commercial real estate is $50.66 billion based on a straight-line projection of these previous transactions.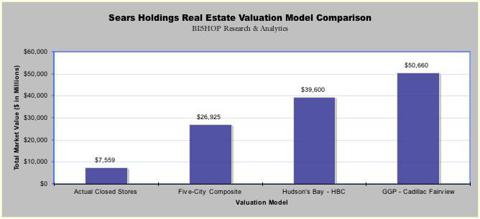 Real Estate Liquidation
Taking the models above, we calculate totals of $7.559 billion for the actual closed stores model, $26.925 billion for the five-city composite model, $39.6 billion for the Hudson's Bay model, and $50.66 billion for the GGP-Cadillac Fairview model. As you can see from the charts below, when these figures are averaged together, we estimate the value of Sears Holdings' retail commercial real estate to be $31.186 billion. This average increases dramatically when the outlier of the actual closed stores model is not factored into the analysis due to the weaknesses in its lack of distinction between owned and leased property prices. By including only the three more refined models of five-city composite, Hudson's Bay, and GGP-Cadillac Fairview in our average, we estimate the market valuation of Sears Holdings' retail commercial real estate to be worth $39.062 billion.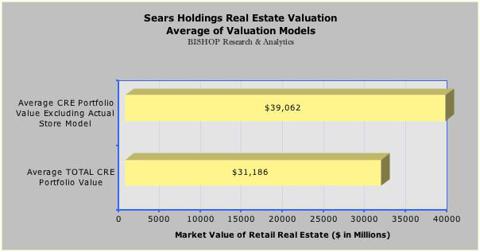 Clearly, Sears Holdings is unable to liquidate its entire portfolio of retail commercial real estate and still remain viable from an operational standpoint. Credit Suisse (SIX:CSGN) analyst Gary Balter cited this fact in his evaluation of Sears Holdings' first-quarter 2013 earnings report, writing, "Over the last few years Mr. Lampert has been slowly dismembering the corporation, taking pieces out much as players pull out pieces of a Jenga game, hoping the overall structure does not collapse. We believe what we saw this quarter, and what we are likely to see in the future, is that too many pieces have been removed, which in turn is reducing the strength of the core, and suggesting that further actions will weaken it even more."
While a valid concern, this criticism does not leave room for how a confluence of operational efficiencies arising from the transformation to a membership-based platform and integrated retail can empower Eddie Lampert to disassemble even more components of Sears Holdings in an effort to unlock asset value. Specifically, when the critical inflection point between Lampert's goal of integrated retail and the status quo "walk-up business" store operations is reached, the company will no longer require nearly as many square feet of store space to deliver comparable sales results.
Eventually, the consequence of the shift to a technology-based, member-focused commercial enterprise will be to establish a proprietary retail ecosystem that liberates the company's assets - namely, real estate within stores - for Lampert to maximize their highest value.
Monetizing Retail Commercial Property Space
Over the past few years, the company continues to rent space within its Sears stores to Whole Foods Market Inc. (NASDAQ:WFM) for roughly 25 to 30 percent of the total retail square footage of the stores involved. In 2010, Sears began renting space to Forever 21, Inc. in its South Coast Plaza location in affluent Orange County, California. The move had the dual purpose of attracting younger customers into the Sears store and monetizing under-utilized retail space. Sears even leased 3.7 acres of its shopping mall parking lot to a company that built a 40,000 square foot bowling alley and bocce ball entertainment/dining establishment called Pinstripes at the Oak Brook Center in the western suburbs of Chicago.
Ubiquity Critical Environments
While the company has undertaken several initiatives to unlock the value of underutilized real estate in its stores, the core focus of Sears Holdings' plan to capitalize on its vast property portfolio has only started to take form in the last several weeks. In late May 2013, a new unit of Sears Holdings known as Ubiquity Critical Environments began operations, led by former Microsoft (NASDAQ:MSFT) data center executive Sean Farney. The goal of the new unit is to lease former stand-alone Sears stores to technology companies for use as data centers. The new unit listed a 127,000 square foot Chicago Sears store to be closed in June 2013 as its first property to be leased as a data center.
Since Sears stores are well-equipped with fiber connections, massive power with back-up generators, and superb security systems, these stores seem ideal for companies looking to set-up enormous data storage and server locations. Commercial office space is much more expensive than retail space per square foot, and while industrial real estate is more affordable than both, it requires massive investments in power, communications, and security systems to be installed before it can meet data center specifications. Lampert and Farney have identified a sweet spot for tech companies in the Sears Holdings asset portfolio with the desirable existing features that accompany the company's real estate.
Although stores in shopping malls would not be ideal for use as data centers, these locations have the excellent potential to be utilized as business continuity centers. By being used as disaster recovery facilities, these locations offer access to food and shopping resources in the adjoining mall, as well as the existing security and power that accompanies the property. The business continuity services have the additional advantage of allowing Sears to retain portions of the stores for retail use and remodel the rest of the location to accommodate the new sub-tenant. By partitioning the stores, Sears can monetize under-utilized square footage, while remaining a retail presence in the mall.
Ubiquity was chosen as the name of the new unit because of the fact that 70 percent of the U.S. population lives within ten miles of a Sears or Kmart store. To this end, Ubiquity intends to further monetize Sears Holdings' real estate portfolio by leasing space on the rooftops of its stores to communications companies looking for ideal locations for Wi-Fi transmission devices and wireless communications hardware. Farney says he intends to "put as many rooftops in play" as he can, meaning every Sears and Kmart store could potentially be monetized by leasing roof space in a scaled-down manner similar to the way American Tower (NYSE:AMT) leases its wireless locations.
SHC Realty
Sears Holdings created a commercial real estate division called SHC Realty to lease space in both currently operating stores and closed retail space. This illustrates the commitment of the company to not only use the real estate of closed locations to generate revenue or divestiture, but the willingness to shrink the operational size of its existing stores by leasing to sub-tenants. Creative redevelopment ventures such as one in St. Paul, Minnesota that transforms a Sears location into a mixed-use retail, residential, and office space have tremendous potential for the company to monetize its real estate holdings.
SHC Realty shows that the company is preparing for dramatically smaller brick-and-mortar store operations as the integrated retail and Shop Your Way membership program reach critical mass. The total proceeds that can be generated from Ubiquity and SHC Realty are not presently estimable, yet the estimated market valuation of its retail commercial real estate portfolio suggests Sears Holdings potentially has tens of billions of dollars of property to capitalize on.
Monetizing the Value of Assets
On the May 23 conference call, Chief Financial Officer and Executive Vice President Robert Schriesheim announced that Sears Holdings is looking into options including outright sale or strategic partnership involving its Protection Agreement services. The company plans on raising at least $500 million from the service agreement business that covers such items as appliances, electronics, and fitness equipment, along with many other products. This move in 2013 follows last year's spin-off of Sears Hometown and Outlet (SHO) and almost half of its interest in Sears Canada. According to Sears Holdings' 2013 10-K filing, the company received $446.5 million by taking Sears Hometown and Outlet public as a separate corporation in 2012. The actions clearly demonstrate Eddie Lampert's determination to unlock the value of the Sears Holdings' assets.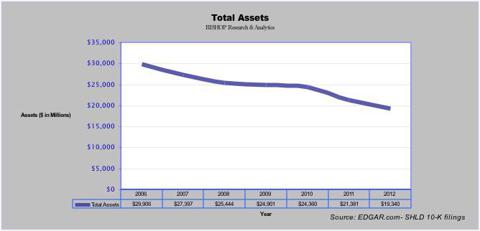 The table above shows the decrease of the total assets - according to GAAP reporting methods - from nearly $30 billion in 2006 to $19.34 billion in 2012. Some of this is the result of real estate sales, some from a reduction of inventory levels, and much of it is attributable to spinning-off non-core business units into separate companies. The December 2011 spin-off of Orchard Supply Hardware (OSH) shows Lampert's willingness to streamline the core business of Sears Holdings in this manner by divesting its stake in such assets.
Land's End
Sears Holdings reportedly is entertaining offers for its Land's End mail-order and internet clothing business. The Land's End unit was purchased by Sears in 2002 for $1.86 billion and generates $150 million to $200 million of EBITDA annually in recent years. The Wall Street Journal reported Sears Holdings is looking for $2 billion for the Land's End business in the proposals that were shopped to private equity firms. One similar transaction in recent years that can serve as a useful guide to estimate the value of Land's End is the 2011 acquisition of mail-order clothing business J. Crew. In that deal, TPG Capital and Leonard Green and Partners purchased J. Crew for $3 billion. Given these facts, Land's End could reasonably be valued around $1.5 billion with room for substantial upside if the right suitor offers to acquire it.
Brands
One of Lampert's stated intentions is for the three popular brands associated with Sears Holdings - and Sears stores, historically - of Kenmore, Craftsman, and DieHard to become as iconic in their respective merchandise categories as Nike and Apple are to athletic apparel and digital consumer products. For decades, Craftsman tools are a popular brand with consumers, Die Hard car batteries are a trusted name for automobile owners, and Kenmore remains a top-ranked brand for home appliances in the U.S according to J.D Power and Associates.
In 2006, Sears Holdings securitized the stream of future royalties from these brands by issuing asset-backed securities based on licensing income. Sears Holdings created KCD, IP LLC by registering it with the Patent and Trademark Office as a way to monetize the well-known Sears brands as a separate legal entity from the rest of the company. While Sears Holdings owns KCD, IP LLC, it issued $1.8 billion worth of bonds underwritten by royalties the trademarks generate, nearly all of which were paid by Sears. Interestingly, since the intellectual property entity had just been created, Sears had to also agree to begin paying royalties to its newly formed KCD unit. Rather than being sold on the market, these asset-backed securities were placed in Sears Reinsurance Company Ltd., known as Sears Re, which is the Bermuda-based reinsurance subsidiary that the company established in 2001. This essentially results in a circular flow of royalties from one unit of Sears Holdings to KCD and Sears Re, which zeroes out the effect on the balance sheet, yet allows the intellectual property to have a quantifiable monetary value.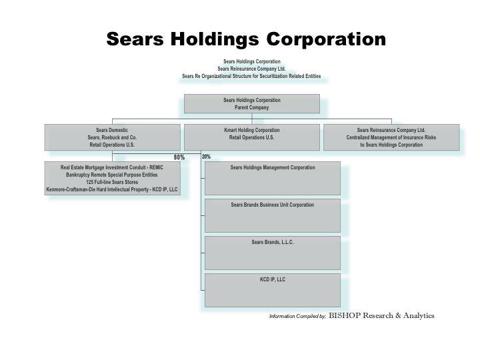 As you can see from the organizational diagram above, Sears Re exists as a separate special-purpose legal entity that allows Sears Holdings to segregate assets and income flows to finance the debt securities held in the reinsurance company's portfolio. This essentially shields the assets backing these collateralized debt securities in the event of a default by Sears Holdings, since Sears Re is the only bondholder and positioned to receive complete ownership of the underlying property. Notably, the KCD, IP LLC royalties backing the bonds only include trademarks for the U.S., its territories and possessions, with no claim to income generated internationally. In April 2012, Sears Holdings announced it hired LMCA as a global licensing agent to identify, evaluate, and manage opportunities to license the brands around the world. The potential income from global licensing could not only add a significant boost to both the profile and value of KCD brands, but may result in additional revenue that could conceivably be monetized in new asset-backed securities from international royalties. Using the bond-issuance related to the intellectual property of these brands as a benchmark, and since there is no liquid market or other price discovery for these notes, a valuation of $1.8 billion can be assigned to KCD based on par-value of the securities.
Real Estate Mortgage Investment Conduit
In addition to KCD, IP LLC, Sears Re also holds asset-backed securities on the underlying real estate of 125 full-line Sears stores. Sears Re leases these stores back to Sears Holdings, with the rent payments providing the interest payment stream for the underlying bonds. The REMIC - Real Estate Mortgage Investment Conduit - was established in 2003 to protect these properties in the event of a bankruptcy by the parent company. The creation of the REMIC was originally designed to provide Sears Re with assets to replace the credit card receivables that were the original underlying securities held by the reinsurance entity. Sears divested itself of the credit card business in 2003, which is when it packaged the real estate into the REMIC by issuing Mortgage Pass-Through Certificates backed by lease payments on the properties paid by Sears.
The REMIC holds these notes, with a par value of $1.25 billion, essentially shielding them from any bankruptcy by the parent company. This translates into $10 million per store for the 125 properties, which would be at the very low-end of the real estate valuation scale. This condition is most likely due to lower valuations of commercial real estate in 2003 and the desire to keep the lease obligations on these properties more manageable. Notably, all of the decisions regarding this real estate underlying the securities in the REMIC pre-dated the merger, formation of Sears Holdings, and Eddie Lampert becoming chairman of the company. It is entirely conceivable that Sears Holdings could utilize the REMIC for a variety of other asset-backed securities involving its real estate portfolio in an effort to shield property from default risk and provide further liquidity to Sears Re. In general, Sears Re is a valuable asset to Sears Holdings because of the legal protection it provides some valuable assets, although its worth cannot quantifiably augment the company's value by the $3 billion in securities it holds because those bonds are already backed by income flows from assets that were previously accounted for such as KCD and retail real estate.
Inventory
Sears Holdings has shrunk its merchandise inventory nearly every year since the merger in 2005. This is a top priority for Eddie Lampert and his management team because higher turnover enables resources to be more effectively allocated to product lines with better gross margins, higher customer demand, and more favorable terms from vendors. Reducing inventory levels is also tied to the identification and closing of stores with unacceptable EBITDA results. Generally, higher inventory levels ultimately result in bigger markdowns and massive discounts to clear the merchandise, which impacts margins negatively and creates inefficiencies. Overall, Sears Holdings has shrunk its inventory from just under $10 billion in 2006 to $7.558 billion in 2012. CFO Robert Schriesheim announced on the May 23 conference call that Sears Holdings intends to reduce that inventory figure by another $500 million at peak for 2013 in an effort to free-up an additional $300 million in liquidity for the year. Another important consideration is that of the $7.5 billion in inventory, Eddie Lampert pointed out on the same conference call that somewhere between $4 billion and $5 billion of it is net inventory that is owned by Sears Holdings without any outstanding payment obligations. Although GAAP accounting methods vary with each company, taken at the valuation on their books, Sears Holdings has $7.5 billion in inventory.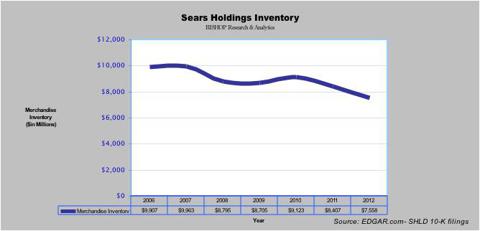 Liquidity
One of the primary concerns for investors regarding Sears Holdings is its liquidity position. This is a particularly salient factor for evaluating the company in light of its dismal earnings performance, huge operational losses in recent years, and the fact that its viability as a going-concern is inextricably linked to its ability to remain liquid as it transforms its core operations. To address such concerns - as previously noted in this research report - the company announced that it plans to either sell or enter a joint-venture with its Protection Agreement service to raise $500 million in 2013. Further relieving any investor distress in this regard, CFO Schriesheim offered a detailed description on the May 23 conference call of the $7.3 billion of liquidity Sears Holdings has available to it through $1.75 billion of short-term credit facilities, over $500 million of cash-on-hand, and the $5 billion of net inventory.
The credit-default swaps market reacted negatively to the first-quarter 2013 earnings, which caused the price of protecting Sears Holdings bonds to rise to over $750,000 annually to insure $10 million worth of the company's debt for five years. Since that time, the credit-default swap market has settled down to $734,400 a year to insure $10 million for five years, according to Markit.com. This places Sears Holdings CDS at roughly the same prices that were trading prior to the disappointing earnings announcement, which indicates the market's long-term price for the risk of the company defaulting has returned to status-quo.
Liquidity Risk Factors
Ultimately, retail consulting and investment banking firm Davidowitz and Associates chairman Howard Davidowitz succinctly described Sears Holdings' liquidity risks by saying, "Eddie Lampert, as the major shareholder of Sears, sitting on a ton of real estate assets, is not going to let the company go bankrupt because that will destroy Eddie Lampert. There is no risk of default anywhere." Offering a contrary opinion in the same syndicated Bloomberg News article, head of trading at Brownstone Investment Group, Jon Sablowsky said, "Ideally what they're going to do is use the proceeds and reinvest into their business, provide the consumer with a more attractive offering and more attractive pricing. If that doesn't work, then their whole strategy of liquefying the business is not going to work." Notably, Davidowitz is now offering a more sanguine appraisal of the company's ability to remain liquid, revising an assessment from a year ago when he told MSN Money in April 2012, "I don't think Sears is viable. I don't think they can survive in their current state."
Clearly, liquidity is the biggest risk regarding an investment in Sears Holdings. The present state of Sears Holdings is a company that is in the process of transforming its core operations and divesting itself of assets that will not be necessary to successfully carry-out its operations when that transformation is complete. During this process, the risk is that the monetization of assets and divestiture of extraneous property do not keep pace with the liquidity demands of the core operations for Sears Holdings. Ultimately, assessing this risk comes down to one's regard for Eddie Lampert's financial acumen and how that translates into keeping the current funding requirements for Sears Holdings on track.
Liabilities
In its most recent quarterly filing with the SEC, Sears Holdings reported total liabilities of $16.475 billion. While this figure is down nearly $900 million from 2006, it is also $1.1 billion higher than it reported on its balance sheet for its 2009 annual results. The main drivers since that period are dramatically increased pension fund obligations, short-term borrowing, and an increase in long-term deferred tax liabilities. In particular, Sears Holdings reported an $800 million increase in short-term borrowings during the year of 2011, which Lampert described in his 2012 letter to shareholders as tapping the company's domestic revolving credit facility to retire maturing debt and make necessary payments to the pension fund. Lampert cited the domestic revolver's April 2016 maturity as evidence that the borrowing was actually more long-term in duration, although it is accounted for on the balance sheet as short-term. Regardless of this distinction, the increased obligation remains a significant liability for Sears Holdings.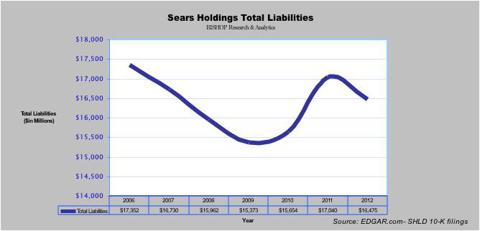 The pension plan presents another challenge for Sears Holdings as the contributions are necessarily higher due to the impact of low interest rates. Compounding the company's difficulties in this regard is the fact that Sears Holdings has not been generating positive net earnings for several years, which means it cannot take advantage of deducting the pension fund contributions from its taxes. When the company returns to profitability it will once again be able to deduct the pension fund contributions from its taxable income. Until then, the pension fund contributions are costing Sears Holdings around $360 million each year, or roughly $90 million a quarter, according to the first quarter 2013 cash flow statement.
One bright spot for Sears Holdings is that every time it sells a leasehold interest or enters an agreement to sublease real estate to another tenant, the company reduces a long-term lease liability. Eddie Lampert cited this in his 2013 annual Chairman's Letter as an important factor that is examined by the bond rating agencies when determining the risks involved with Sears Holdings' debt obligations. This also illustrates the necessity for the company to monetize its square footage to offset the liability of long-term lease obligations with either enhanced profitability per square foot of store space or renting it to a sub-tenant. Currently, Sears Holdings reports $16.475 billion of liabilities on its balance sheet.
Valuation of Sears Holdings
Putting together all of the aforementioned data, we arrive at an estimation of the value of Sears Holdings Corporation. The estimated value of Land's End, KCD brands, merchandise inventory, and the $31.186 billion average of our four different models of retail commercial real estate value deliver a result of $41.986 billion in total assets. This estimate is more than double the $19.34 billion worth of assets on the Sears Holdings balance sheet, due to the fact that GAAP rules require public companies to value fixed assets on the books at the lower value of either historical cost or market value. Incredibly, this simple concept appears to often be at the core of most of the disagreements over estimates of the value of Sears Holdings. The NYU Stern School of Business has a handy primer on asset measurement and valuation that covers any questions about how accounting rules govern various asset classes. The chart below displays the total estimated asset value of Sears Holdings.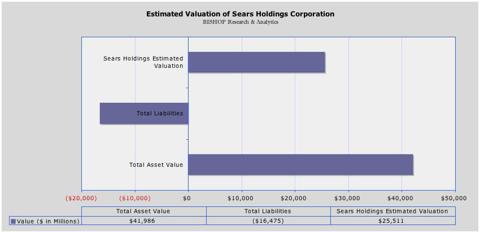 By deducting the company's $16.475 billion in total liabilities from the estimated $41.986 billion in total assets, the result is a total estimated valuation for Sears Holdings Corporation of $25.511 billion.
Sears Holdings currently has 106.41 million shares outstanding at a market price of $46.84 per share for a total market capitalization of $4.984 billion. Our estimated valuation of Sears Holdings Corporation of $25.511 billion infers a fair value for SHLD shares at $239 per share.
Clearly, Eddie Lampert is not likely to liquidate the entire company to unlock all of these asset values. Sears Holdings is undergoing a transformation to a new business model based around members and integrated retail. As the new structure replaces the old one's reliance on a large brick-and-mortar footprint, the company will require substantially less square feet for conducting its core retail operations. Even if Lampert can successfully monetize half of these assets - roughly $15.5 billion worth - the company's assets less total liabilities would still be worth over $10 billion, which is more than double its market capitalization at the present time.
At Sears Holdings' current $4.984 billion market capitalization, with $16.475 billion in total liabilities, this infers total assets and shareholder equity of $21.459 billion. By subtracting the $7.5 billion of inventory from this total, that leaves $13.959 billion for the remaining assets. Leaving aside estimated values of Land's End and KCD, LP LLC, and focusing solely on the real estate values, a clearer picture of the real value of Sears Holdings begins to emerge. When this $13.959 billion figure is divided by the 250 million square feet of retail commercial real estate Sears Holdings either owns or leases at its 2,270 stores, the result is a price of $55.83 per square foot, which - as detailed earlier in this report, according to LoopNet - corresponds to the current average market sales price per square foot for retail space in economically distressed Detroit, Michigan. Clearly, based on the current $4.984 billion market capitalization of Sears Holdings, this company is substantially undervalued at $46.84 per share based on the value of its underlying assets.
Timeframe for Greater Price Volatility
Several important clues point to an explosive price move in Sears Holdings within the next six months. This volatility could continue for an additional year as visibility regarding the company's future begins to take form. Some key signs that a significant price movement in Sears Holdings shares is imminent are:
1): Over 20,000 January 2014 OTM Put options with open interest at strike prices of $25 and below as of June 17, 2013. Nearly half of these - around 9,257 contracts - are at the $20 strike price, with around 6,500 at the $25 strike, and approximately 3,000 at the $10 strike. All the intervening months prior to January 2014 do not have that amount of open interest in puts combined, even at the $45 strike price and lower. This is not an options discussion, but is intended to show that volatility is imminent for Sears Holdings.
2): On the bullish side, there are over 14,000 open interest OTM January 2014 Call options with strike prices at or above $65. The highest concentration of these contracts is at the $95 strike price with over 4,000 open interest calls, closely followed by around 3,550 OTM calls at the $80 strike price. If one goes all the way down to the roughly ATM $50 strike price for the January 2014 expiration, there are over 26,000 contracts of open interest calls, which exceeds the total OTM and ATM calls for all the expirations leading up that month.
3): There is also over 95,000 OTM Call options open interest with January 2015 expiration at both the $60 and $70 strike prices, which is more than quadruple all the current at-the-money-or-above calls during that 18-month period. These large January 2015 positions were originally traded on January 14 and 21 of this year. Based on their strike prices and similar open interest, they appear to be spread positions with a $2.80 cost basis, which translates to a $26.6 million position that has a maximum payout potential of $68.4 million if SHLD is at $70 or higher in January 2015.
4): The company reported an incredibly high operating loss of $2.63 per share for its first-quarter of 2013. The losses are accelerating at a pace that Eddie Lampert cannot tolerate and he acknowledged on the most recent conference call that big changes will be forthcoming in regards to asset sales and strategic partnerships. Most of the store closures that have occurred since the 2005 merger happened in the last 18 months. Lampert indicated in his February 2013 Chairman's Letter that closing stores that are losing money is a lucrative endeavor in each instance for three very clear reasons: ceasing further operational losses from the store, removing the lease liability or debt obligation associated with the store, and converting the store's net inventory into cash. Lampert's emphatic description of the advantages involved with closing stores that do not contribute to positive EBITDA results for the company - in the section of his annual letter subtitled "Creating Long-Term Value" - proves that his vision for the company is a dramatically reduced brick-and-mortar footprint with money-losing stores being liquidated, closed, and generating cash from the sale or subleasing of the property. The result will assuredly be a sizable increase in the number of store closings in 2013 and 2014 with announcements about asset monetization deals.
5): The final, and most compelling, signal that affirms imminent increased price volatility and significant operational changes for Sears Holdings is the decision of Eddie Lampert to take over as CEO when Lou D'Ambrosio stepped down in January to deal with a family health issue. Lampert could have recruited a chief executive from another retailer or even an executive from a company in a different industry. He did not. He chose to step into the CEO role at a time when the company's rate of store closings is increasing and assets are being spun-off into separate entities. This increased activity aimed at monetizing assets suggests that Lampert views Sears Holdings' operational model as being formed in its new member-focused retail initiatives and the current focus will be on unlocking the value of the company's enormous portfolio of assets. Lampert's critics often cite his lack of retail and merchandising background as evidence that he may fail as CEO of the company. This proposition would also confirm increased stock volatility as SHLD shares would suffer if the critics are proved right. Much greater volatility in Sears Holdings shares seems assured as it appears the market will finally be getting clearer insight during 2013 and 2014 into Eddie Lampert's endgame.
Conclusion
Sears Holdings is a confusing company for most investors to understand. Its dismal results over the past several years, and bad reputation for the shopping experience in both Sears and Kmart stores in recent times, make it a company that does not enjoy favorable views among many retail customers. Putting aside these emotions, the salient factor to consider when evaluating Sears Holdings is that it is not exclusively Sears and Kmart retail operations, but rather a holding company that has those two retailers as the core of its business. The structure of a holding company is to control subsidiaries and use operating losses in one subsidiary to offset profits in another for tax purposes. The enormous tax-loss carryforward assets Sears Holdings has accumulated in recent years will be particularly valuable to the company as it begins generating extraordinary accounting gains from the sale of assets when it begins to liquidate real estate and divest itself of units such as Land's End and Sears' Protection Agreement service business.
In conclusion, Sears Holdings is a company that must be evaluated based on its balance sheet rather than its income statement. Most investors are accustomed to valuing a company based on its profit performance and a reasonable multiple of its discounted forward earnings potential. Sears Holdings is not one of these typical investment evaluations based on earnings per share. Its value is found in its assets and whether those assets have a market value that can be realized in actual transactions that exceed the size of the company's substantial liabilities. This analysis shows that they do. Others differ with this view, believing the disappointing operating losses will eventually drive the company into bankruptcy. In either case, whether the company goes bankrupt or becomes the next Berkshire Hathaway, it is likely that someday Wharton MBA students will be attending seminars where Sears Holdings and Eddie Lampert's financial strategies are the case studies. Will the potential upside value of Sears Holdings ever fully be realized? That we will know, through the passage of time.
Disclosure: I have no positions in any stocks mentioned, and no plans to initiate any positions within the next 72 hours. I wrote this article myself, and it expresses my own opinions. I am not receiving compensation for it (other than from Seeking Alpha). I have no business relationship with any company whose stock is mentioned in this article.