Over the past two years, I've become a more aggressive income investor. Though my overall strategy is one of total return, I've developed an affinity for researching and adding stocks to my portfolio that have an income component. For the past 15 years, I always took dividends in cash and redeployed as circumstances dictated. Just this past week, however, I enrolled some of my positions in a DRIP program through my online broker. Though the decision was partially meant to take advantage of the convenience and free position building capability that a DRIP affords, my primary goal was more of strategic move where I won't be "setting it and forgetting it."
My DRIP Faucet
I anticipate that I will turn my DRIPs on and off like a faucet as market and stock specific conditions dictate. Initially I have turned the DRIP faucet on for seven securities that pay me dividends on a monthly basis. I consider all these positions fairly or undervalued in the market - namely American Realty (ARCP), Whitestone (NYSEMKT:WSR), Prospect Capital (NASDAQ:PSEC), Alpine Global Property (NYSE:AWP), Western Asset High Yield (NYSE:HYI), Eaton Vance Global TM (NYSE:EXG), and Eaton Vance TM BW (NYSE:ETV). Monthly dividend payers are ideal compounding vehicles compared to quarterly or less frequent payers in my view.
The following chart specifies the loose criteria that I will use to manage these DRIPs. As long as the securities remain fair- to undervalued, the faucet remains in the "ON" position. If the security appreciates beyond stated parameters, it will be reviewed and the DRIP faucet will likely turned "OFF." If the security moves significantly beyond parameters, an outright sale of the position might be considered.
| | | | |
| --- | --- | --- | --- |
| Security | Price 6/17 | DRIP On..... | Current Yield |
| ARCP | $14.89 | As long as shares trade below $16 (14X next year's FFO multiple) | 6.1% |
| WSR | $16.81 | As long as shares trade below $18 (16X next year's FFO multiple) | 6.75% |
| PSEC | $10.66 | As long as shares trade below $11 (roughly 2% premium to latest stated BV) | 12.4% |
| AWP | $7.49 | As long as shares trade at more than a 2% discount to NAV (currently 7% discount) | 8% |
| HYI | $17.95 | As long as shares trade at a discount to NAV (currently 7% discount) | 8.7% |
| EXG | $9.55 | As long as shares trade at more than a 2% discount to NAV (currently 9% discount) | 10.2% |
| ETV | $13.32 | As long as shares trade at more than a 2% discount to NAV (currently 7% discount) | 9.9% |
For those unfamiliar with these companies, ARCP and WSR are REITs, PSEC is a BDC, and AWP, HYI, EXG, and ETV are closed-end funds.
As far as the rest of my quarterly dividend paying equities go, in all likelihood I will leave them in the "OFF" position for now. However, I am probably going to set up a spreadsheet alerting me to dividend record dates, providing me with the ability to review each situation and flexibly turn a DRIP to the "ON" position when practicable, especially for my larger holdings. My broker's flexible program of simply sending an email to turn on and off various DRIPs makes this endeavor fairly simple.
The Faucet In Action
Though some might argue this is a market timing strategy, I'd like to think of it more as a long-term strategic way for buy and hold investors to add perceptive value to their portfolios by accumulating shares when valuations are down and taking cash when equity valuations are up. Let's take a hypothetical backward and forward look at how one might approach the strategy with a widely-held stock like McDonald's (NYSE:MCD).
With the stock trading at around $100 and 20X earnings during the first quarter of 2012, a long-term DRIP investor might have decided that the stock was becoming expensive, with now not being the best time to reinvest shares. Our investor flips the DRIP faucet to the "OFF" position prior to March's 70 cent quarterly payment.
click to enlarge image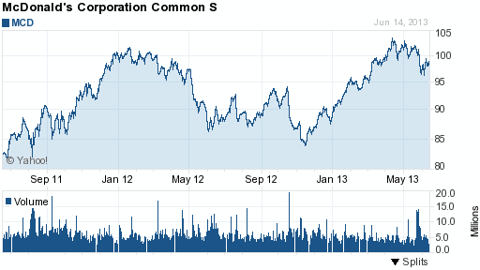 However, during the spring, the stock drops better than 10% and as the next dividend date approaches, our investor decides the lower share price is a reasonable point at which to turn the DRIP faucet back "ON." It remains on for the remaining three dividend payments of 2012 as the stock trades in an $85-$95 range. However in 2013 the stock spikes again, above $95 prior to the March 1 dividend record date. Our investor flips the faucet back to the "OFF" position prior to the payment and leaves it off for the recent June payment as well.
Now our investor knows that the next dividend record date will be sometime in August. With the stock trading around $100, but now only around 18X this year's expected earnings, is $100 an acceptable reinvestment point? Do they want the stock to drop to $95 before turning the faucet back "ON"? What's a reasonable valuation at which to start accumulating shares again? While the thought process here may be over a seemingly inconsequential amount of money, I think it's a tremendous quarterly or monthly exercise for investors to undertake. I believe that it that can help to polish long-term stock picking skill and more importantly, over time, increase overall portfolio returns.
Conclusion
While many investors take advantage of DRIPs for their simplicity and low or no cost position building, I think those willing to add a "faucet" to their DRIP plans will add value to their portfolios by keeping periodic position contact and by honing valuation analysis and stock picking skill. I would contend that the little decisions one makes over the short-term can add up to a much larger profit over the long-term. DRIP on, DRIP off.
Disclosure: I am long ARCP, AWP, ETV, EXG, HYI, PSEC, WSR. I wrote this article myself, and it expresses my own opinions. I am not receiving compensation for it (other than from Seeking Alpha). I have no business relationship with any company whose stock is mentioned in this article.
Disclaimer: The above should not be considered or construed as individualized or specific investment advice. Do your own research and consult a professional, if necessary, before making investment decisions.