Recently the price of silver has been very weak (as the first chart illustrates). While there is still a longer term uptrend in the price of silver (as the second chart illustrates), over the past two years the price has collapsed from nearly $50 per ounce, or the 1980 nominal high, to around $20-$22, or the 2008 peak that occurred when Bear Stearns collapsed.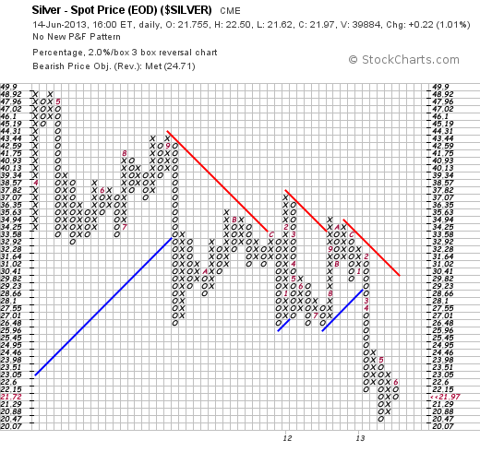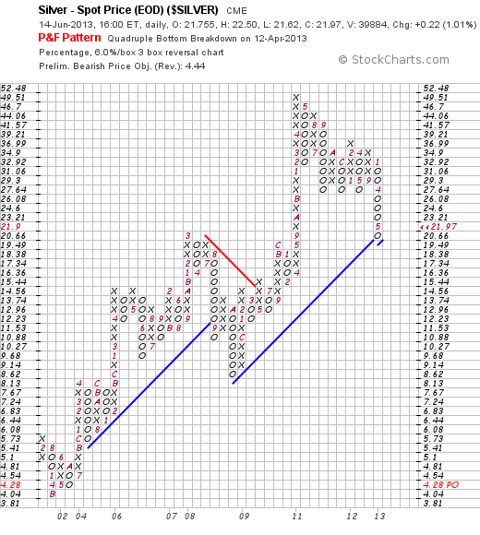 Silver miners have fared no better during the past two years--the severe downturn in the Global X Silver Miners ETF (NYSEARCA:SIL) illustrates this point.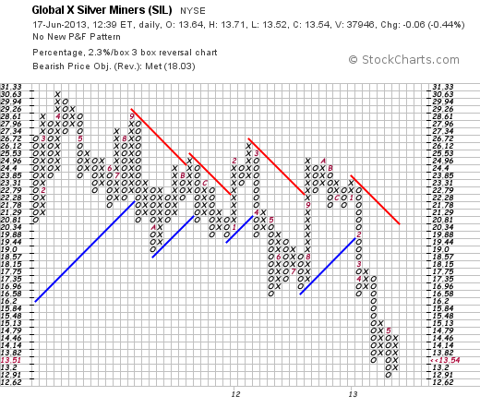 While the prices of silver and related miners may not have bottomed yet (although the 2008 peak in the silver price should provide very strong technical support), silver mining stocks offer excellent value at current prices.
Unfortunately this value does not come without high risks. The most pressing of these is the high cost of mining silver: if we look at the cost of mining silver, it is evident that with very few exceptions the metal cannot be mined profitably. The most recent quarterly financial statements from silver miners such as Coeur d'Alene (NYSE:CDE), Hecla Mining (NYSE:HL), and Silver Standard Resources (NASDAQ:SSRI) all evidence this fact.
Investors who are especially bullish on silver may wish to take the risk of owning these companies with razor thin margins (or in some cases, outright losses). But while such investors may be correct in their bullish stance on silver, they may still lose on their investments because of poor timing--the price of silver may stay depressed for an extended period of time, and high-cost producers may be forced into insolvency.
As a consequence of this, I have selected three companies with production costs that are comfortably below the current price of silver, that I believe investors should consider: Silver Wheaton ((NYSE:SLW)), First Majestic Silver (NYSE:AG), and Pan American Silver (NASDAQ:PAAS). While it is true that these companies will likely lag their competitors who have higher costs should the price of silver soar, if the price of silver remains subdued for some time these companies will have the necessary cash flow to:
Return capital to shareholders
Purchase their competitors that have higher production costs at a deep discount
Purchase mines at depressed prices from companies that are in need of cash.
These companies will also appeal to money managers who focus on high cash flow businesses, and as a result their share prices should have support, despite the fact that in each of these cases the share price has languished as of late.
Silver Wheaton
Silver Wheaton is not a mining company, but rather a streaming company. Unlike mining companies, these companies make deals with mining companies whereby they give mining companies up-front payments in cash or stock in exchange for streams on agreed upon mines. A stream entitles the streaming company to the right to purchase resources produced by the mining company at an agreed upon price. (For more on streaming companies see my article: Gold And Silver Royalty Companies Part 1: The Pros And Cons Of Royalty Companies.)
Silver Wheaton currently has a market capitalization of $8.2 billion. The company is currently entitled to around 27 million ounces of silver production annually, and its costs are incredibly low at roughly $4/ounce.
As a streaming company, Silver Wheaton has the advantage of being able to purchase silver at a low price. While this limits the company's leverage to the price of silver, it cushions the impact of a low-priced silver environment like the one we are currently in. The company further cushions the impact by paying a dividend: its current policy is to pay out 20% of free cash flow to shareholders.
A downside to Silver Wheaton's business model is that the company does not operate the mines from which it gets its silver, and as a result, it is vulnerable to its partners' incompetent management. One example of how this has hurt Silver Wheaton is the deal that the company has with Barrick Gold (NYSE:ABX) on its Pascua Lama project. This is a huge deal for Silver Wheaton that is worth over $150 million in annual revenues (in 2012 the company had roughly $850 million in annual revenues), and I doubt that the project will go into production.
Given this concern, potential investors in the company should be familiar with the companies with which Silver Wheaton does business and the projects involved.
These are the most important:
Mine
Operator
Location
Annual Production Streamed to SLW (Ag. unless otherwise noted)
Life of Agreement
San Dimas
Primero Mining (NYSE:PPP)
Mexico
5+ million ounces
15+ years
Penasquito
Goldcorp (NYSE:GG)
Mexico
Roughly 7 million ounces
22+ years
777
Hudbay (NYSE:HBM)
Canada

820,000 ounces of Ag.

68,000 ounces of Au.

9+ years
Yauliyacu
Glencore International (OTCPK:GLCNF)
Peru
Up to 4.75 million ounces
10+ years
Zinkgruvan
Lundin Mining (OTCPK:LUNMF)
Sweden
2 million ounces
10+ years
Cozamin
Capstone Mining Corp (OTCPK:CSFFF)
Mexico
1.5 million ounces

7+ years
First Majestic Silver
First Majestic Silver is among the most expensive silver miners based on several key metrics (price/annual production, price/silver reserves, price/tangible book value...etc.), yet there is good reason for this. First Majestic is one of the best managed mining companies of any in the world. It has incredible production growth, and it achieves this growth through a highly disciplined strategy. The company only purchases mines that meet the following criteria:
The mine must be located in Mexico
The mine must have low production costs
The mine must be mostly silver (many "silver" mines see a lot of copper, zinc and lead production).
For investors who are looking for a company with exposure to the price of silver without any of the additional risk baggage that comes with so many companies, this is the company to buy.
The company currently has a market capitalization of around $1.3 billion. It anticipates that it will produce 11 million ounces of silver this year and this should increase by 50% over the next three years. In addition to the company's growth, it has a net profit margin in excess of 25%, which is astonishing considering that even its best run peers are struggling just to turn a profit.
The company's margins are so high because it only develops and operates mines that have extremely low production costs. Some of these mines include the following:
The Del Toro Silver Mine has cash costs of just $7.05 per ounce.
The La Guitarra Silver Mine has cash costs of $15.94 per ounce.
The La Encantada Silver Mine has cash costs of just $8.46 per ounce.
The La Parrilla Silver Mine has cash costs of just $8.38 per ounce.
The San Martin Silver Mine has cash costs of $11.72 per ounce.
With such low production costs, the company should have little trouble operating profitably even if the price of silver continues to struggle. Furthermore, with $112 million in cash and equivalents as of the end of March, the company is in a position to purchase distressed assets.
Pan American Silver
Pan American Silver has a fully diluted market cap of $1.85 billion. It is one of only a handful of silver mining companies that pays a dividend, which is currently at $0.50 per year, giving the stock a 4.1% dividend yield. It owns and operates 8 silver mines that are predominantly located in Latin America, although it has a few exploration properties in the United States. The company is primarily a silver miner, although I should note that in the first quarter of 2013 only 70% of its revenues came from silver, 18% came from gold and 12% from base metals.
Pan American Silver produced approximately 25 million ounces of silver in 2012 and it anticipates growing production to 30 million ounces or so by 2016. Thus the company has slower growth than First Majestic, but it is starting from a higher level of production relative to its market capitalization, and in this respect it is less risky. While the company will not likely grow production rapidly, it has 1.2 billion ounces of reserves and resources (valued at just over $1.50 per ounce) which means that it does not have to worry about running out of silver any time soon.
In the first quarter of 2013 the company's production costs were around $11.33 per ounce net of by-products, which is well below the current silver price. The following is a list of the company's key mines along with cash costs:
La Colorada had production costs of just $8.81 per ounce.
Alamo Dorado had production costs of just $7.00 per ounce.
Dolores had production costs of just $7.75 per ounce.
Huaron had production costs of $15.76 per ounce.
Morococha had production costs of $22.95 per ounce. This is the only unprofitable mine that Pan American currently operates.
San Vicente had production costs of $18.95 per ounce.
Manantial Espejo had production costs of just $7.11 per ounce.
As a result of these low cost mines, the company has extremely strong cash flow. Additionally it has $490 million in cash and equivalents, so it is in a position to make acquisitions. As I mentioned above, one of the advantages of being a low-cost producer is that companies are put in positions where they can make acquisitions of undervalued assets, and given the large number of such assets, Pan American Silver will likely make such acquisitions which will prove to be extremely profitable in the long run.
One downside to owning Pan American Silver shares is that the company faces political issues as they have several mines in Peru, Argentina and Bolivia. To combat these concerns the company is planning so that in the future it will be producing in more mining friendly countries such as the United States and Mexico.
Disclosure: I am long SLW, PAAS, AG. I wrote this article myself, and it expresses my own opinions. I am not receiving compensation for it (other than from Seeking Alpha). I have no business relationship with any company whose stock is mentioned in this article.