We will get the Fed rate decision today and shall get some insight into the board's plan moving forward. A lot is being made of Obama's comments regarding Ben Bernanke and those are overblown. The President did not fire the Federal Reserve Chairman but simply offered him a way out. So long as Bernanke feels he needs to stay on the job, or even wants to stay on the job, he will be allowed...the man has earned that much.
Look for choppy markets today with a move higher after the Fed's comments later today as long as nothing new comes out that takes the market by surprise.
Chart of the Day:
With interest rates moving higher we could see the growth in refinancings stall as it becomes less beneficial for homeowners to refi with rates closer to where they took out their original loan. We are not in trouble yet, and should rates hold steady here and the housing market continues to improve we should have more homeowners who are currently underwater or at least below the 10-20% equity requirement to refinance come above those levels and find the benefits of refinancing their loan. We are aware of a good number of homeowners who are still stuck in adjustable rate mortgages and cannot get out because of their lack of equity in the property. As rates rise they may be inclined to pump more capital into the equation in order to lock in a monthly payment.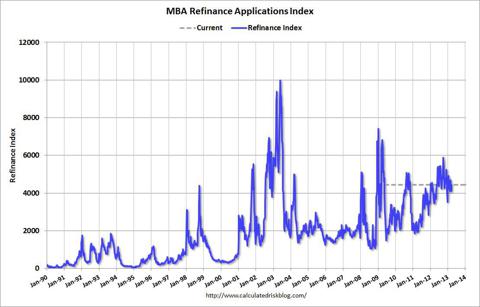 Click to enlarge
Chart courtesy of CalculatedRiskBlog.com
We have economic news due out today, and it is as follows:
MBA Mortgage Index (7:00 a.m. ET): N/A
Crude Inventories (10:30 a.m. ET): N/A
FOMC Rate Decision (2:00 p.m. ET): 0.25%
Asian markets finished mixed today:
All Ordinaries -- up 0.98%
Shanghai Composite -- down 0.73%
Nikkei 225 -- up 1.83%
NZSE 50 -- down 0.37%
Seoul Composite -- down 0.65%
In Europe, markets are lower this morning:
CAC 40 -- down 0.18%
DAX -- up 0.25%
FTSE 100 -- down 0.17%
OSE -- down 0.52%
Telecom
A few days ago we discussed the possibility of Vodafone (NASDAQ:VOD) purchasing German cable operator Kabel Deutschland, the largest cable operator in the country, for about $10 billion. It appears that the company is prepared to move forward with that bid, offering an all cash deal to beat Liberty Global's (NASDAQ:LBTYA) offer. There is more risk for Kabel Deutschland's shareholders with a Liberty Global buyout because of Liberty's ownership of the number two cable company in Germany as well as the fact that their bid would include stock and not be all cash.
Vodafone's run-up on the speculation the company would be bought or would sell its stake in the US joint venture has disappeared as the company has transitioned from the hunted to the hunter.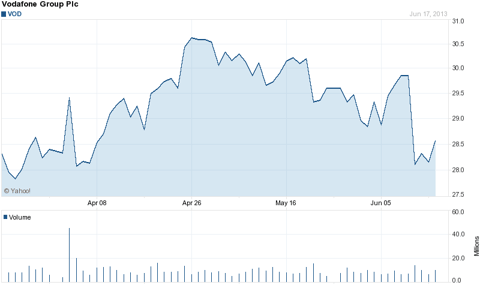 Click to enlarge
Chart courtesy of Yahoo Finance.
Although the offer has not been made it appears all but certain as there have been plenty of sources talking to different news outlets, and as the old saying goes 'where there is smoke there is fire' (see Reuters story here). It also appears certain that any deal here kills any possibility of a deal with Verizon (NYSE:VZ) over the 45% stake Vodafone owns in Verizon Wireless as the dividend cash flows will be used to obtain financing and keep their credit rating where it is.
Biotech
Elan (NYSE:ELN) has successfully defeated the latest takeover bid for the company, but in the process has announced that the company is up for sale. We read an interesting note yesterday that in a sale the company could fetch up to $18 or $19/share if the right buyer emerged. The price seems pretty outrageous given the current share price and recent movement higher in the company's shares due to the deals they have been making to reinvent the overall company. We would doubt that the company goes for $19/share, but we could see it going for $15/share and maybe even $16/share. However the analyst who wrote that note did hedge by saying the "right buyer" and when someone makes up their mind to purchase an asset at a crazy price, well they usually get their wish.
Technology
Cree (NASDAQ:CREE) continues its move higher as investors continue to warm up to the LED name as consumers gravitate further towards the products to serve their lighting needs. This past weekend we received a crash course from a neighbor in the mountains on the new LED technologies and the pricing of various LED products. We came away knowing a good bit more about the products which are out there and how companies like Cree make their margins in the industry.
Any chart which rises from the lower left to the upper right is a thing of beauty, and Cree's chart most certainly fits that bill. Better yet, the company hit a new 52-week high yesterday and it appears they are hitting on all cylinders.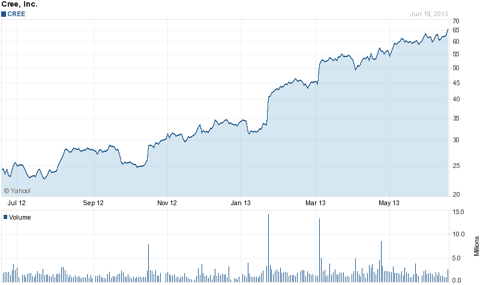 Click to enlarge
Chart courtesy of Yahoo Finance.
Shares in Cree yesterday rose nearly 4.50% to close at $65.70/share after Susquehanna put out a research note stating that their research indicated that Cree was still the most popular LED manufacturer at Home Depot, no doubt helped by their sub-$10 LED bulb product. The company kept their 'Buy' rating on the company as Cree has been able to maintain market share even in the face of competitors lowering prices.
Disclosure: I have no positions in any stocks mentioned, and no plans to initiate any positions within the next 72 hours. I wrote this article myself, and it expresses my own opinions. I am not receiving compensation for it (other than from Seeking Alpha). I have no business relationship with any company whose stock is mentioned in this article.