For those of you who have been following the Netflix (NASDAQ:NFLX) story, you know that things have been spectacular. The stock has risen ~163% since last June and ~137.2% year to date. On Monday, the company inked one of its largest deals ever with DreamWorks Animation (NASDAQ:DWA) on its subscription video streaming website. The terms of the deal were not disclosed; however, the deal will allow NFLX to offer over 300 hours of new programming from DWA for a multi-year period. Today I will focus on the current valuation and future prospects of NFLX, and whether the recent spike in the stock price warrants a buying opportunity for investors or whether it is best for investors to stay away from a potential "value trap."
DreamWorks Deal -- The Opportunity
Neither companies provided many details on which shows will be produced under the agreement; however, analysts are expecting new shows from recently acquired DWA properties such as "Archie," "Fat Albert," "Rocky and Bullwinkle," "Felix the Cat," "Lassie," and "The Lone Ranger." Regardless of which shows are produced, they will be exclusive only to NFLX subscribers for the duration of the multi-year agreement. This is good for NFLX shareholders because, according to FeedFliks, television makes up 52.7% of all streaming activity on NFLX and children and family makes up 12.3% -- the two largest portion of streamed content as of 2011.
The DWA deal is a major component of the company's strategy to expand its television production and distribution network globally. It also solidifies its vision of providing original content on the Internet. However, I don't believe the deal should affect current valuations as the first DWA series are expected to begin in mid- to late 2014.
Competition in the Movie and TV Space
Click to enlarge images.
Which Websites Have You Used to Watch Movies or TV Shows in the Past 12 Months?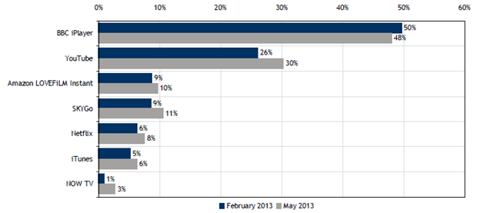 Survey conducted by RBC via SurveyMonkey.
Based on the survey of 1,502 respondents above, we can infer that the competition in the movie and TV space is and will continue to pose a strong threat to NFLX moving forward. The deal with DWA is a good one, but it is one that we should expect from NFLX if it wants to stay on online consumers' radars. Therefore, the deal is by no means a "game changer." Rather, it is a "game maintainer."
Competitive Edge Not Compelling
Some investors point to NFLX's "competitive edge" as a reason to buy, but I believe the company has only one competitive advantage: the cheap subscription price. But companies aiming for the low price-point proposition are faced with extremely price-sensitive consumers. Take a look at the survey below of 1,025 respondents. The chart shows the percentage of respondents who would likely cancel their subscription with NFLX if prices increased by $2 U.S. and 2 GBP -- the results are shocking.
If the Price of Your Netflix Subscription Increased by $2, How Likely Would You Be to Cancel?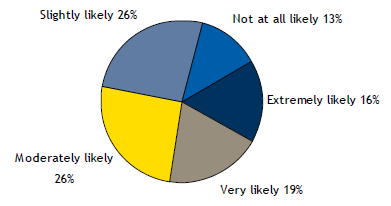 Source: SurveyMonkey.
If the Price of Your Netflix Subscription Increased by 2 GBP, How Likely Would You Be to Cancel?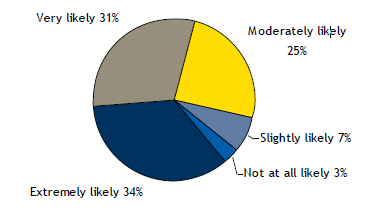 Source: SurveyMonkey.
Investment Strategy -- Short Sell
The recent deal between NFLX and DWA is nothing to be excited about and does not warrant an increase in share prices. I'm a seller at these levels for several reasons:
The stock has been on a massive run of late and I'm looking for investors to take profits soon.
The stock is way overvalued despite the supposed "growth opportunities" that exist.
The company's competitive advantage -- or "moat" -- is not compelling enough for me to become a long-term investor in the company.
My main concern is the inflated valuation of the company. Having said that, I am a current subscriber of NFLX services and I think it will continue to provide great services. I'm a buyer at the $200 price level if NFLX can prove three things:
It can provide better products in Canada and the U.K.
It can continue to offer great services.
It can continue to generate original content for the Internet television space in areas other than children and family movies.
Disclosure: I am short NFLX. I wrote this article myself, and it expresses my own opinions. I am not receiving compensation for it (other than from Seeking Alpha). I have no business relationship with any company whose stock is mentioned in this article.