There is a dominant pattern in the market right now; stocks that have been going up for a long time are now beginning to level off. You can thank the use of the word taper by the Fed. After a run of 7 straight up months, the mere mention of one word has caused the momentum in the market to cool off for now.
In an up trending market, the majority of stocks go along with the rising tide. Even dart throwers can look like good stock pickers in a rising market. As the market starts to level off however, fewer and fewer stocks continue to trend higher.
The vast majority of stocks instead follow the market trend, which is sideways right now: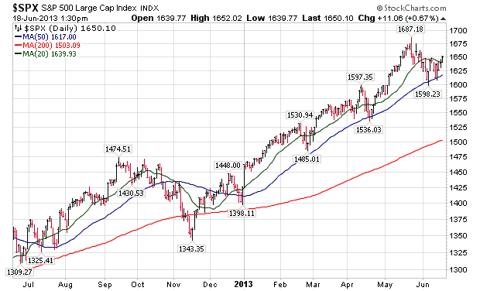 Another name for a sideways market is an undecided market. Much of the next decision that the market makes is based on what the Fed has to say about the future of their bond-buying program. A sideways or undecided market is not the end of the world; it just becomes a lot more difficult to find winners. Stock picking needs to be more like rifle shots than shotgun blasts.
The leadership in the market is also getting narrower each and every day. Right now the leadership of the market is basically concentrated in the Pharmaceutical, Biotech, Healthcare, Consumer, and Building sectors. Also, with oil now approaching $100 per barrel once again, energy stocks are starting to heat up.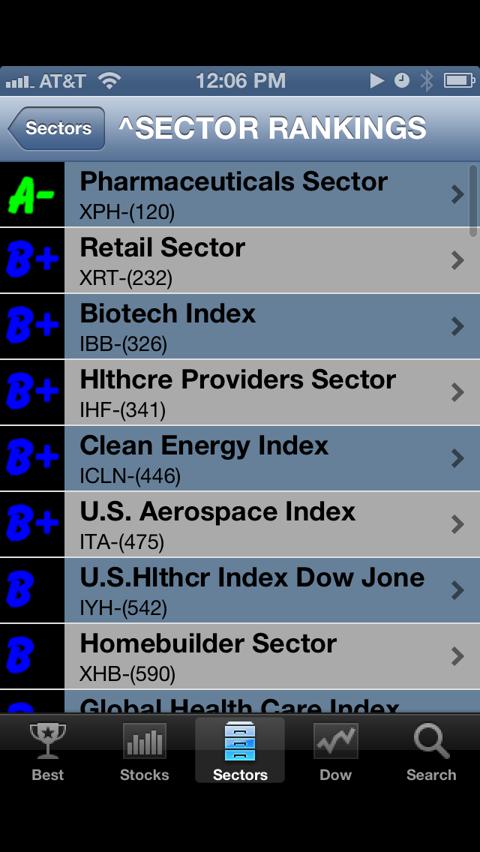 Data from Best Stocks Now App
Even in a sideways or undecided trend, stocks can still emerge out of bases and go on to be big winners. There are just fewer of them. But, they do really stand out when the vast majority of stocks have turned dull, however.
One such example is Drew Industries Inc. (DW), a small cap domestic stock headquartered in White Plains, NY. DW is a leading supplier to the recreational vehicle and manufactured homes industries, and through its wholly-owned subsidiaries, Lippert Components, Inc. and Kinro, Inc., produces a broad array of components at facilities across the U.S. DW remains focused on its long-standing strategy of market share growth, new product introductions, accretive acquisitions and operational efficiencies.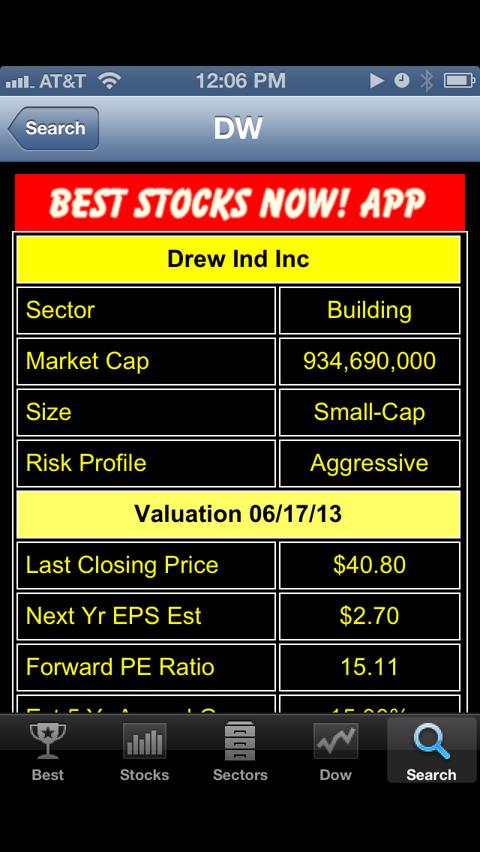 Data from Best Stocks Now App
Low interest rates have been very instrumental in helping the homebuilding and automobile sectors thrive. It would only make sense that the RV sector is doing well right now also. In fact, currently the RV market is increasingly attractive for two major reasons:
Baby boomers are now in the sweet spot age range for RV purchases. Also, RV buyers are getting younger and overtaking the older customers as the largest age group of buyers. This demonstrates the broad-base appeal of RVs.
RVs are increasingly seen as an affordable family vacation choice. Additionally, RV trips offer a combination of home-like comforts with family-bonding outdoor experiences.
Furthermore, as previously stated, DW not only sells RV components, but also sells manufactured homes components, which is now benefiting from increased demand for affordable housing.
So now let's discuss my requirements that make DW a Best Stock Now. I grade stocks based on the following formula:
Performance: Short-term, intermediate term, and long-term where possible. I compare the performance of the stock with its peers and against the other 3,400 stocks that I monitor.
Valuation: While I like performance, I have seen way too many momentum darlings come crashing back down to earth due to astronomical valuations. We have had learned huge valuation lessons from incidents like the crash of the NASDAQ in 2000-2001, the crash of the housing market in 2006, and many other such bubbles. Valuation does matter.
A healthy stock chart: I don't like sideways trends (Apple would be a good example of this), I despise downtrends (Inverse ETF's would be a good example of this), and I get very nervous with extended uptrends, unless the valuation is still compelling. And of course the most dangerous trend of all is a topping out trend that is beginning to roll over.
Performance
The first requirement is that it must be a top-performing stock that is doing well in the current economic environment. Over the last 10 years, DW has delivered an average total return of 18.1 percent per year, while the market has only delivered an average of 4.9 percent.
Over the last five years, DW has averaged an average total return of 19.8 percent, while the market has averaged 3.9 percent. Over the last three years, DW has delivered 32.2 percent per year--almost triple what the market has returned.
Over the last 12 months, DW has jumped up by a whopping 58.3 percent return while the market is up 22.1 percent. When I take these numbers into account and I compare DW against the other 3400 stocks that I track, DW gets "A-" performance grade and an "A-" momentum grade.
Data from Best Stocks Now App
Some people seem to question this idea that past performance is indicative of future performance. While it is obviously no guarantee, I beg to differ. Who would you rather have at bat in a clutch situation: a career .225 hitter or a .325 hitter?
The same can be said for a stock's past and future performance. However, what really predicts future performance of a stock is valuation--models that carry out earnings, growth, and target prices over the next five years. This is the second of three parts in my equation.
Valuation
Let's take a look at DW's valuation. DW is currently trading at 15.1 times forward earnings with a 15% percent consensus annual growth rate expected over the next five years. This means that it has a PEG ratio of just over 1.
We also know the potential earnings per share for next year are $2.70. Now we multiply that by an expected 15% per year and we get a 5 year EPS of $4.72. Now we have to determine what would be an appropriate multiple for the shares.
I take into consideration the current market multiple, the current sector multiple, the average multiple of the stock over the years, and the growth rate in determining what multiple I use in order to determine my five-year target price.
In this case, I am using a very conservative multiple of 15.5 that I multiply by the $4.72 per share estimate to come up with a $73 target price.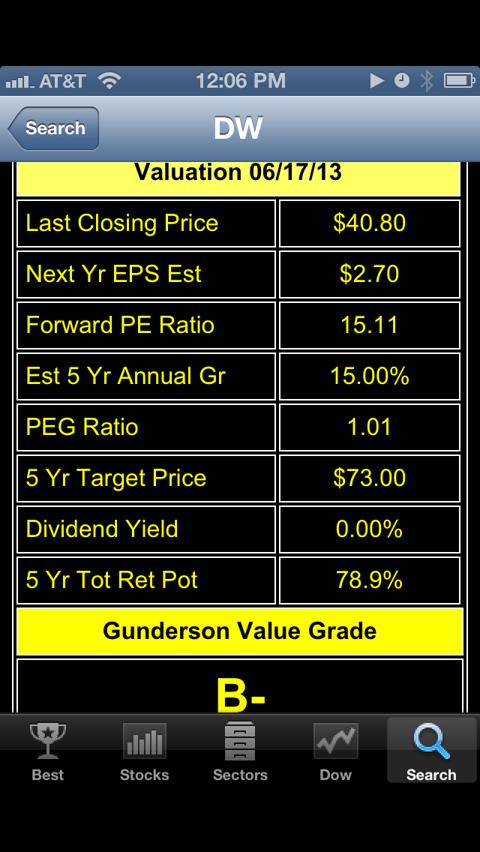 Data from Best Stocks Now App
In my opinion, the shares have almost 80% upside potential over the next five years. I require 80% or more upside to meet my valuation requirement. DW current meets my valuation criteria.
Stock Chart
The final piece of my equation in assessing a stock is a visual check of the stock chart. Looking at DW, we see that it has a picture perfect stock chart.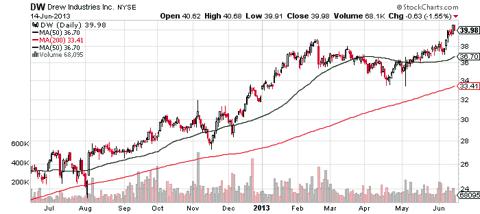 With all three pieces of my equation considered for DW, the stock currently earns a proprietary Gunderson Stock Grade of "A-" and it comes in at #87 out of 3,403 stocks I monitor on a daily basis.
I tend to focus on the top 200 or so stocks at any given point in time. Right now, aggressive growth clients of Gunderson Capital Mgt. are long the stock.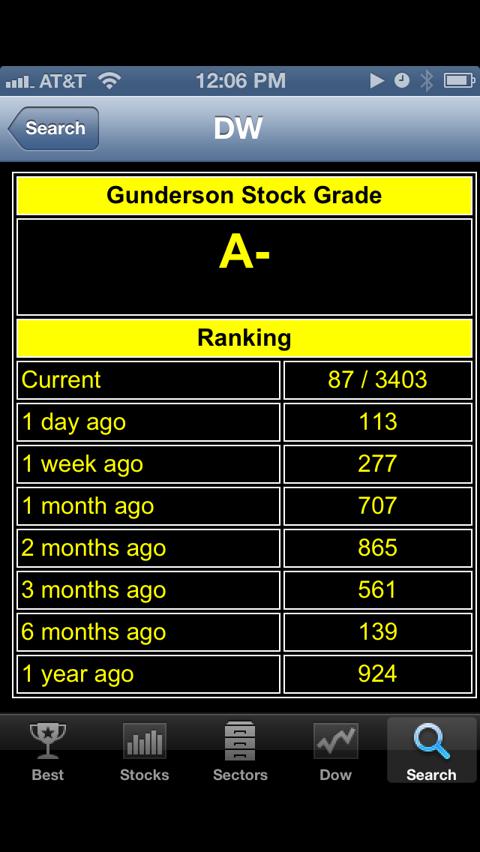 Data from Best Stocks Now App
Disclosure: I am long DW. I wrote this article myself, and it expresses my own opinions. I am not receiving compensation for it. I have no business relationship with any company whose stock is mentioned in this article.