On April 6th, 2013, I presented an article about Acadia Pharmaceuticals (NASDAQ:ACAD) as one can read here. ACAD has risen from $7 to the current price of $19. My latest buy that I think can show similar returns is Sarepta Therapeutics (NASDAQ:SRPT). This article will explain why I have decided to initiate a position today.
The story
Duchenne Muscular Dystrophy (DMD) is a rapidly progressive form of muscular dystrophy. DMD occurs mostly in boys and affects 1 in 3,500 births. Loss of muscle function together with weakness are manifestations of the disease. The DMD gene encodes the muscle protein Dystrophin.
Noticeable symptoms is a delay in motor milestones. There can be progressive muscle weakness of the legs and pelvic muscles which can cause a waddling gait and difficulty in functional activities like walking, running and climbing stairs. An enlarged heart and intellectual impairments can also exist.
Muscular weakness and skeletal deformities frequently contribute to breathing disorders. Cardiomyopathy (enlarged heart) occurs in almost all cases, beginning in the early teens in some, and in all after the age of 18 years. Intellectual impairment may occur, but it is not inevitable and does not worsen as the disorder progresses.
Few individuals with DMD live beyond their 30s. Breathing complications and cardiomyopathy are common causes of death.
There is no FDA approved treatments for the disease.
SRPT develops a drug known as Eteplirsen. Eteplirsen in an orphan drug candidate. The drug has helped patients with DMD become more mobile.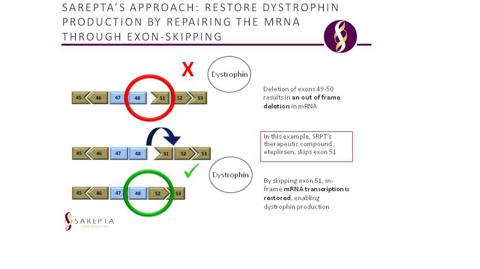 Eteplirsen is an antisense oligomer which triggers excision of exon 51 during pre-mRNA splicing of the dystrophin RNA transcript. Skipping exon 51 changes the downstream reading frame of dystrophin.
Competition
The main competitor for SRPT is GlaxoSmithKline (NYSE:GSK). GSK has full control over Prosensa's lead drug Drisapersen. What is interesting is that Prosensa is going public and GSK did not commit to buy Prosensa.
This caught my eye recently:
"Clinical trial experience to date with drisapersen indicates adverse events which include proteinuria, local injection site reactions (pain, bruising, erythema, induration, pigmentation), thrombocytopenia, and increases in certain liver enzymes. In addition to the adverse events noted above, single reports have been received of the following clinical conditions: intracranial venous sinus thrombosis (considered unrelated by the sponsor), extramembranous glomerulonephritis and nephrotic-linked proteinuria."
These are huge adverse events. To date, Eteplirsen has shown no side-effects. The drug has a short plasma half life, but once it gets into the cell and produces the protein, the protein has a longer half life.
The Phase II results with Eteplirsen are impressive. The study met its primary endpoint of increased dystrophin. The other measure was the six-minute walk test. After 74 weeks, the 6 boys who were treated with Eteplirsen still walked well and demonstrated less than 5 percent decline (13.4 meters) from their baseline in walking ability. During the whole trial the 6 boys showed a statistically significant treatment benefit of 65.2 meters when compared to the 4 boys who were on placebo.
One must also remember that SRPT is not just testing one drug but it is studying a number of other diseases.
(Adapted from sareptatherapeutics.com)
Other fundamental analysis
The company is now valued at $1.2b. It has 167m in cash and no debt. The float is around 25million. There is a big 30% in short. I expect a short squeeze in the next few weeks.
Technical analysis
The daily chart remains a thing of beauty. A cup and handle formation is forming. Keep an eye on the descending trendline. Once over $40 and because of the big percent of float, I expect a breakout soon.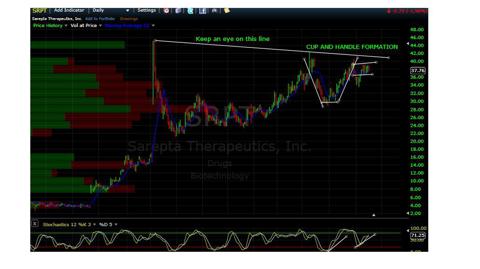 Conclusion
I have been buying SRPT recently and will be adding on any dips. I believe that with a 30% short squeeze, the stock will reach new highs soon. The bears will come out and play and say that accelerated approval will be denied, but one must remember that this is a long-term story and the potential can be massive. I remain long SRPT.
Disclosure: I am long SRPT. I wrote this article myself, and it expresses my own opinions. I am not receiving compensation for it (other than from Seeking Alpha). I have no business relationship with any company whose stock is mentioned in this article.