After Anandtech published its performance preview of Qualcomm's (NASDAQ:QCOM) upcoming Snapdragon 800 tablet and smartphone processor, it became incredibly clear to me that Qualcomm is likely to test new 52-week highs as the holiday selling season for tablets progresses. I do not see any material downside risk to Qualcomm's smartphone processor dominance for the balance of the year. While Qualcomm has previously struggled to garner significant tablet design win momentum, the Snapdragon 800 dramatically improves Qualcomm's competitive positioning. From my estimates of what the competition should be able to provide in terms of graphics performance, it is unlikely that the two major high-end players -- Nvidia (NASDAQ:NVDA) and Intel (NASDAQ:INTC) -- will pose a significant threat in the highest end/highest margin Android devices. I'd suggest buying shares on the current perception of Samsung (OTC:SSNLF) Galaxy S IV weakness, as the firm is well positioned to hit current-year estimates.
Snapdragon 800 Likely to Best Nvidia's Tegra 4, Intel's Atom Z3770 in Graphics Performance
For reference, the Tegra 4 is Nvidia's next-generation tablet SoC, and the Atom Z3770 is Intel's next-generation tablet SoC based on the "Silvermont" processor core and a cut-down version of the company's graphics engine featured in 2012's "Ivy Bridge" system on chip. From what Nvidia has provided about the performance of its own graphics engine in this chip, and from leaked information regarding Intel's "Bay Trail" platform, I expect that in terms of graphics performance (which appears to be the focus for consumer-oriented tablets as gaming serves as a differentiator at the high end) Qualcomm's Snapdragon 800 should far exceed its contemporaries. In particular, I present this representative sample from Anandtech's tests to serve as a basis for extrapolation:
Click to enlarge images.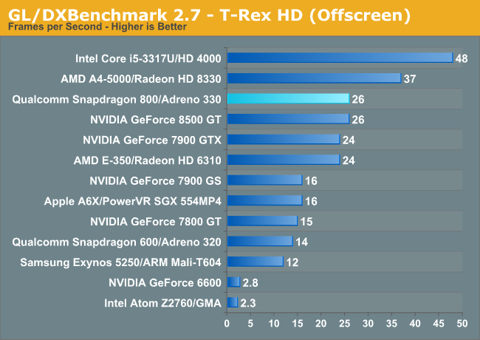 We see quite plainly that even compared to Apple's (NASDAQ:AAPL) very impressive Imagination Tech (OTCPK:IGNMF) PowerVR SGX 554MP4 implementation, Qualcomm's Adreno 330 manages a significant performance improvement in a common graphics benchmark. Now, this one chart allows us to do some pretty sophisticated guesswork regarding Qualcomm's competitive positioning against both Intel and Nvidia in terms of graphics performance. I will address each individually.
Against Nvidia's Tegra 4
At CES 2013, Nvidia published the following slide giving comparisons of its upcoming flagship mobile SoC, known as the Tegra 4, against common rivals: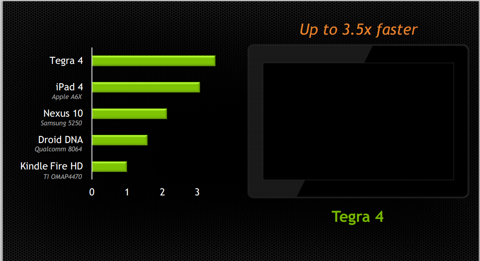 This slide suggests that the Tegra 4 offers a modest performance improvement over the iPad 4's A6X SoC. The tests cited above clearly indicate that the new Qualcomm Adreno 330 GPU has a roughly 62.5% performance edge in graphics over the A6X. Quite plainly, this suggests that the Snapdragon 800 is more powerful on the GPU side of things. While power consumption figures are not known for either chip (Qualcomm was surprisingly reticent about power consumption in the latest previews published by the hardware review sites), it is clear that for raw graphics performance in a tablet/smartphone, the Snapdragon 800 is superior to the Nvidia solution.
Against Intel's Atom Z3770
It has been well known that the Atom Z3770 will feature a significantly cut-down version of the HD 4000 graphics found in the firm's "Ivy Bridge" processors. Leaks suggest that the Z3770 GPU will feature a four execution unit part version of the HD 4000, which is a 16 execution unit part. Now, while it may be tempting to suppose that this means one-fourth the graphics horsepower, this does not necessarily hold as one-fourth the shader units does not necessarily suggest one-fourth of the rest of the graphics-oriented GPU resources. That said, Intel's own published numbers help us to get a clue: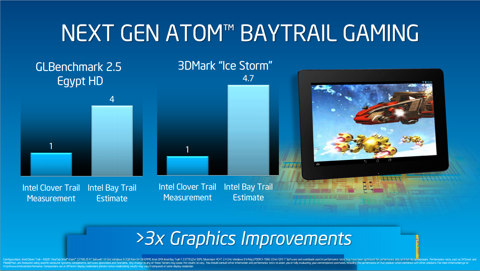 Fortunately, Anandtech ran the "Ice Storm" benchmark that is cited, so we can get a pretty accurate picture of how Atom Z3770 will compare in terms of graphics performance to the Qualcomm Snapdragon 800: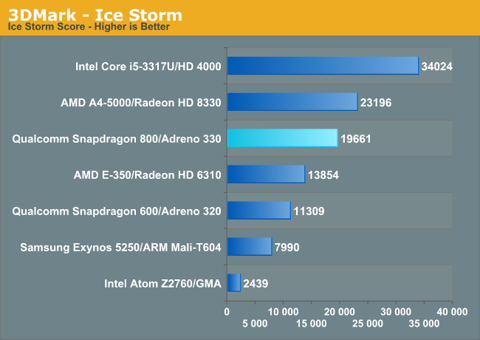 So note that the Z2760 ("Clover Trail") scored 2439. Multiplying this figure by 4.7 yields an estimated score of 11463, which suggests that the Qualcomm part sports 71% greater graphics performance than Intel's upcoming Z3770. While Intel's own comparisons suggest that in terms of CPU performance, it will have a healthy lead over Qualcomm and the Cortex A15 implementations (and given Intel's core competencies, this is certainly believable) in terms of performance and performance/watt, it is clear that Intel -- possibly in an attempt to protect gross margins on the cheaper Atom parts -- held back on dedicating a significant portion of the die to graphics.
Implications
It is my view that while Intel's Z3770 will be popular in Windows 8 tablets for enterprise/business users as well as consumers looking for full Windows 8 compatibility in their tablets/convertibles, I would expect limited traction in consumer-oriented Android designs as gaming is a fairly substantial use case for these parts. While not entirely unexpected, this does vindicate Qualcomm's incessant focus on graphics performance in the mobile space as I believe these performance characteristics -- should power also be kept in check -- will lead to a near-clean sweep of the high-end consumer Android devices this holiday season. Nvidia's Tegra 4 does not have the Windows 8 advantage, so I would expect Nvidia to not have particularly good pricing power for this round of devices with its Tegra 4.
Going forward, I do expect Nvidia's move to "Kepler" in its mobile SoCs to help its chances for market segment share gains in consumer tablets. I further expect that Intel will apply the lessons it learned with "Haswell" for Ultrabooks (the majority of the die for these SKUs is graphics, not CPU) to the next iteration of its consumer "Atom" system-on-chip parts, and come back with a more competitive part for consumers next year. But for the holiday season this year, I expect Qualcomm to take the majority of the Android tablet share and have the best pricing power.
Qualcomm's dominance in smartphones, coupled with its likely dramatic increase in tablet market segment share, leads me to believe that the stock will see a dramatic upward repricing as the year winds to a close. That means I fully expect shares to hit new 52-week highs as sentiment drive multiple expansion and strong sales drive even further upside to EPS estimates. It is clear that Qualcomm's continued guide-ups were driven by this tablet momentum.
The Samsung Galaxy S IV sales "weakness" is a silly excuse for the folks in the know to buy shares on the cheap. You are in the know. Buy shares cheap.
Disclosure: I am long QCOM, INTC, NVDA. I may add to my QCOM position on any further weakness. I wrote this article myself, and it expresses my own opinions. I am not receiving compensation for it (other than from Seeking Alpha). I have no business relationship with any company whose stock is mentioned in this article.