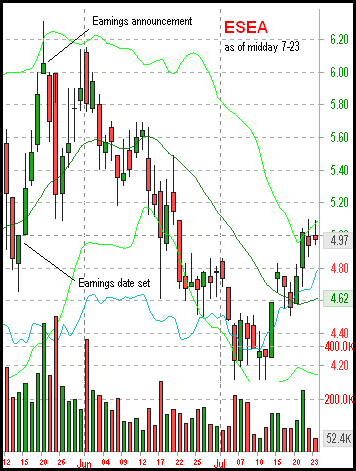 Euroseas is a Greek-owned shipping company which operates a 16-ship diversified fleet of container, dry cargo, and dry bulk cargo carriers. The company is small and opaque enough to fly under the radar of the market to a great extent. The company's former 32 cent dividend has been pared to 10 cents, giving a respectable 8% yield at today's prices. It is relatively low on long term debt, compared to most other shipping companies, which gives it a lower risk profile.
Quoting Zacks in late Sep 08:
Euroseas saw revenues surge 121.5% as commodities demand continues to be strong worldwide. The company has surprised on earnings 4 consecutive quarters by an average of 10.39%. Euroseas has a forward P/E of just 7.15.
ESEA has not set an earnings date yet. This is the time to buy in, with the stock at about $4.99. Again, the "sticky 5" price point is a problem. That means it will accumulate demand at this price, and when it pops it will move into the $5.50 region quicker than one would expect. Note the behavior of the stock during the last earnings period in May, when shipping stocks were badly depressed. Sticky 5 will also set a nice bottom before earnings. After earnings, if there is a dividend increase, say goodbye to the 5s -- I would guess to see it settling at $6.25-$7.5.
Considering the state of the market, this might even be true without a dividend increase. I might be optimistic on this projection of the upside, but I don't think I am optimistic in believing that the downside risk is nicely limited at the moment. A stock which cannot go down will almost inevitably go up. Part of its support consists of its dividend, which I feel is probably safe from suspension.
As the leaders slow down in this current market rally, I expect some of the cash to start to flow into the transports in order to satisfy the prophecy of Dow Theory, that recovery will be first evident in the increase of demand for shipped commodities and products.
But, we have a bit of a wait. ESEA will probably not announce its announcement date until the first week of August. It would be best to have a position in the stock before that happens, but from here I would say we have at least 10-12 days before that. ESEA has a good record of an uptrend beginning shortly after the announcement of the announcement, as speculators acknowledge its oversold condition and move money into their positions.
Again, the weight of the spec money means that the safest possible strategy is to run the calls into the day before earnings then move money into equity or an option-equity split position, so that after-hours stops and limit sell orders can be placed to take advantage of the market orders which often flood the electronic trade networks at the earnings revelation. But in the case of a dividend increase, all such cautions are less important, because more out-of-market money will flood in then, and a new uptrend will likely appear in the following days.
Disclosure: I am long ESEA calls.