Rumors that an Asian firm is interested in buying Nokia (NYSE:NOK) sparked a sharp, but brief, rally. Nokia soared to $4.12 intraday on June 18, 2013, before settling at $3.86. Even though Huawei said after the day's close that it "has no plans to acquire Nokia," the current product refresh cycle supports a bullish case for the phone maker.
The smartphone refresh is important for Microsoft (NASDAQ:MSFT), too, since Nokia's success will further solidify the integration between the mobile and desktop operating systems. Application environments like Microsoft Music and Microsoft Office, and the integration of Skype and Xbox are available to further drive adoption of the windows mobile system.
On the desktop front, when Windows 8.1 Blue is released, there will be a compelling reason for corporations to adopt Lumia devices. Blue will add flexibility for developers and designers, which means more applications and more support for users.
Lumia 925
The Lumia 925 handset was released in the United States and the United Kingdom last week. The device will be launched in China on June 19, 2013. Compared to the Lumia 920, the 925 is lighter and is built with an aluminum frame. The camera also has a maximum ISO of 3200.
EOS
Nokia is hosting an event in New York, titled Zoom Reinvented. Doug Dawson, Nokia's Media Relations head, tweeted "I zoomed in! #eos RT @DougatNokia: Zoom in to find out!"
The teaser image hinted the upcoming EOS model will have a zoom lens and possibly 41 megapixels: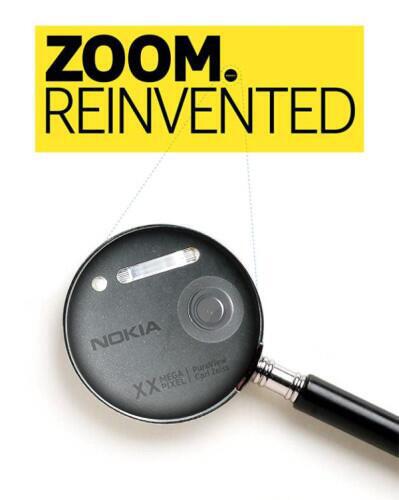 If the EOS incorporates the 41 megapixel PureView, or lossless oversampling, Nokia will have a competitive edge over other device manufacturers. High ISO sensitivity would allow users to take low-light photos. A lossless digital zoom will not only drive demand, but will give Nokia the opportunity to showcase features unavailable on other phone devices.
Other Positive Catalysts
The takeover rumor of Nokia served only to support the market's view that shares are undervalued. A takeover is not likely at this time, but a spin-off in Nokia Siemens Network is possible. The unit generated EUR $13.4 billion (US $17.9 billion) in 2012. In the first quarter of 2013, NSN generated an operating margin of 7.4%. Gross margins improved to 33.8%, up 7.2% from the previous year.
If NSN were priced at a Price to Sales of 0.89, or a P/S similar to that of Siemens (SI), the unit would be worth nearly $16 billion. Ericson (NASDAQ:ERIC) has a Price to Sales of 1.10, which would value NSN at $19.7 billion.
Conclusion
Nokia reached $4 more quickly than previously suggested in this analysis. Short-term investors might take profits after the takeover rumor was denied, but many catalysts support the view that shares will trade higher. A refresh in Nokia's product line, an update to the Windows desktop operating system, and a possible spinoff for Nokia Siemens Network will all support the view that Nokia remains undervalued.
Disclosure: I have no positions in any stocks mentioned, and no plans to initiate any positions within the next 72 hours. I wrote this article myself, and it expresses my own opinions. I am not receiving compensation for it (other than from Seeking Alpha). I have no business relationship with any company whose stock is mentioned in this article.