Last year, I initiated a position in AudioCodes (NASDAQ:AUDC) here on Seeking Alpha with an article entitled "AudioCodes: A Call Option on Microsoft's Lync/Skype Intentions". Recently, the company has been on a very strong investor relation (IR)/public relation (PR) campaign, something which I believe is very unprecedented from the typically secluded Israeli headquartered company. I view this new stance from the company with complete optimism. It seems to be voicing its confidence and successes to the market, or it could be voicing to the market that this is a player that deserves an apples to apples comparison to Sonus Networks (NASDAQ:SONS) and Acme Packet (recently acquired by dominant tech giant Oracle (NASDAQ:ORCL)). I believe AudioCodes deserves and will claim an apples to apples comparison as opposed to an apples to oranges valuation in the near term. Here's why:
AudioCodes History:
AudioCodes has a 20 year history in voice. It was one of a handful of companies that helped establish Voice over Internet Protocol (VoIP) as a technology that allowed for the possibility of telephony over the Internet. If you look at a long term chart of AudioCodes you will see that its shares topped $70 when the world discovered VoIP. In a few years, it went from supplying the core guts of a gateway to supplying the whole gateway. It was able to integrate vertically very fast because it had tremendous research and development in digital signal processing (DSP) and it eventually became the market leader in gateways. We are seeing a similar strategy in the session border controller (SBC) market.
After only 1.5 years in the SBC market, AudioCodes is on a full court press to provide the best of breed and full capacity SBCs. It is already the third largest player in the market. The company recently expanded on this with a series of press releases and I expect more from the company in this area of the business. AudioCodes has SBCs that start at 800 sessions and will now exceed 10,000 sessions which will allow them to cover both the enterprise and carrier markets. This increase in the number of sessions will result in a significant increase in revenue as its average deal size will now be larger. This time around, AudioCodes has a name in the enterprise that is over 10 years old, so finding traction on the enterprise side and/or the service provider side will not be elusive and should allow for the business to show strong growth once it kicks in. The early 2000's is a good reminder for investors to hold on to as everything goes in cycles and everything comes back in vogue. AudioCodes just might dominate the SBC market in the next 12 months like it did in gateways in the early 2000s and the shares were on fire.
Overall macro view of SBC Companies:
Why did Acme Packet get swallowed up by Oracle for 6.5 times revenues? The SBC market for the enterprise is expected to grow to $1 billion by 2016, but Oracle paid 6.5 times $300 million in revenues for Acme Packet which tells me it believed this market will be a multiple of that estimated number. Oracle's bid spoke volumes to what SBCs means to the future of voice networks.
Why did the market run Sonus from $2.10 to $3.57 over the past week with larger than normal average weekly volume? The management team of Sonus spent a day at Jefferies and received an upgrade the next day, then it spent a day with Oppenheimer and the analyst upgraded the price target on the shares. Both analysts are seeing a stronger market in the SBC space. No surprise now why Oracle came in and snatched Acme Packet for 6.5 times revenue 4-5 months ago ahead of the curve of analysts - Shocker. Sonus is now trading at 3.3 times 2014 revenue estimates that I have placed at $300 million which is $20 million above consensus. If Sonus were to be acquired tomorrow it would probably be sold for $4.50 - $5.00 per share. Institutional money has flowed into the shares of late as they believe the market has legs for growth.
Why does AudioCodes trade at only 1.1 times 2014 revenue estimate of $160 million? This is a mystery to the few holders that have done the due diligence. If Sonus's late-blooming action is any indication compared to Oracle's bid for Acme Packet then it's just a matter of days/weeks before Mr. Market wakes up to the fact that AudioCodes should be respected in this field where it once dominated when the product cycle was strong and intact. AudioCodes is profitable and cash flow positive, unlike SONS' previous two quarters. AudioCodes bought back 10% of its stock last year showing that it knew what Oracle knew when it acquired Acme Packet, and what analysts are seeing in Sonus this past week. I'm letting you know that AudioCodes is real, deep in technology and obviously ready to tell the markets it's going after SBCs like Israelis go to protect themselves every day.
Recent Press Releases:
With its strong IR/PR campaign, I believe AudioCodes is announcing that business is good, trends are becoming favorable and its belt tightening and share buyback has positioned it for stronger profits ahead.
Near Term Catalysts:
AudioCodes will be a participant at Microsoft's World Partner Conference (WPC) from July 7th - 11th, in Houston, Texas. This could be a platform that the company uses for further IR/PR announcements. It has been six months since AudioCodes implemented its "One Voice for Microsoft Lync" strategy, which is enough time for a sales cycle to be established. I wouldn't be surprised to hear of more One Voice for Microsoft Lync deployments with Fortune 500 companies.
On the last conference call, the CEO announced that we would hear two announcements on SBC deals. We await more SBC news.
AudioCodes' expected earnings date - July 22nd.
AudioCodes will attend Oppenheimer's 16th Annual Technology, Internet & Communications Conference, August 13th - 14th in Boston. Its important to note that Fidelity, Wellington, Putnam and other large funds reside in Boston.
Charts: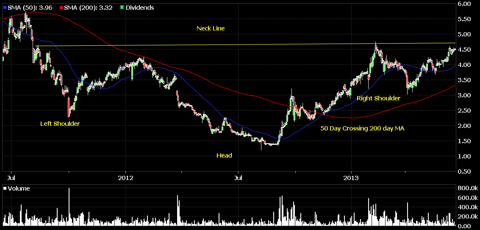 Looking at the daily chart we can see that AudioCodes is in the process of breaking out of an inverse head and shoulders pattern. This is a very significant pattern and signals that there will be a big, short-term move to the upside for AudioCodes which should take it to $8.00 - $8.50. Additionally, the 50 day moving average ($3.96) is crossing above the 100 day moving average ($3.96) which is another indicator pointing to higher prices ahead.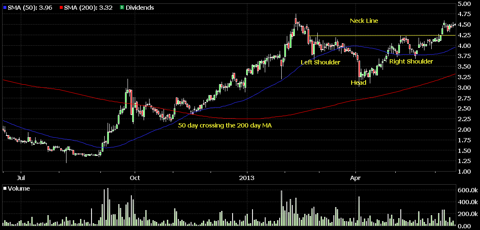 If we look at a longer-term weekly chart we can see that AudioCodes is close to breaking out of an inverse head and shoulders pattern. As this is a longer term chart then the breakout will be more significant and should give us a price target of $12.00 - $12.50.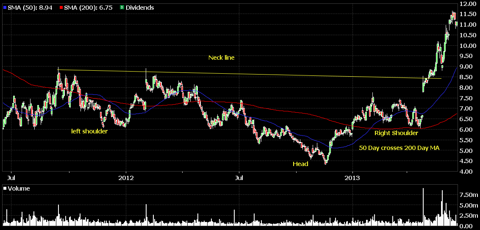 To give you an idea of what type of move we're looking for, here's a chart for Infineon (NASDAQ:INFN) which recently broke out an inverse head and shoulders pattern.
Mobile Mojo Factor:
The company has a mobile platform in Mobile Plus that it has not unlocked and which has not been inspected by the markets. Here lies the mojo in profits as per its Mobile World Congress (MWC) invitation as it could result in revenue sharing with the operators that seek an answer to the numerous Over the Top (OTT) applications (Viber, Tango, WhatsApp, etc...) in place today. Last month, AudioCodes acquired an important group of engineers that have many service provider relationships in place already. We await them to close doors. This is serious and it's not even close to priced into the shares. A revenue-sharing deal would mean a royalty type model to AudioCodes which results in 90% gross margins, so every 5 million in revenues equates to $0.10 - $0.12 per share. That's what I call operating leverage. Lastly, AudioCodes strong enterprise presence has allowed it to hear the concerns of enterprises in respect to mobile or bring your own device (BYOD) to the work office and take those concerns and shape its products based on them. It now has a product for the carrier that supports what enterprises need in order to deliver unified communications to its employees.
Valuation:
Last week, Oppenheimer's analyst raised his price target for Sonus from $3.00 to $4.00. He calculated his price target using an enterprise value/sales multiple of 2.7 times FY2014 revenue estimates. For AudioCodes, the analyst currently has a 1.2 multiple on FY2013 revenue estimates, which equates to a price target of $5.00. Applying the current multiple of 1.2 on FY2014 revenue estimate of $160 million will give a price target of $6.00. Applying the same 2.7 multiple afforded to Sonus will give AudioCodes a price target of $12.20. Using a more conservative multiple of 1.9 ((2.7-1.2)/2) would give AudioCodes a price target of $8.90. To me, AudioCodes has backed itself, with the buyback last year (more profits for it going forward) and today it's backing itself with a slew of incremental news items that tells its investors that it's back and it means business. I think SONS is a great company as is Acme Packet, but at these valuations with both profits and cash flow one must take a shot at AudioCodes as its history is backed by voice success and know-how and its mobile strategy provides a mojo booster that could place shares north of $10-$12 per share.
Conclusion:
AudioCodes lacks sell-side coverage other than Oppenheimer which seems to be radio silent on the name at a moment when it should probably be voicing some commentary on its SBC strategy and what it means to investors. I assure you, the market as a whole is not paying attention. I believe when AudioCodes announces earnings in July and attends investor conferences post-conference call, the shares will erupt with 5 to 10 times normal volume for a number of days as tremendous leverage resides in its business model that only a few have done the work to find out. As always, analysts will come and I'm positive of that because after all AudioCodes is an apples to apples peer to Sonus at an apples to oranges valuation. How about those apples?
Disclosure: I am long AUDC. I wrote this article myself, and it expresses my own opinions. I am not receiving compensation for it. I have no business relationship with any company whose stock is mentioned in this article.