Introduction
Majority shareholder David Murdock has recently made a buyout proposal at $12.00 for Dole (NYSE:DOLE), approximately a 20% premium to what its share price was, after a series of negative events sent the stock price plummeting. However, investor negativity was overblown and ignored significant positive changes occurring at Dole, allowing Murdock to acquire the company at a conservative discount of 25%.
Recent Events: Why Are We Here
Dole shares peaked at the end of September 2012 at the announcement of Dole's sale of its packaged food and Asia fresh fruit operations, collectively called Dole Asia, allowing Dole to escape its massive debt burden. It also would "right size" the company, allowing it to become more efficient, decreasing corporate costs by $50MM and capital expenditures by $30+MM.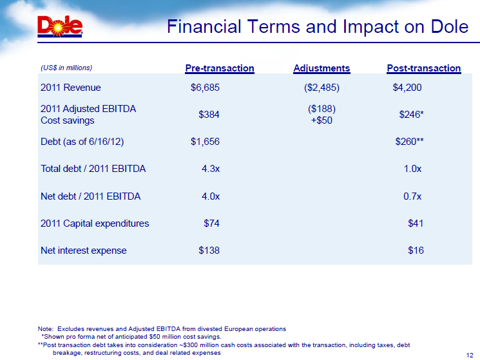 Unfortunately, expected benefits have decreased, and Dole incurred significant one-time costs associated with the changing business. These costs are detailed in the company's most recent 10-K and 10-Q, and 8-K on April 2nd of this year and are summarized below.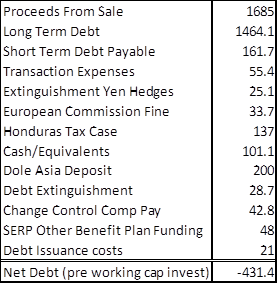 All of this led to the announcement at the 2013 first quarter conference call that after taking working capital investments into account, net debt post transaction would be $440MM and not $260MM.
They also announced that capital expenditures moving forward would be between $60-$70MM as opposed to the $40MM run rate cited above. Finally, in the fourth quarter, they announced savings from the acquisition of only $20MM and not $50MM.
Not only did these charges result in higher debt levels, they impacted GAAP results. Unfortunately, this is not new to Dole, as restructuring charges, currency changes and asset sales have clouded results, holding back valuation. Recent charges, like the European Union settlement and ITOCHU transaction charges have been particularly large, and the company's huge debt costs just stopped affecting profitability. While diligent investors would recognize the one-time nature of these charges, and the imminent capital structure changes, more casual investors would likely flee as a result of negative results driving down share prices.
On May 8th, the company announced a $200MM repurchase program, encouraging investors who believed the ITOCHU transaction would allow the company to return capital to shareholders. On May 28th, the company announced that this repurchase plan would be stopped and shares dropped precipitously. Dole said this was the result of purchasing 3 new shipping vessels for $165MM and poor strawberry results, which compound an already difficult pricing environment for fruit.
Company Description Post Transaction
After the sale of Dole Asia for $1.685MM, Dole will operate in 2 segments, fresh fruit and fresh vegetables with about $440MM of debt compared to over $1.6B. Dole will remain a leader in the markets in which it operates. Some investors believe that Dole has sold its crown jewel in Dole Asia, and that it is a poor move to become more of a commoditized company, believing Dole was forced to sale to delever. The benefits of Dole's strategic initiatives extend far beyond debt.
First the remaining core businesses have consistently been more profitable than the packaged foods business. Even if all of Dole Asia is included, the remaining business is quite strong.

In fact, the fresh fruit and vegetable results may be deflated compared to Dole Asia because the poor banana and berry environment affects packaged foods less, because packaged foods are insulated by brand name and the ability to be stored for long periods of time. This may have made for an opportune sale.
Historical costs of Dole indicate that it was too big for its own good and spinning off the business. This can be illustrated by a chart of other gross costs vs. revenue. Other gross costs are gross costs after extracting grower purchases, packing supplies, fuel costs, and D&A.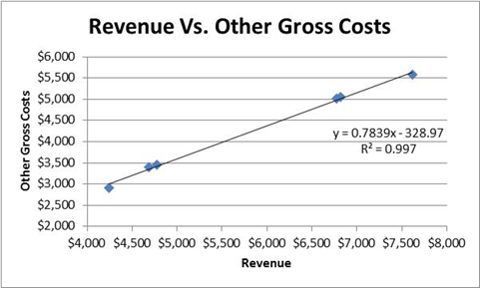 Dole will now be moving down the cost curve, helping it avoid the dis-economies of scale present at the upper end. Evidence of this already exists, as Q1 gross margin was up to 10.2% from 9.3% and in Q4 of 2012, when gross margin was up to 7.2% from 6.6%.
With the sale of Dole Asia, the company is now less exposed to changes in commodity prices. While they are small compared to revenue, they have a huge impact upon profitability.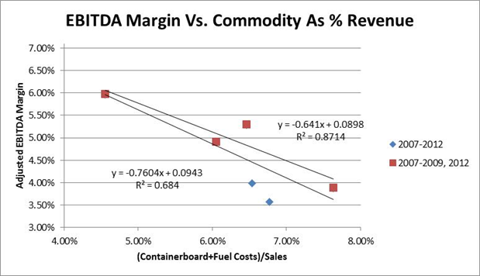 2007-2009 and 2012 data is likely more accurate than 2007-2012 data, because 2010 and 2011 commodity costs assumed the fuel prices of 2012 due to lack of data. Between 65% and 85% of the changes in the company's margin have been caused by changes in these commodity costs. Moving forward, the company no longer will pursue its long Asia route, reducing fuel and packing exposure. This will improve the consistency of Dole's cash flows.
Dole is also almost a pure commodity company post transaction. This is suggested by the fact that while Dole Asia made up 43% of the company's adjusted EBITDA, it made up 74% of the company's advertising expense. In the past, Dole would invest in advertising, new products and packaging, and reducing costs. Now Dole can focus all of its efforts on making produce as cheaply as possible. This is already evidenced by the company's recent strategic initiatives to modernize its shipping fleet and plans to purchase more farms and reduce purchase agreements.
Industry Analysis
Dole's main competitors moving forward will be Chiquita Brands (NYSE:CQB), Fresh Del Monte Produce (NYSE:FDP), and Fyffes, along with other smaller competitors. They compete on limiting costs, reflected by operating margins.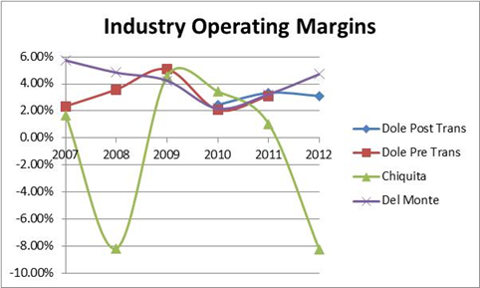 It appears that Dole and Del Monte have consistently been more efficient than Chiquita, and Del Monte may be more efficient than Dole. This ordering could be a reflection of the companies' sizes. However differences could be due to different product exposures and potential write-offs. There is no clear cost leader in the industry, but Dole's imminent investments could allow it to attain this coveted position.
Dole's remaining business appears to have higher margins than the original business, which with lower commodity exposure, reduces Dole's exposure to industry swings. Dole may currently be in the middle to the bottom portion of its cycle, as the remaining business has a slightly lower operating margin for 2012, than the whole business averaged over the past 6 years. Competitors agree with the poor location in the cycle.
Chiquita experienced an average banana price decline of 2.15% in 2012 compared to increases the past 3 years. Del Monte and Dole cite lower prices for its bananas in their 10-Ks. In the most recent conference call Keith Mitchell, CFO of Dole, describes the market:
In the North America banana market it's -- not a lot has changed since the past couple calls, it's still a very competitive market. There's no shortage of volume in North America and competition is very aggressive right now, driving down just the annual contract prices. We have not seen a change, yet, in this situation.
All of these statements are supported by industry wide banana prices: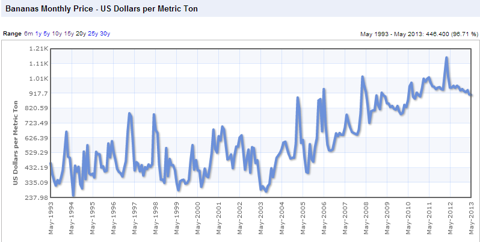 Source: indexmundi.com
The difficulty in bananas is compounded by the stated difficulties in the strawberry segment caused by weather. Dole's operating income was only helped in 2012 by Europe bananas and pineapples, small in comparison to the rest of the banana market and the berry market respectively. These cyclical conditions are likely to improve over the future.
Value Of Land
Dole has significant value outside of its operating business from its property. Dole has at least $500MM of non-core assets.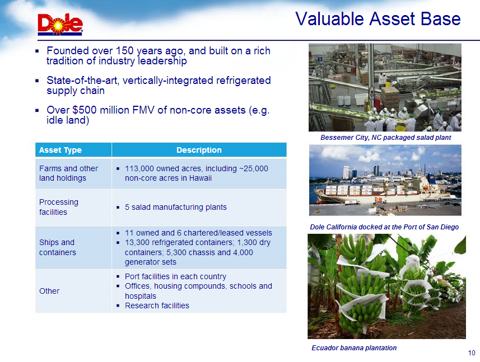 However, this is likely vastly understated. Cuyler1903 on Value Investors Club does a tremendous job analyzing all of the company's hidden assets and finds that at minimum, non-core assets are worth $567MM and could be worth up to $914MM. Furthermore, the company is committed to monetizing these assets, as it is marketing $175MM-$200MM worth of Oahu land.
Investments
Dole is pursuing 2 main investments. On the Q4 2012 conference call, Dole said that it plans to spend $100MM to significantly upgrade currently owned farms and buy more farms. Dole is also planning on spending $165MM to purchase 3 new ships. These investments have been greeted with negativity but are actually quite valuable.
Dole was prevented from these investments earlier of its debt burden. Michael Carter states in the 2012 Q4 call that Dole:
may have under underspent a bit, given the extreme leverage position the company has been in.
Expected returns for investments were summarized by Michael Carter in 2012 Q4 conference call:
We look to have it on a run-rate basis producing 20% to 25% ROI. Initially, we may not see that, and our initial buy might be more in the range of 15%-ish. But when we come in and do our thing to it over the course of initially, depends on the status of that particular farm. We're looking for them to be running at about 20% to 25% after the first year.
Given that costs unrelated to fuel, D&A, and containerboard represent >80% of Dole's revenue, there is a significant amount of room for Dole to apply its economies of scale and expertise to local farm growers to achieve the desired ROIC.
While fuel costs are not nearly as large, there are other shipping costs such as labor, maintenance. Dole's 3 new ships will have capacities of 770 FEU over 50% more than the capacity of the ships they are replacing (491 FEU). This should allow Dole to make fewer trips and spread out fixed costs, such as yearly port registrations and captain labor. New ships are significantly more efficient than older ships. Oil tankers are estimated for example to be 35% more efficient. Since these 3 new ships are equivalent to about 27% of the company's current shipping capacity, Dole should at least achieve 10% total fuel reduction costs through lower consumption, which corresponds to $16MM. The company should also save money by not having to perform significant maintenance capex necessary for older ships.
Furthermore this is likely a very opportune time to buy ships. The Baltic dry index is at very low levels, which decreases demand and costs for new ships.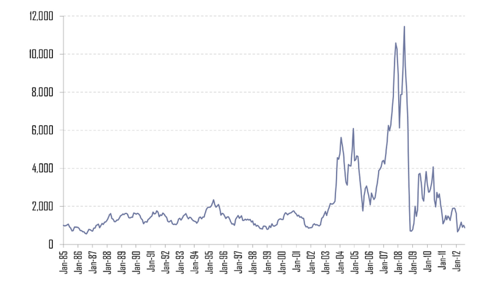 While these investments will require significant capital expenditures, it appears highly likely that Dole will achieve strong returns from these initiatives.
Relative Valuation
While Dole does have direct competitors, negative results in the industry have led to negative GAAP results for all but Fresh Del Monte. Dole's best relative valuation comes from the recent spin-off of Dole Asia. Applying the same adjusted EBITDA multiple to the remaining core business with and without the proportion of proposed corporate expenses ($50MM) assumed yields the following EVs and market caps:

Note, this does not even include the value of Dole's non-core assets. These numbers were taken from the original Dole sale presentation. Even if one believes Dole fresh requires a premium multiple due to apparently higher growth and stronger brand name, even though it has not enjoyed the historic profitability of the fruit segment, Dole still should be trading about 30% higher based upon a 25% multiple premium for Dole Asia.
These findings also contradict David Murdock's stated EV/EBITDA multiple of 10.2. Part of this discrepancy is that Mr. Murdock is using "adjusted EBITDA" values, detailed in 10-Qs and 10-Ks, to value Dole, while the table above uses values from the presentation on the sale to ITOCHU. Yet Mr. Murdock cites the EBITDA multiple from the sale presentation and the table, which is already deflated because it doesn't include corporate expenses to make a comparison to the ITOCHU sale. In this case, he has used different profitability calculations that make his offer seem better than it is.
Additionally his figure includes one-time charges such as resolution of legal matters which should not be included when examining future profitability. Nor does Mr. Murdock ascribe any value to non-core assets to reach his multiple. Finally, he also cites premium over historical multiples to justify his price. Given that the industry is in the middle to bottom half of the cycle, multiples should be higher because of lower profitability. This exercise reveals that Mr. Murdock's offer may not be as generous as he states.
DCF
An approximation of the value of the company was found through determining cash flows on a currency neutral basis without major one-time fees such as restructuring or transaction sales, which are unlikely to recur. Predictive formulas were also found on a currency neutral one-time charge fee basis. Revenues for the fruit and vegetable segments were grown off of 2012 results adjusted for sales of subsidiaries. Costs for grower purchases, D&A, and packing supplies were assumed to be the average over the past 2 years. Fuel costs were assumed to grow at 3% per year. Cost savings were conservatively estimated at 20% ROIC based upon CAPEX guidance from the company and were phased in: half the returns came in the first year, and then a year later full returns were felt. The estimated corporate savings of $20MM were also phased in similarly. Net rental cost was estimated through regression over revenue. Other SG&A costs were found historically after removing corporate and net rental costs and finding a regression over revenue. The key inputs can be summarized by the following table: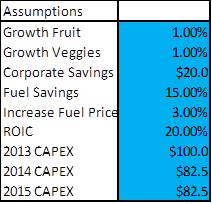 The results were reasonable, yielding an EBITDA margin of an average about 5.5%. This compares with 4.6% over the past 6 years; but the company is pursuing significant costs reduction features making the increase reasonable. The company has stated in the 2012 Q4 transcript that:
Well, we typically look at EBITDA margins in the ranges of -- in our Fresh Vegetables (fruit) section of anywhere between 4% to 5% and in our vegetable section, between 6% and 8%.
Using a weighted average of the average of these figures and revenue amounts, one gets a total EBITDA margin of 5.2%. Once again, the discrepancy is likely the direct result of the strategic initiatives the company is pursuing. The model did not include earnings from subsidiaries; the value of this was accounted for via the equity method.
Other key assumptions were tax rate, capital expenditures, working capital, WACC and exit multiple.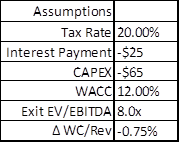 The tax rate, interest payments and maintenance CAPEX levels were per company guidance. The WACC was put high and the exit multiple below the 2012 EV/EBITDA (currency neutral excluding one-time charges) multiple of 9.6 to be conservative. Change in working capital was modeled as a percentage of revenue per historical results.
The actual cash flows and revenues can be found in the appendix. The summary of the results can be seen below: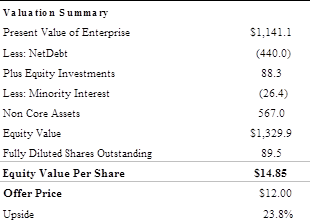 This estimate is likely closer to a bear case than even a base case because
1) non-core assets could be worth $350MM more
2) Major banana and strawberry markets are cyclically poor
3) ROIC's on strategic investments could be higher
4) Dole's weighted average tax rate since 2005 has been about 16% and the company has massive NOLs and carry forwards of $193MM, partially reversed by a valuation allowance of $113MM.
5) This does not include a change of control premium
6) Other conservative model inputs.
For example, a WACC of 10% and the base case for non-core assets would result in a share price of about $18 or a 50% premium to Mr. Murdock's offer.
Risks And Weaknesses
While some difficulties, such as the current poor strawberry market, are due to weather, it is possible that the fruit industry has entered a new era where margins and returns are permanently lower. However, major competitors do appear to have some price discipline. Fresh Del Monte in the 4th quarter transcript said:
I mean we go to the markets were the price is reasonable. We're not going to go to the markets where we lose money.
Chiquita said in the first quarter of 2013:
To be clear, we have not added volume at a price that doesn't benefit the bottom line and we have no plans to do so.
Additionally, both Del Monte and Chiquita in particular are indebted and cannot afford to gain market share at a loss lest default. Finally, the model assumes the continuation of the pricing environment and margin gains result from internal cost reductions.
A more realistic possibility is that competitors are also able to lower costs nullifying Dole's investments. Chiquita is pursuing a trimming of business and cost reduction. However, Del Monte is currently focusing its capital policy on returning capital to shareholders (buyback and dividend). If one assumes that Dole's capital expenditures have no impact, the share price is less than 10% below Murdock's offer, indicating he is paying as if the cost reductions will have only small impacts.
A major risk that cannot be predicted are the one-time costs and the impact of currency fluctuations. Currency fluctuations are likely to have a smaller impact upon Dole as it exits Asia, and over the long run, should not have a major impact on profits. Many of the past one-time charges, such as transaction-related charges are certainly not going to recur. Further restructuring costs could recur, but the value of these charges, while not negligible, will likely not affect the value significantly.
Large capital expenditures are certainly a risk for a company, which has historically had low returns. From 2008 to 2011, the company on a currency and one-time cost neutral basis barely achieved ROIC over 10%, making the 20% prediction in the model seem large. However, these ROIC figures have been deflated by the inefficient capital structure. And as detailed earlier, there is significant room to achieve the cost reductions to achieve the targeted ROIC.
While the fruit business will likely never be high return due to commoditization, it is also likely to exist perpetually. Relatively low returns discourage others from joining the industry. And while commodity companies can be subject to the whims of market prices, Dole's investments in cost reductions should help lessen the impact of these swings.
Conclusion
While many investors applauded the company's decision to delever, sentiment remained negative due to a series of recent decisions and events combined with ongoing concerns with the fruit business. In reality, these decisions could allow Dole to become an industry cost leader better insulated from industry swings in a few years by targeting major cost pain points. The events, such as the strawberry shortage, are largely temporary and cyclical, and present a positively skewed return profile for Dole that short-term investors did not appreciate. Further, investors may not fully realize the value of Dole's non-core assets. David Murdock is well aware of this divergence of valuation, ultimately leading to his proposal at $12.00. Current shareholders would be much better suited rejecting this offer.
Appendix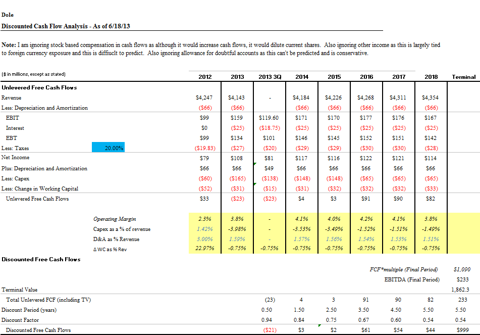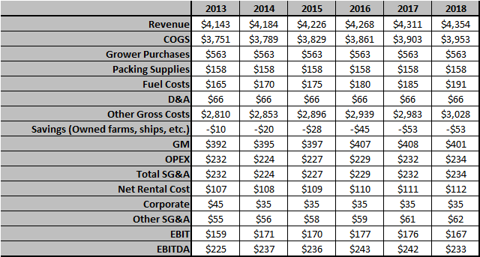 Disclosure: I have no positions in any stocks mentioned, and no plans to initiate any positions within the next 72 hours. I wrote this article myself, and it expresses my own opinions. I am not receiving compensation for it (other than from Seeking Alpha). I have no business relationship with any company whose stock is mentioned in this article. If the Dole deal falls apart causing shares to drop, I plan on initiating a long position. I have presented my own findings but encourage potential investors to perform their own due diligence.