In its latest 10-Q, Home Depot (NYSE:HD) is doing quite well on its margin, same store sales, and its ever-increasing return on capital (especially as compared to Lowe's). For more information on recent financial performance, please see my analysis here. In spite of this, Home Depot's management has begun to view the world as full of constraints, not opportunities, by spending too much time looking over its shoulder at Amazon (NASDAQ:AMZN).
Instead, and given Home Depot's ability to execute, it should be aggressively opening new stores to the benefit of shareholders and customers alike. Put another way, management's current focus on integrating online sales into the channel mix to fend off Amazon is not an excuse for neglecting the brick-and-mortar portfolio. In fact, more physical stores would make Home Depot stronger online and make the current valuation premium more sustainable. In support of this, I used SEC Live (www.seclive.com) to analyze and comment on Home Depot's filings.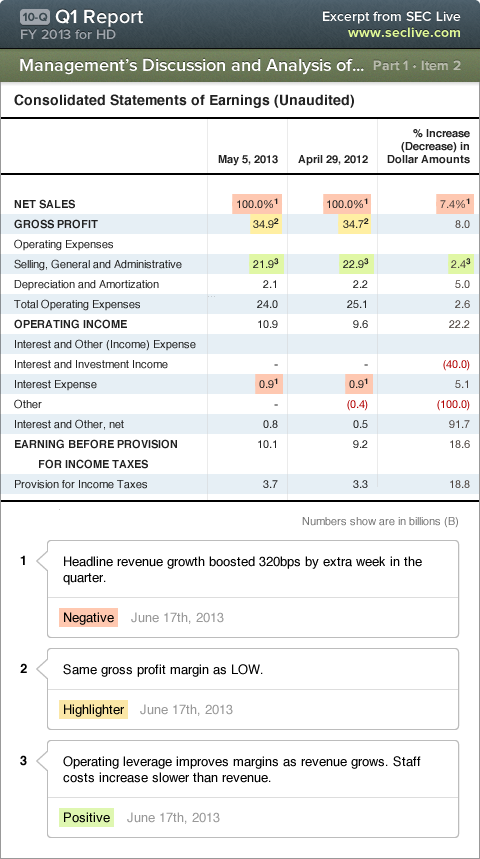 source: seclive.com
A complacent investor base
Yes, Home Depot is on an upward trend both in terms of stock price and financial performance. Part of it is that the U.S. housing market has started to recover gradually, supporting the earnings and prospects of home improvement retailers and explaining their outperformance relative to the S&P 500. The other part is that Home Depot is out-executing its number one competitor, Lowe's (NYSE:LOW). For more information on Lowe's performance, please see my analysis here. This is causing few investors to quibble, but is also creating a dangerous complacency in Home Depot's investor base. Why not push management to go even harder after the real money (and shareholder return) it is leaving on the sawhorse?
Home Depot's management is flat-footed
Even though new stores would create significant value, Home Depot is barely expanding. During FY2012, the company added just two US stores. Guess what, the company plans to open just two stores in the US in FY2013 as well. It must be the financial crisis has management catatonically gun shy because it can't possibly be the market is saturated.
We all understand that deciding whether and how to expand or shrink your portfolio requires management time, effort, and a large paycheck. However, for the size and sophistication of Home Depot, opening new stores should be a repeatable and relatively cheap process. For more information on the company's expansion, including international, please see my analysis here. Think about it -- the company is not capital constrained, its internal cash generation is strong, and it has easy/cheap access to the debt market (it would be great to have management provide an analysis on the payoff between $1 spent online versus $1 in new store creation).
Home Depot can't out-Amazon Amazon
After retreating from China in 2012, Home Depot's management is now focused on operational improvement and "Interconnected Retail." Interconnected Retail is company-speak for integrating online into its sales channel mix.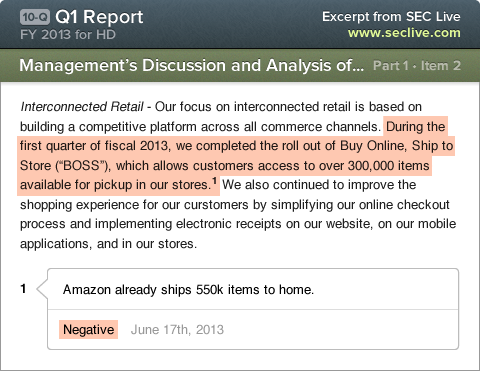 source: seclive.com
This is in direct response to Amazon quietly stepping up its presence in home improvement. But the nature of the competition between Amazon and Home Depot will not be head on and shouldn't be treated as such. Amazon will be competitive in offering standardized items such as tools and some fixtures, and Amazon will have better chance in low population density areas, which cannot support a local store. However, for heavier, big ticket, and custom items, brick-and-mortar stores will still possess a significant advantage (especially when one considers the nature of service, installation, temporal, and walk-through needs). This means that the move online won't be as swift or as complete as in other markets. Rather, it's very possible that online sales in home improvement will become only a branch of the market.
If this is true, then Home Depot could actually lead if it stayed more focused on what it knows best. What management shouldn't do is try to out-Amazon Amazon. Home Depot simply doesn't have the scale, distribution network, or software chops to run an online business. Even if Amazon does take a bite out of some of the business, management should be nimble enough to play with the in-store product mix.
Whatever the case, worrying about Amazon and managing the transition to greater online sales do not absolve Home Depot from the responsibility of pursuing all value-creating initiatives.
Summary
Home Depot is generating high return on capital, supported by its industry-leading execution and the recovery of the housing market. New stores should be able to generate similar returns and support the company's initiative to become an integrated retailer. The company benefits from enough tailwinds to continue do well in the short run. But without the sustained direct and indirect advantage of store count growth, Home Depot's current premium valuation is shaky and might crumble with the first signs of weakness in the competition with Lowe's or Amazon.
For an overview of my entire analysis, please go here.
Disclosure: I have no positions in any stocks mentioned, and no plans to initiate any positions within the next 72 hours. I wrote this article myself, and it expresses my own opinions. I am not receiving compensation for it. I have no business relationship with any company whose stock is mentioned in this article.