Lots of Gas, Lots of Profits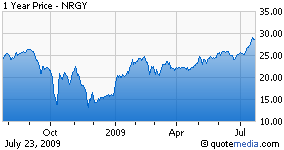 Inergy, L.P. (Nasdaq: NRGY) – one of the fastest growing limited partnerships in the country – distributes, markets and supplies propane at both the retail and wholesale levels. It also owns and operates two natural gas storage facilities, an LPG storage facility and a natural gas liquids business.
In addition, it manages a salt-solution mining company as well as a salt production company (U.S. Salt). In spite of natural gas and liquid petroleum gas prices that are at seasonal lows, things couldn't be better for Inergy.
In April, it raised its dividend for the thirtieth consecutive time and by 7% over the distribution for the same quarter of a year ago.
In May, it reported record earnings of $140.1 million for the quarter ended March 31, 2009 – an increase of 17% from the same quarter of 2008.
John Sherman, President and CEO of Inergy, had this to say:
"Our businesses produced outstanding results for the quarter.

"Our propane operations completed a very successful winter season, delivering solid earnings. Our natural gas business performed well and continues to execute its growth plans.

"We raised nearly $300 million of long-term growth capital. From this strong and flexible financial position, we intend to continue to execute quality growth on behalf of our investors."
Investors who want some exposure to natural gas while at the same time mitigating some of the fluctuation in gas prices would do well to consider adding a few shares of Inergy to their portfolio. The partnership pays an effective 7.14% yield, and dividends will likely continue their increase from here.
Disclosure: none