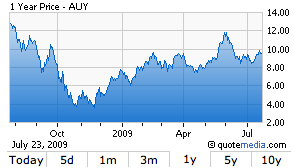 Yamana Gold's (NYSE:AUY) four newest projects are all expected to be online by 2013, ramping up the company's production significantly, a Blackmont analyst says.
Two of the Canadian gold producer's new mines, C1 Santa Luz in Brazil and Mercedes in Mexico have been given the green light, while decisions on Ernesto/Pau-a-Pique in Brazil and the Minera Florida tailings project in Chile are likely to come before the end of 2009.
All told, the four mines should add about 365,000 ounces of gold production per year by 2013, taking Yamana's total production to 1.6 million ounces from the 1.2 million forecasted for 2009.
"[Yamana] offers one of the sector's best risk-reward profiles," Richard Gray, Blackmont analyst, said in a note to clients Thursday.
Mr. Gray raised his target price to C$13.25 while maintaining an Outperform rating on Yamana.