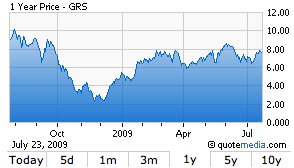 Canadian miner Gammon Gold (GRS) has posted disappointing results in its second quarter due to lower than expected production at its Mexican mines, leaving little incentive for investors to buy.
At Gammon's Ocampo mine, a 13-day shutdown of operations in a key part of the facility and lower processed grades through the mill both contributed to setting the mine eight weeks behind its ramp-up schedule. Gold production topped out at 28,000 ounces, 26% less than UBS forecasts, while cash costs per ounce are 20% higher than predicted.
Silver production at the mine was also 30% less than UBS estimates.
Overall, gold production is down 25% across Ocampo and El Cubo mines, while gold equivalent is down 27%.
"Operational results for Ocampo were very disappointing," Dan Rollins, UBS analyst, said in a note to clients Thursday.
The fact that a strike at El Cubo closed the mine for 45 days also did not help Gammon's quarter.
As a result of these problems, Gammon has cut its 2009 gold equivalent production guidance by 100,000 ounces, to 235,000-265,000 ounces.
Mr. Rollins has lowered his 2009 earnings forecast 33%, to $.30 per share from $.45 per share.
He has also cut his price target to $8 from $8.75 and downgraded Gammon to Neutral from Buy.