For the most part, stock picking is like hunting. You have to predict where your target will be by the time the bullet gets there. If you simply aim for the target, you will never hit it. So with stocks, you have to try to figure where a stock will be in the future compared to today. If the difference of where you think a stock will be compared to today is positive, then you buy it, hoping that your estimates are correct and you will be rewarded in the end.
Housing stocks have done well for some time now. However, I have repeatedly said over a period of many months now that they do not offer much in terms of future appreciation and should be sold. I still stand by that recommendation. Toll Brothers (NYSE:TOL) might be an excellent swing trading stock, but I doubt you will make much money with a buy and hold strategy from this point on. On the one hand, the market capitalization of many housing stocks has returned close to pre-bubble levels. On the other hand, the demand for housing is simply not what it use to be and probably won't be coming back anytime soon.
Reuters reported that housing starts rose less than expected in May, reflecting labor and material constraints, while the overall trend remained bullish for the sector. Permits for future home construction fell, but nevertheless they are at the one million unit mark as of last month. Permits for single-family construction touched their highest level in five years.
But as several analysts said (via CNBC), better doesn't mean good. We are at an average rate of 599,00 single family starts, which is lower than the 1991 recession and around 1980 recession levels, even if the U.S. population was much smaller then. So while things are better, things are not great or even on average. Housing starts for one unit structures still remain far below the U.S. average. With mortgage rates at historic low levels, one has to ask what will it take for the U.S. to reach the 1.5 million unit once again.
Click to enlarge images.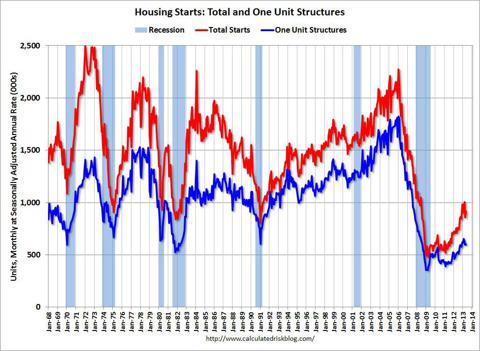 Anther reason why I am negative of housing at the moment is the Fed. If the Fed stops buying billions every month in government and mortgage-backed securities, rates are sure to go up. While we don't really have any evidence of this just yet, the fact that gold (NYSEARCA:GLD) is continuing to go lower is at least a proxy for Fed action.
But the market will not wait for the Fed to act. It will front-run the Fed when it feels as if the current round of QE is about to come to an end. The chart below is indicative of current market sentiment.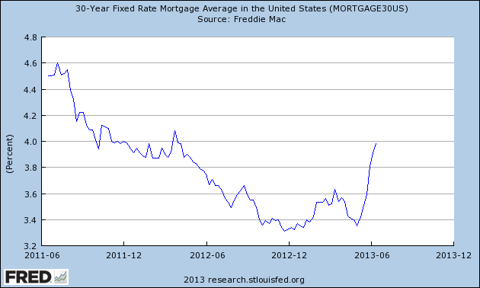 Rates have been going higher, and they will go a whole lot higher if QE is relaxed.
Appreciation for Many Housing Stocks Is Nil Going Forward
As far as I'm concerned, the most important reason to buy any stock is capital gains. If the expectations for future profit are worth the risk, then investors buy and hold and hope they are right. But what happens when stocks have no future appreciation potential? Do you still hold them? Also, what happens when things seem to be at a turning point, and the fundamentals of a particular stock or asset class seem to be turning the corner? Do you still hold on to the stock just because its not expensive? If you do, then you will end up with a bunch of stocks like Apple (NASDAQ:AAPL).
So I remain bearish on housing as a sector as a whole, and I have identified several stocks you should sell if you have them -- simply because, on a forward basis, they have little or nothing to offer.
| | | | | |
| --- | --- | --- | --- | --- |
| | Current Price | One-Year Target Price* | Potential Gain | Forward P/E |
| Hovnanian (NYSE:HOV) | 6.4 | 5,72 | -10% | 12,6 |
| Pulte (NYSE:PHM) | 21,3 | 23,3 | 9% | 13 |
| KB Home (NYSE:KBH) | 22 | 20,61 | -6% | 19,5 |
| Beazer (NYSE:BZH) | 19,8 | 20,2 | 2% | - |
| Standard Pacific (SPF) | 9,2 | 9,9 | 7% | 16,5 |
| MDC Holdings (NYSE:MDC) | 36 | 39,90 | 10% | 13,75 |
*One-Year Target Price from Yahoo.
Bottom Line
Yes, housing is still doing well at the moment, but I doubt housing shareholders will do well looking forward. The days of fat appreciation profits in the sector are over, and capital appreciation profits will prove very hard to come by over the next 12 months -- even if nothing goes wrong. And while all housing stocks are not the same, one needs to do some pretty good surgical investing in the sector to come out ahead looking forward.
While the homebuilder confidence index has risen to seven-year highs, I am taking that as a contrarian signal in the sense that there is not much juice left in the sector, and it's time to move on.
Disclosure: I have no positions in any stocks mentioned, and no plans to initiate any positions within the next 72 hours. I wrote this article myself, and it expresses my own opinions. I am not receiving compensation for it (other than from Seeking Alpha). I have no business relationship with any company whose stock is mentioned in this article.