FDA Advisory Committee Scheduled for Vascepa
It was announced this morning that Amarin (NASDAQ:AMRN) was informed by the FDA that they're going to be holding an advisory committee on October 16th, in conjunction with Amarin's sNDA for Vascepa. So, traders - we have another date to add to the "Upcoming Amarin Catalysts" calendar.
From its website:
Amarin Corporation is a biopharmaceutical company focused on the commercialization and development of therapeutics to improve cardiovascular health. Amarin's product development program leverages its extensive experience in lipid science and the potential therapeutic benefits of polyunsaturated fatty acids. Vascepa (icosapent ethyl) is Amarin's first FDA approved product and is available in the United States by prescription.
After the drug's approval, the company failed to produce any major pharmaceutical partners, brought on its own sales staff, and is taking a stab at launching Vascepa on its own. So far, the launch hasn't gone amazingly well, but it hasn't gone poorly. Numbers had been running commensurate to prescription predictions and the stock has been stuck in limbo between $6 and $8 for the past three months. After waiting to see how the previous couple weeks have fared, you could make the argument that Amarin has been in a downtrend. The real test will be to see if the company breaks below the $6.50 level of support: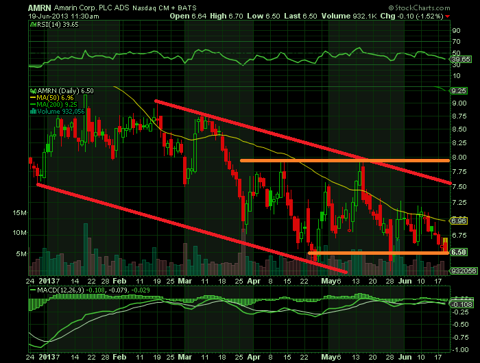 The company's press release this morning stated:
Amarin Corporation plc , a biopharmaceutical company focused on the commercialization and development of therapeutics to improve cardiovascular health, announced today that it was informed yesterday by the U.S. Food and Drug Administration [FDA] that the FDA will convene an advisory committee on October 16, 2013 in connection with the FDA's review of the Supplemental New Drug Application [SNDA] seeking approval for the use of Vascepa® (icosapent ethyl) capsules as an adjunct to diet in the treatment of adult patients with high triglycerides (TG e200 mg/dL and <500 mg/dL) with mixed dyslipidemia. The FDA has previously assigned a Prescription Drug User Fee Act (PDUFA) date of December 20, 2013 for completion of its review of the sNDA. The FDA will consider the recommendation of the advisory committee, but the final decision regarding the approval of the sNDA will be made by the FDA.
As it also said in the press release this morning, Amarin insists that approval of the ANCHOR indication would open up a massive new patient population:
Currently, Amarin only markets Vascepa for the MARINE indication, for which it was approved in 2012, and which includes approximately 4 million patients in the United States. The proposed ANCHOR indication would expand the Vascepa patient population to include adult patients on statin therapy with triglyceride levels ranging from 200 to 499 mg/dL (and mixed dyslipidemia). Amarin estimates that one in five, or nearly 40 million, U.S. adults have triglyceride levels in this range. Amarin began selling Vascepa on January 28, 2013. Amarin believes that many of the same clinicians who have prescribed Vascepa for its currently approved indication will prescribe Vascepa for the much broader indication, based on the ANCHOR study now under formal FDA review, if approved.
The question that starts to pop in my head is whether or not Amarin could possibly make it without the ANCHOR indication being approved. It's been such a huge part of the bullish argument, what happens if it doesn't come through?
The company continues to show decent growth in total new prescriptions according to the previous two weeks' data. Again, I wouldn't call it astronomically impressive growth (there was slight regression two weeks ago), but will continue to admit that the growth so far (for the small team they have) has been adequate to keep longs on and to prove that Vascepa is getting some traction.
(updated 6/7/13 - click to enlarge)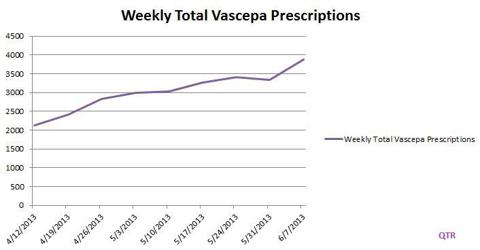 So, why the article? We all knew ANCHOR was coming, but we now have two dates set in stone; one in October and one in December. Since ANCHOR is going to be Amarin's next major catalyst (unless they have something surprising in either earnings or prescription data), it's vital that we can use this information to trade effectively.
It's worth noting that Amarin also put out some good news about a month ago. A press release that went out showed further improvement for Vascepa when used with statin therapy. The press release stated:
The data presentation titled, "Effects of Icosapent Ethyl on Lipoprotein Particle Concentration and the Fatty Acid Desaturation Index in Statin-treated Patients with Persistent High Triglycerides (the ANCHOR Study)", reported that Vascepa 4 g/day, when added to optimized statin therapy for 12 weeks, significantly reduced median particle concentrations of total very-low-density lipoprotein [VLDL] by 12.2%, total low-density lipoprotein [LDL] by 7.7%, and small LDL particles by 13.5% across the 12 week treatment period, compared with placebo.
Positive ANCHOR news towards the end of the year could potentially be a massive driving force behind Amarin's stock.
Amarin Bulls are Likely to Say:
ANCHOR still has the chance to be a massive upward catalyst for Amarin, majorly increasing its potential patient count.
We will now possibly have an indication of how things are going several months before December.
"Things are progressing" with pushing ANCHOR forward.
The FDA panel is "business as usual" for a treatment that has not been considered for a particular use before.
Amarin Bears are Likely to Say:
This panel will likely be made up of cardiologists and recent news has shown no benefit to fish oils - that might not bode well.
The advisory panel will want to see the results of the REDUCE-IT trial, concluding in 2016, before approval.
The FDA would not be bringing this panel if they didn't have doubts.
How You Can Trade These Upcoming Catalysts:
The stock has already showed us that it has trouble breaking its current downtrend without a major catalyst. It has become obvious that patent news and consistent script growth isn't necessarily going to translate to the stock price rising. Amarin's bullish speculation seems to already be priced in, as the company that burned over $50 million last quarter is sporting a lofty $1bil market cap.
This company is trading with the bullish speculation already priced in, with no real upside until we see real positive results; such as reduced cash burn, increased margins and revenues relating to Vascepa, and approval of this ANCHOR indication - which we know we have to wait at least another 5 months for.
So, what should your trading strategy be here?
If you're already long, why not lighten your share load a bit and take some off the table (especially if you have unrealized gains)? If you don't want to do that, why not write some covered calls against your position and pocket some quick premiums? As we move closer to earnings and then to these semi-binary events, the premiums and implied volatility of options could skyrocket - writing calls above your current cost basis is a great win/win situation.
If you're already short, you could hedge by buying some January 14' options. By then, we could have a pretty good understanding of how things are going to fare for Amarin. You could also position yourself for an options spread, which could profit from either great news or extremely poor news on the heels of the ANCHOR indication approval.
I'd be playing an options spread that expired in Jan or Feb '14, or buying a bit long and writing calls if I was still trading Amarin. I have since exited the stock, but still look forward to the road ahead and the continued war between bulls and bears over Amarin.
Upcoming Amarin Catalysts
Every Sunday : updated weekly Vascepa prescription data
Aug. 7, 2013 : earnings
Oct. 16, 2013 : FDA committee meeting
Dec. 20, 2013 : PDUFA date
Disclosure: I have no positions in any stocks mentioned, and no plans to initiate any positions within the next 72 hours. I wrote this article myself, and it expresses my own opinions. I am not receiving compensation for it (other than from Seeking Alpha). I have no business relationship with any company whose stock is mentioned in this article.