Herman Miller, Inc.(NASDAQ:MLHR) has a strong competitive advantage. The company holds the honor of building one of the most successful office chairs in the industry, the Aeron. In addition, management recognizes the importance of innovation for its future success. Herman Miller also offers good financials and sells for a relatively cheap price.
Business Model:
Herman Miller is a well established company in the design and sustainability realm. It is acknowledged as one of the leading brands in the office furniture business. Due to its high quality products and continued commitment to excellence, Herman Miller has appeared on Fortune magazine's list of 'The Most Admired Companies' in 23 out of last 27 years. It received the honor in the Home Equipment, Furnishings category. Steelcase, Inc, Herman Miller's chief competitor in the industry, ranked below the company.
Herman Miller's furniture systems and related services are used in offices/institutions, health/science environments, industrial and educational settings and residential settings.
Herman Miller's chief competitive advantage emanates from its ability to offer problem solving design for the workplace. The company actively pursues a program of new product research, design and development. These are accomplished through assistance from the engineering staff as well as third party design resources. The biggest development success achieved by the company is the Aeron chair. Aeron is an ergonomic chair Herman Miller developed in 1994. Aeron is perhaps the only ergonomic chair that people can identify by name. Aeron's design has a spot in New York City's Museum of Modern Art's permanent collection.
The company also has an eye on acquisitions. For instance, it purchased Sun Hing POSH Holdings Limited (POSH), a Hong Kong-based designer in 2012. Sun Hing is a distributor of office furniture systems and provides Herman Miller immediate access to Chinese Markets. In addition, Herman Miller intends to look beyond China in an effort to build its customer base.
Cash Reserves:
The company has consistently kept its current ratio in the 1.5 -2.0 window. The current ratio in the 1st quarter of 2013 was 1.91. The company has done a good job of managing its working capital and should not have major problems related to liquidity.
The company also has a healthy long term debt to equity ratio of 0.85. This ratio has slid from 1.21 in mid 2011. The growth in equity signals general health and the ability to deploy cash for key acquisitions. Long term investors should be happy to see this development.
Stock Price:
The PE ratio(ttm) is relatively high at 29. However, this is due to the volatility of earnings in the last few years. In addition, the revenue earned until mid 2012 was 15% less than that in 2008. The same trend can be seen at the company's largest competitor, Steelcase, Inc.(NYSE:SCS), signaling that industry sales have yet to recover their losses due to lower demand at the current time. However, as demand picks up for retail products, as it usually does in the latter stages of the boom, the earnings increase should more than make up for the current slack.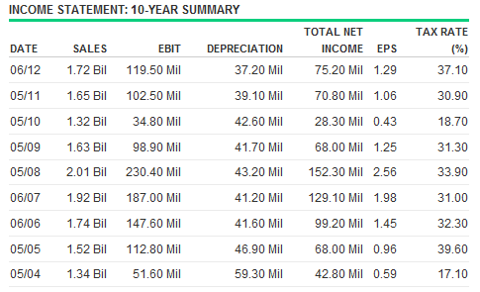 Major Risks:
The biggest risk Herman Miller faces is associated with the loss of its competitive advantage. Over the years, Herman Miller has proved its ability to innovate and develop products of superior quality. Such determination has landed the company's designs at the Museum of Modern Art. However, the company must maintain its focus on building such technologically advanced products.
Conclusion:
Herman Miller does have a good competitive advantage in the industry it operates. This future of this advantage depends a lot on the focus of management. If enough resources are sustained in this direction, the company may be able to keep its edge. In addition, the company has a good balance sheet and sells for a relatively decent price, in view of the industry potential.
Disclosure: I have no positions in any stocks mentioned, and no plans to initiate any positions within the next 72 hours. I wrote this article myself, and it expresses my own opinions. I am not receiving compensation for it (other than from Seeking Alpha). I have no business relationship with any company whose stock is mentioned in this article.