By David Goodboy
The old adage of risk equaling reward couldn't be truer. It was 2008, and the stock market was in chaos.
Great rewards went to investors who took the risk of stepping into the fray to buy the lows. But during the same time, many investors were practically wiped out because they failed to manage their risks wisely in the highly volatile environment.
The stock market today isn't as volatile as it was during the financial crisis. However, the same investing maxim still holds: The greater the risk, the greater the rewards.
Many investors shun risk. These risk-averse investors pile into the safest possible investments in an effort to preserve principal at all costs. This attitude will most likely preserve your portfolio, but it will also greatly decrease your potential for market-beating rewards.
Lessons Learned
What I learned from the risk-embracing derivative culture of 2008 is that both the shunning of risk and the gunslinging embracing of it are wrong. Investors who hope to earn outsize returns must embrace risk, but in a sensible way. This means dedicating only a small portion of your portfolio to risky investments.
The amount depends on your personal goals and plans, but in general, dedicating 10% to 30% of your capital to the stock market is a good rule of thumb. This allows you to participate in the high returns associated with high risk while protecting the majority of your capital in the event the risky investments turn sour. Risk is not just the domain of derivatives; risk is part and parcel of any high-yielding investment.
The reason is that new and otherwise risky companies understand that they need to provide a higher than normal return to attract investors.
A prime example of a risky but high-yielding stock is Northern Tier Energy (NYSE: NTI).
This energy and retail company runs an 84,500-barrel-a-day stream at its refinery in St. Paul, Minn. If you are from the Midwest, you may already be familiar with Northern Tier, as it also owns 166 convenience stores and supports 70 additional franchise locations under the SuperAmerica name. The company also owns the SuperMom brand bakery and commissary.
Northern Tier has an astounding dividend yield of 15.7% based on its current per-share price. Analysts project a yield of more than 19% for the year. The company posted great first-quarter results this year with revenue of just more than $1 billion, a nearly 12% increase from the same period last year.
The adjusted earnings before interest, taxes, depreciation, and amortization (EBITDA) more than doubled to over $156 million during the same time frame. These ultra-high yields go hand in hand with the risk factors of the company being very new and commodity prices staying steady or rising.
A technical look at the weekly chart shows support at the $24 range and resistance at $30. Despite its youthfulness and commodity risk, I like this high-yielding stock right now with stops placed right below $23.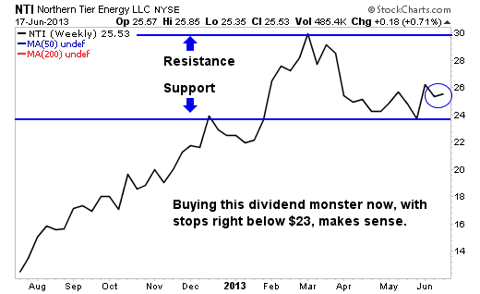 Click to enlarge
Risks to Consider: There are substantial risks in Northern Tier. The primary risk is its youthfulness and limited history of paying dividends. Although the dividends are very high, the company has paid out only three during its short life. Secondly, due to the nature of the business, commodity risk is very high. This means if oil drops in price, then it will likely adversely affect the company's bottom line. In addition, the U.S. government is proposing rules that will demand refiners to limit the sulfur content of gasoline to 10 parts per million (ppm) from the current 30 ppm. This proposal could cost refiners millions to comply, which would obviously hurt Northern Tier's bottom line.
I like Northern Tier right now with tight stops directly below $23. Remember, the rule to always position size properly is doubly important when it comes to high-risk, high-yield names like Northern Tier.
Disclosure: I have no positions in any stocks mentioned, and no plans to initiate any positions within the next 72 hours. I wrote this article myself, and it expresses my own opinions. I am not receiving compensation for it. I have no business relationship with any company whose stock is mentioned in this article.