We recently wrote an article on Annaly Capital Management (NYSE:NLY) where we contested that investors should wait until at least $11 per share to buy the stock, given the effects that Fed tapering concerns were likely to have on the MBS market. Our cautious view was not specific to NLY, but rather the whole mREIT sector -- e.g., American Capital Agency (NASDAQ:AGNC), Armour Residential REIT (NYSE:ARR), CYS Investments (NYSE:CYS), and Market Vectors Mortgage REIT Income ETF (NYSEARCA:MORT). We figured NLY was the best to examine given its long history and trusted management. There were many informative comments on that article with many investors citing the improved net interest margin, or spread, that NLY (and other mREITs) were going to experience in a Fed tapering scenario. The idea is that as long-term rates rise, but short-term rates remain anchored, NLY will be able to take advantage of the wider spread to improve cash flows and distributions to investors. While book value would undoubtedly take a hit, that was viewed as secondary to the benefit of a wider spread.
We decided to examine what might occur in a Fed tapering scenario, where Federal Reserve MBS purchases were slowly discontinued starting around the end of this year and into 2014. Short-term interest rates are assumed to stay where they are today as the Fed has "promised" not to raise the overnight, fed funds interest rate until 2015. With the market being a forward pricing mechanism we used a 25 bp (one-fourth of 1%) rise in the mortgage rate per quarter (on top of the 50 bp rise in Q2), until Q1 2014 when it reaches 4.75% -- so net a further three-fourths-percent increase from today's level. We based this on an examination of where mortgage rates were at the beginning of QE (e.g., in 2009) where they traded at about 5%. This "scenario" would be an historically slow rise in rates, with a steeper yield curve, that should avoid credit seizures and still lend support to the housing market. In all, not a dramatic end to Fed MBS purchases and we consider it conservative in that rates could have a more dramatic rise depending on MBS demand.
Table 1: Fed "Taper" Simulation for NLY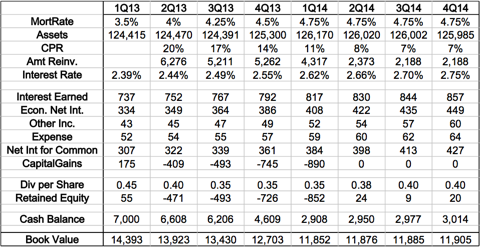 All Amounts in $ millions. Assumes $300 million in capital gains harvested in Q2 2013 and $100 million in Q3 2013. Assumes $1 billion in cash invested in Q4 2013 and Q1 2014. Assumes share count dilution from senior convert bonds and executive stock-option awards.
The results of running NLY's (simplified) balance sheet through this Fed tapering scenario is shown in the table above. We start with information from NLY's recent 10-Q with, for example, $124 billion in interest earning assets producing $737 million in interest along with $175 million in capital gains that were reaped in Q1. Given other income and expenses, the net result was 90% of taxable income was paid out at 45c/share. We also start with a cash balance of $7 billion (cash, reverse-repo, short-term Treasuries), which, as we'll see, is a decent buffer to have going into a rising rate environment.
The interest rate earned was 2.39% in the first quarter while 1.46% was paid, including two senior convertible bonds. Preferred share dividends are subtracted to produce the row titled (Net Int for Common), which was $307 million in Q1; this is what drives dividends in an otherwise stable interest rate environment. Based on our previous work, we believe there is conservatively (i.e., at most) $400 million in capital gains remaining to be harvested (from $1.9 billion on March 31, 2013). This will be something to keep a keen eye on since we won't know if NLY cashed out more gains prior to the recent rate rise until we see their financials. That said, we applied a healthy $300 million to Q2 2013 and $100 million to Q3 2013.
In Q2, based on their interest rate sensitivity, NLY most likely had a net capital loss of $409 million (portfolio loss minus harvested gain), which assumes full reinvestment of harvested gains. Whether NLY beefed up their cash balance instead, to wait for cheaper MBS prices, will be shown in Q2 financials. The key point is that book value will be reduced by $471 million, while cash balance will decline by a lesser $392 million, assuming 85% of assets are supported by repurchase agreements that are mark-to-market. Assuming full dilution of 995 million shares outstanding (~50 million from 4% convertible bond) implies a current book value estimate of $14/share, so, currently, it is trading at about at 5% discount. In our view, while a 45c dividend could be maintained, a more prudent approach would be to reduce the dividend by 5c/share with the goal of sliding it lower as Fed tapering continues. This not only conserves cash, but allows NLY to further take advantage of higher rates and a wider spread later in the year, when the tapering cycle is more fully priced in.
As rates rise further, and previously harvested capital gains are depleted, the impact of larger capital losses, associated with the negative convexity in their portfolio takes affect. Note, this is not specific to NLY -- many mREITs run short convexity, which implies amplified losses on larger rate moves. While offset by increasing net interest margin, the capital losses from higher rates continue to bite into NLY's cash balance throughout the cycle as repo counterparties require more collateral. The good news is that NLY has a sizable war chest of cash and should not only be able to withstand any mark to market concerns, but also put some of that cash to work toward the end of the cycle.
That said, if interest rate increases are more severe or the Fed tapering is directly followed by short-term rate increases, then ensuring further liquidity will be NLY's main focus. Note the interest rate earned on invested assets only increases by about 0.36% even though rates rise 1.25% as prepayments decline from ~20% annualized down to sub-10% with the higher rates. Technically, the prepayment rate is not "CPR," which is based on notional, or face amount. We simplified it as percentage of fair value and, at 20% for Q2 we are assuming a rather high prepayment level that can be reinvested. We also assume that NLY would maintain about $3 billion in cash to buffer against a further rate increase of roughly 1%.
The point to all this number crunching is twofold. First, it appears that NLY is in a position to manage through a garden variety rate increase scenario via a controlled Fed tapering of MBS purchases. Whether the same can be said of other mREITs, we do not know. We see a modest further decline of dividends to 35c/share, so as to play it conservatively, but we do note that those dividends are coming directly out of equity (return of capital) until rates stabilize and capital losses subside. NLY may choose to be even more conservative, and reduce dividends further, to prepare for the beginning of a potentially long interest rate cycle. Once rates stabilize, NLY should be able to grow dividends again, but investors will have to then contend with a potential lift to the short-term interest rate.
Second, by the end of the Fed tapering cycle we could see close to a 20% decline in book value. Coupled with the increased share count, via the convertible bond, book value will be close to $12 a share in our view by the end of Fed tapering. Assuming shares trade at a discount to book at that time, the share price decline can easily outweigh dividends received -- a reflection of the fact that earnings will be negative and dividends paid out of equity capital. Given the current pps of about $13.5, the market is not pricing in a 100% probability to the Fed tapering scenario outlined above. That said, we still believe that the downside risk to mREITs, associated with Fed tapering and rising interest rates, is too high to warrant an investment at current prices even with an increased net interest margin.
Disclosure: I have no positions in any stocks mentioned, and no plans to initiate any positions within the next 72 hours. I wrote this article myself, and it expresses my own opinions. I am not receiving compensation for it (other than from Seeking Alpha). I have no business relationship with any company whose stock is mentioned in this article.
Additional disclosure: We are long puts on an mREIT basket (e.g., ETF).