By Carla Fried
Ever since its late 2011 initial public offering, affordable luxury clothing and accessory retailer Michael Kors (NYSE:KORS) has eaten Coach's (NYSE:COH) lunch, as seen in a stock chart.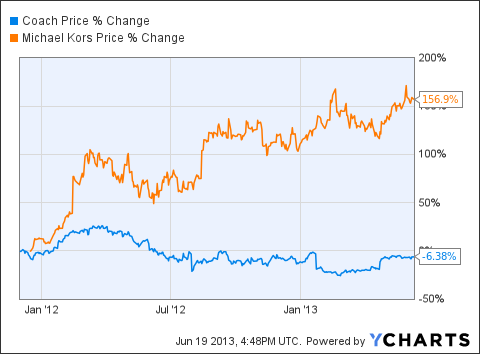 COH data by YCharts
Kors needed less than two years for its market cap to rise above $12 billion; Coach, which went public in 2000, has a $16.1 billion market cap.
There's nothing to suggest Kors can't keep its rapid growth momentum. But with that comes a pricey valuation. A 36 PE ratio for the trailing 12 months paired with a forward PE estimate of 25.5 is expensive. Meanwhile, Coach's trailing and forward PE ratios are both around 15.5.
One more metric to nail the growth v. value face off: Kors' forward price/sales ratio has increased by one-third over the past year, to 5.9, while Coach's 3.2 forward price to sales ratio is 14% lower than a year ago.
Now just because Coach is cheaper doesn't automatically make it attractive, or more attractive than Kors. Long-term shareholders are looking at a current stock price that is 27% below its March 2012 peak. That said, for new investors, there are some changes afoot that, depending on how they play out, could at the least make Coach a value stock on a solid rebound.
There does already seem to be some acknowledgement that Coach has managed to right its shaky North American operations, which account for two-thirds of revenues. In the company's second quarter (ending December 31, 2012) total revenue inched forward 4%, stuck carrying the heavy weight of a 2% decline in North American sales. That sent the stock tumbling 24%. In the third quarter (through March 31) Coach surprised with a 6% revenue bump pulled along by a 7% gain in North American revenue. Even though organic same-store sales in North America only grew 1% that was enough to calm investors, who have pushed the stock up 23% from its winter low.
That gets the stock pretty much back to where it was earlier this year. Looking forward, there are some potential catalysts to move the ball forward. Lew Frankfort, who transformed the small leather shop into a global luxury beast, will retire as CEO next year. Victor Luis, who has been running the faster-growing international segment, will step in as CEO. For the nine months through March 31, international revenue rose 11% compared to 6.8% for North America. While China has been a big nail biter for all global brands as it navigates its slowdown, Coach reports that same-store sales continue to grow at a "double-digit" pace.
Luis will be working with a new creative director. Reed Krakoff, credited with Coach's successful design of accessible luxury for the masses (anyone who's braved an outlet mall knows all about the Coach masses) is leaving the mother ship when his contract expires in June 2014. The Wall Street Journal reported last week that Coach is shopping the money-losing higher-end luxury Reed Krakoff private label line to potential investors, including offloading to a private equity firm.
Coach is also positioning itself to steal back some market share from Michael Kors. Expanding its product line beyond its big horses of handbags and shoes to be more of a total "lifestyle" brand is one of its stated operational goals. Last year, Coach made a run at Tory Burch, which along with Kate Spade is a prominent private company in the high-but-not-too-high-end retailing niche. That deal didn't materialize; though the Journal reported in late May that Coach is still hot to acquire an accessories brand to bulk up its footprint. In the meantime, this fall Coach launches a new women's clothing line in time for the holiday shopping season.
There's no guarantee that new is a positive. But Coach is uniquely positioned to launch itself into the next generation of growth. Its existing lines provide a steady base of operations. As dowdy as it has looked next to Kors, this is not some down-and-out story.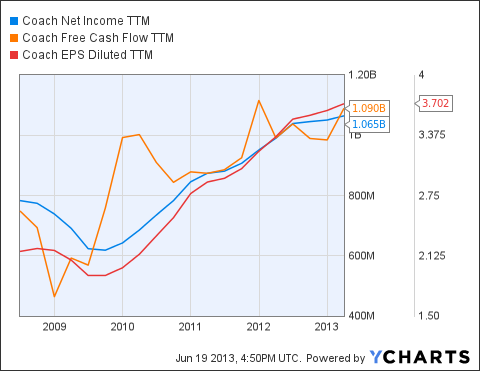 COH Net Income TTM data by YCharts
Management also knows its way about the capital allocation maze. Return on equity and return on assets are well above the industry norm and there is less than $100 million in long-term debt.
The company recently announced it plans to spend $750 million over the next three years to pay for its minority stake in a real estate joint venture that will construct the firm's new NYC headquarters. In SEC filings Coach says it intends to pay for its new digs out of cash and proceeds from the sale of its current headquarters. If needed, Coach can also tap an existing revolving credit line of $650 million. At the end of March, Coach had $923 million in cash and short-term investments.
Even if new product lines and a new headquarters eat into cash flow a bit, it's likely Coach can satisfy income investors. Since it began doling out a dividend in 2009 Coach has increased the payout by 350%. You could cut that by two-thirds (and there is nothing to suggest Coach would slow the pace of dividend growth) and still have one of the better dividend stories around. Right now, new shareholders can bag a 2.4% dividend yield.
Disclosure: I have no positions in any stocks mentioned, and no plans to initiate any positions within the next 72 hours. I wrote this article myself, and it expresses my own opinions. I am not receiving compensation for it. I have no business relationship with any company whose stock is mentioned in this article.