Healthcare is one thing, which concerns almost every American. Healthcare institutions, private clinics and medical personnel are increasingly taking advantage of the advances in technology. For proper medical services to be provided, information such as patient's historical record and treatment history are of crucial importance. With different hospitals and medical personnel using different systems for managing patient data, it became very difficult to integrate such information for the larger benefit of the community. Eyeing this opportunity in the health sector, many IT companies started providing software that would allow the sharing of patient's medical information on a generic platform.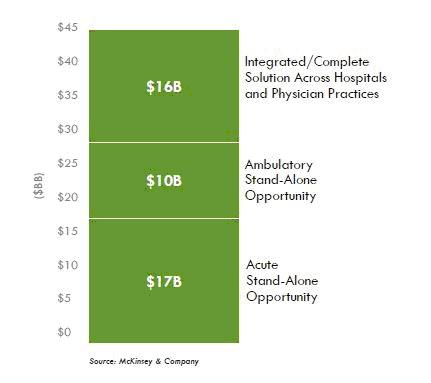 Source: Company Presentations, McKinsey & Company
The above diagram shows the large and dynamic market that is waiting to be exploited by companies developing solutions for the healthcare sector. The market needs clinical, connectivity, financial and information solutions for the increasing complexities of the healthcare sector. These services are needed by health systems, hospitals, physicians and post-acute organizations.
One company that is involved in developing such solutions for hospitals and medical personnel alike is Allscripts Healthcare Solutions Inc. (NASDAQ:MDRX). Founded in 1986, the company focused on information technology from an early stage. In 2008, Allscripts merged with rival Misys and in 2010, the company went through another merger with a major healthcare information technology company called Eclipsys. Allscripts allows its users in the healthcare sector to shift to the new age of accountable care. Allscripts' experience in delivery technology allows it to offer comprehensive solutions that help coordinate care, engage patients and make use of analytics to help support the healthcare provider. Through analytics, the healthcare providers are able to provide superior services by improving the quality and efficiency of patient care.
Allscripts offers a wide range of solutions. The company provides management and safe transfer of Electronic Health Records (EHR), mobility solutions and a wide array of services for physician practice and hospital & health systems.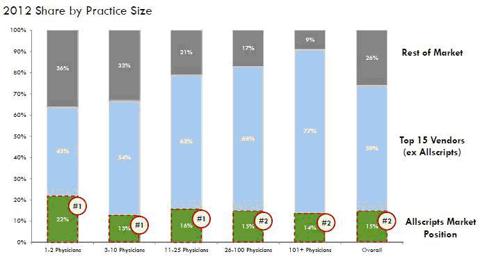 Source: Company Presentations
The above bar chart shows the market share of Allscripts by practice size. Allscripts is the largest provider of healthcare solutions in three categories and the second largest for the remaining three categories. This shows us that Allscripts is widely recognized in the market and its services are largely successful in delivering their results.
Allscripts' Recent Performance
Companies such as Allscripts have tremendous opportunities for growth because of their smaller size and relatively large market potential. Historically, Allscripts has been able to report solid revenue figures.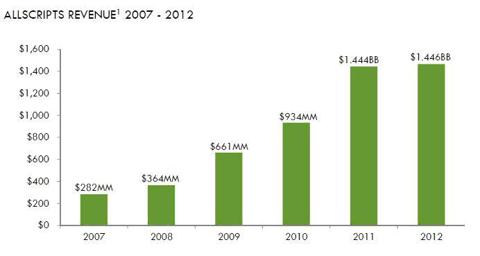 Source: Company Presentations
The above bar chart shows that the company has done extremely well in the period, which starts from the year 2007 and ends at the year 2011. From 2011 onwards, the company started reporting stable sales.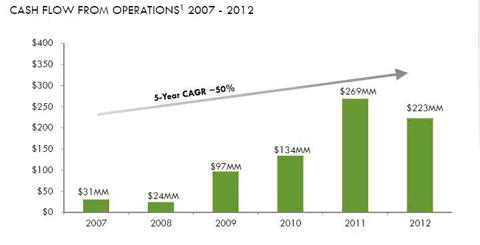 Source: Company Presentations
Another important performance metric is the cash flow from operations (NASDAQ:CFO). In the same period during which Allscripts reported great increase in its revenues, we see that the CFO figures for the company increased substantially too. After 2011, the CFO figures saw a downtrend.
Generally, we see the company performed well historically but somehow its growth got halted and its cash flows started to deteriorate. One of the primary reasons for this situation was Allscripts' inability to benefit from the acquisition of Eclipsys Corp. Allscripts wanted to expand its sales with the acquisition of this software company but the company lost most of its business to competitors such as Cerner Corp. (NASDAQ:CERN). The losses from the recently acquired Eclipsys Corp. became very evident in the year 2012 and cost the then CEO of Allscripts his job. Mr. Paul Black was appointed as the new CEO and it was immediately suspected that Allscripts would now have a change in its overall focus.
Road to Recovery
After being appointed as the CEO, Black immediately declared his strategy for the revival of the company. In an address to the shareholders, Black said that his goals were to increase operational efficiencies, retain the existing clients and to freshen the company's line of products. This recent news suggests that Black's strategy has started to take effect.
Allscripts has recently acquired two health management software and service providers. The first company is called Jardogs LLC and the second one goes by the name of dbMotion. The acquisition would allow Allscripts to give new life to its existing portfolio of products.
Jardogs LLC is a provider of healthcare services and it specializes in patient kiosks and mobile-based technology for tablet PCs and smartphones. Allscripts will make Jardogs' portal available across all of its products.
DbMotion on the other hand is an Israeli medical software maker. The company has developed a system, which allows information sharing between different healthcare providers securely. Allscripts reported that these acquisitions will make it realize a low EPS figure in the year 2013 but the figure would increase substantially in the year 2014.
Glimmer of Hope
Salford Royal has recently activated Allscripts' electronic health record system. Sunrise Clinical manager (SCM) is the name of the healthcare solution, which Salford has implemented. This is great news for Allscripts because Salford Royal is one of UK's highest regarded healthcare provider and through investment into this innovative solution, it hopes to provide improved quality and safe treatment for its 238,000 patients. This goes to show that Black's strategy of providing a broad range of healthcare solutions is a good fit for the organization.
Conclusion
Healthcare sector in the United States is in the age of great structural change. The healthcare providers have started to use integrated healthcare solutions, which provide greater value and flexibility to them. Allscripts is one of the leading providers of healthcare solutions. With many years of experience in the industry, it was performing really well until the year 2012 when a bad decision changed the fate of the company. With the new CEO, the company is back on track making structural changes, which have given new hope for its revival as a healthcare tech leader. Due to the above stated reasons, I would give a buy stance to investors as the future looks bright for Allscripts now.
Disclosure: I have no positions in any stocks mentioned, and no plans to initiate any positions within the next 72 hours. I wrote this article myself, and it expresses my own opinions. I am not receiving compensation for it (other than from Seeking Alpha). I have no business relationship with any company whose stock is mentioned in this article.