Walgreen (WAG) is scheduled to release its 3rd-quarter 2013 earnings on Tuesday, June 25. Below I have highlighted this quarter's earnings estimates as well as provided a fundamental look at the company's financial position and valuation.
Profile and Estimates
Walgreen has a market cap of $48.4 billion and had annual sales last year of $71.6 billion. Shares currently trade for $50.95 and are up 39.22% YTD, 83.68% above their 52-week low of $27.74.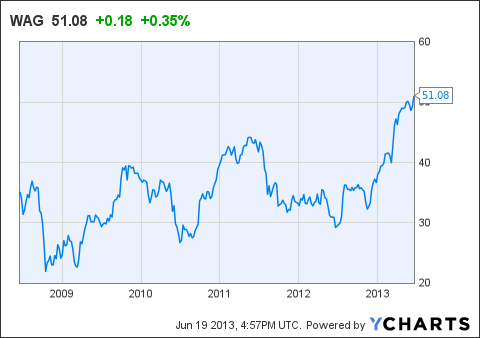 WAG data by YCharts
Analysts have a mean target price of $50.53 and a median price target of $53.00 per share. This quarter, analysts on average are expecting EPS of $0.91 on revenue of $18.44 billion.
Below is a valuation matrix I have compiled that is based on Walgreen's full-year EPS estimates.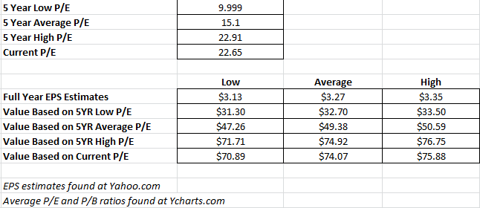 Click to enlarge
Based on this analysis, and consistent with the current price targets, Walgreen appears to fall in the full to slightly overvalued range. Again, this is only based on current EPS expectations and the company's historic P/E averages.
Fundamental Analysis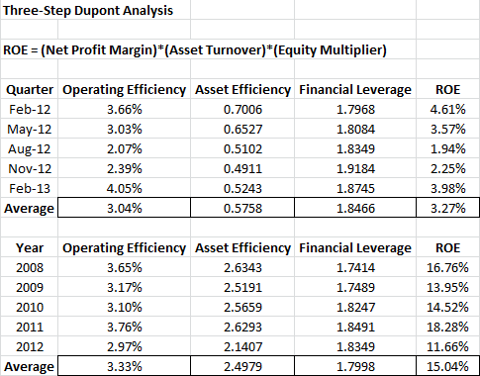 Click to enlarge
The above DuPont Analysis is provided to get a better indication of where the company is generating returns. Based on this analysis, Walgreen's ROE of 11.66% last year was calculated lower than Morningstar.com's reported 12.5%, but still slightly above the industry average of 11.3%.
The company's return has been falling over the past five years and I see it coming down again some this year due to the quickly falling asset turnover (typical for a company with such a large and growing asset base). Walgreen has been able to maintain a slight edge over the industry's average net margin of 2.8%, and all other margin categories with no one operating ratio deviating far from the norm.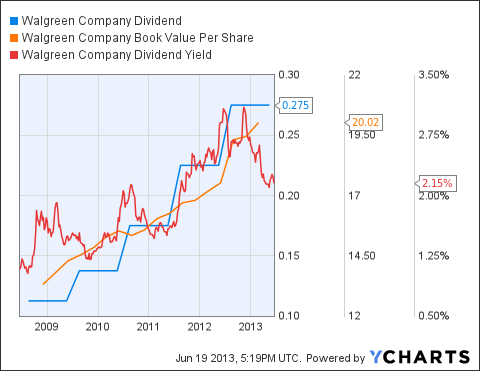 WAG Dividend data by YCharts
Bottom Line
Walgreen is a great steady dividend-paying company that has consistently grown its book value while returning value to its shareholders. But, after gaining more than 80% this year, it appears the stock is trading with some of its future earnings already fully priced in. Keep an eye out for earnings and new developments when the company reports its 4th quarter earnings on Tuesday.
Thank you for reading, I am always looking to improve these earnings previews and provide an unbiased and fundamentally focused article with estimates and forecasts. If there is anything else you would like to see or feel would improve these previews please let me know by sending me a message through SeekingAlpha.com and/or commenting below!
Disclosure: I have no positions in any stocks mentioned, and no plans to initiate any positions within the next 72 hours. I wrote this article myself, and it expresses my own opinions. I am not receiving compensation for it (other than from Seeking Alpha). I have no business relationship with any company whose stock is mentioned in this article.