Lennar Corporation (NYSE:LEN) is scheduled to report its 2nd-quarter 2013 earnings on Tuesday, June 25. Below I have highlighted this quarter's earnings estimates as well as provided a fundamental look at the company's financial position and valuation.
Profile and Estimates
Lennar has a market cap of $7.45 billion and had annual sales last year of $4.1 billion. Shares currently trade for $37.85 and are up 1.89% YTD and 47.65% above their 52-week low of $25.66 per share.
LEN data by YCharts
Analysts have a mean target price of $43.76 and a median price target of $45.00 on the shares. This quarter, analysts on average are expecting an EPS of $0.33 on revenues of $1.33 billion.
Below is a valuation metrics that I have compiled based on this year's EPS estimates and the company's 5YR P/E ratios.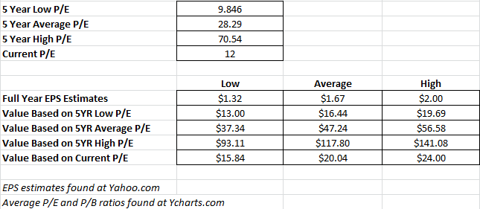 Click to enlarge
Based on this analysis, LEN's target price of $43.76 falls slightly below the company's average EPS estimates and P/E history, which reflects continued economic pressures. Looking forward however, the average EPS estimate for next year of $2.37 implies a 41% improvement.
Fundamental Analysis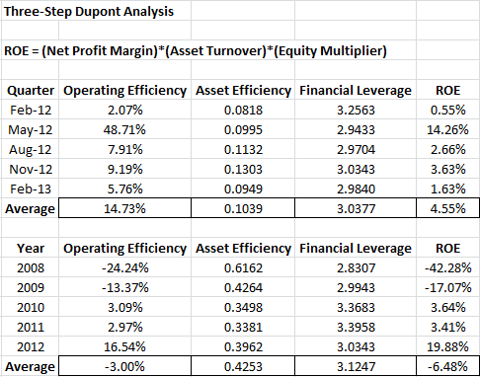 Click to enlarge
To get an idea of the forces driving the company's return I have provided above a Three-Step Dupont Analysis that shows marked improvements from the tough times the company faced in 2008 and 2009. Net income has moved up and came in at 16.54% last year without much deviation around the average asset turnover and with a consistent amount of financial leverage.
Bottom Line
Analysts are expecting higher EPS in the near future but the company still faces strong economic headwinds. Shares have significantly come off of their 2008-2009 lows and currently trade at book value so the next step to a higher valuation will most likely need to be driven by sales and income growth. Keep an eye out for earnings and new developments when the company reports its 2nd-quarter earnings on Tuesday.
Disclosure: I have no positions in any stocks mentioned, and no plans to initiate any positions within the next 72 hours. I wrote this article myself, and it expresses my own opinions. I am not receiving compensation for it (other than from Seeking Alpha). I have no business relationship with any company whose stock is mentioned in this article.