We reiterate that although PepsiCo (NYSE:PEP) has been a poor performing company under the mismanagement of Indra Nooyi, it is still an industry leading beverage maker. We're displeased that PepsiCo's gains against Coca-Cola (NYSE:KO) under her mentor Steven Reinemund have dissipated under her watch. Despite the mediocre performance and recent growth by acquisition strategy, we're still not comfortable shorting it. With Nelson Peltz backing PepsiCo, Warren Buffett's Berkshire Hathaway [(NYSE:BRK.A) (NYSE:BRK.B)] backing Coca-Cola and Don Yacktman backing both beverage makers, we can see that institutional investors are providing support for these firms. We maintain that the company's dividend and share repurchase program is providing additional support for the shares and we believe that it is merely a fairly valued company that will not repeat its outperformance against the S&P 500 that it enjoyed since the 1980s. We believe that the same paradigm also applies to Coca-Cola, albeit to a slightly smaller extent. That doesn't change the fact that Coca-Cola has a forward PE of 17.1 and a consensus LTG of 8.8% and PepsiCo has a forward PE of 18.6 and a consensus LTG of 8.5%.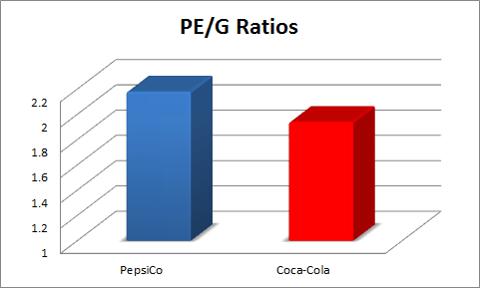 Source: Morningstar Direct
Coca-Cola maintained its lead over Pepsi in the worldwide beverage business. In North America, Coca-Cola's Q3 2012 results were almost a mirror image of Pepsi's as Coca-Cola grew its beverage volumes by 1% but its comparable currency operating income declined by 3%. Pepsi Americas saw its beverage volumes decline by 3% but its constant currency operating income increased by 4%. The Pepsi Americas Food Division was a better performer than the beverages business in that it grew its volume by 3%, its organic net revenue grew by 6% and constant currency operating income increased by 7% during the period.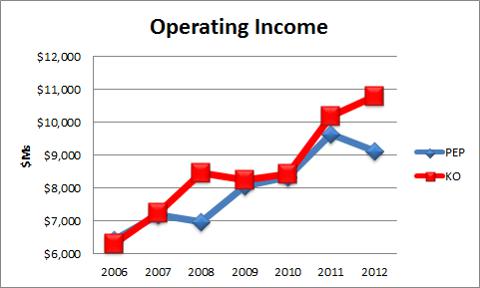 Source: Morningstar Direct
We were surprised that the Latin America Food Business only grew its volume by 1% but it was able to achieve 13% in revenue growth from price increases. Reported net revenue grew 11 percent in the quarter, reflecting a 3-percentage-point unfavorable foreign exchange translation impact. Core constant currency operating profit increased 25 percent. These results reflect the revenue growth and productivity gains partially offset by commodity cost inflation and increased advertising and marketing expense.
Both companies saw its European results improve during the quarter versus last year and we believe that we will see stability in the European economic environment by 2014. Coca-Cola Europe checked in with 0% volume growth (which was slightly better than the 1% volume decline in FY 2012) and declines of 2% for revenue (better than the 6% revenue decline in FY 2012) and 1% decline in constant currency operating profits. Pepsi Europe had 4% volume growth for its food products and 1% volume growth for its beverage products. We were surprised to see that Pepsi Europe was able to generate a 3% increase in its constant currency operating profit for FY 2012 and even more surprised to see 14% operating profit growth for Q1 2013. We reiterate that Pepsi Europe is not quite comparable to Coca-Cola Europe because Pepsi Europe includes the former Warsaw Pact nations of Eastern Europe whereas Coca-Cola includes its operations in those countries as part of its Eurasia and Africa division.
PepsiCo Asia, Middle East and Africa saw strong snack volumes growth of 15% and solid beverage volume growth of 17%. Organic net revenue grew by 15% and net reported revenue declined by 14%, due to the refranchising of its Chinese bottling operations and a 2% negative headwind from foreign exchange translation. Pepsi's AMEA constant currency operating income grew by 19% in this division, which was greater than the 4% increase by Coca-Cola's Pacific division and 13% in its Eurasia and Africa operations. Coca-Cola Pacific and Eurasia and Africa had comparable beverage volume growth of 3% and 15% respectively.
We see that the fizz is out of PepsiCo's overall results as well as Coca-Cola's. Coke's overall revenue declined by 1% in the most recent quarter while PepsiCo's revenues increased by 1% for the quarter. Both companies had seen reported EPS decline (13% for KO and 2.8% for PEP) but both had "non-recurring charges" that resulted in adjusted EPS growth (2.5% for KO and 11.6% for PEP). PepsiCo incurred $131M in after-tax non-recurring charges during the quarter and Venezuela's currency devaluation represented $111M of these charges. Coca-Cola had $315M in after-tax non-recurring charges during the quarter and its charges included $149M related to Venezuela's currency devaluation and $62M in charges relating to its productivity and reinvestment program. At least both companies have been able to reduce the weighted average outstanding share count by ~1.5% year-over-year during the period. Both companies have also raised the dividend per share significantly since 2006.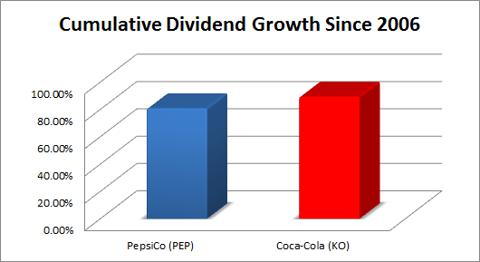 Source: Morningstar Direct
Despite the fact that PepsiCo's TTM revenue was 37% higher than Coca-Cola's, Coca-Cola earned 42% more profits than PepsiCo. Coca-Cola has $13.1B more assets on its balance sheet than Pepsi; however this is because Coke has ~$21B more cash, securities and equity method investments than PepsiCo. This probably explains why Coca-Cola has $10B more in stockholders equity than Pepsi. At least both companies have been able to take advantage of the Federal Reserve's easy money policies in order to significantly reduce borrowing costs on its outstanding debt issues.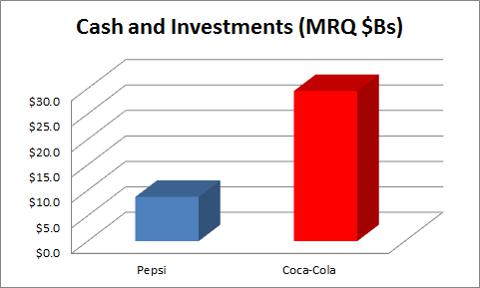 Source: MRQ Reports for Pepsi and Coca-Cola
Even with Ralph Whitworth's investment in Pepsi through Relational Investors LLC last year before selling it and recent investments by Nelson Peltz and Don Yacktman, Pepsi is fairly valued. We attribute this to the flight-to-safety by investors in the wake of the European debt crisis and demand for any investment offering an annual yield payout exceeding the low rates paid on T-Bills, bank deposits and even intermediate-term debt. We think if investors want to invest in the soft-drink industry based on what a famous investor is doing, they should follow Warren Buffett of Berkshire Hathaway and invest in Coca-Cola. We previously believed that until Pepsi announces a major strategic action (like splitting off the food division) or leadership succession plans, we believe that dividend-seeking investors and investors who mimic what notable investors do should go with Coca-Cola instead of Pepsi. We now believe any value attributed to the aforementioned strategic actions is already embedded in PEP's share price.
In conclusion, even if PepsiCo smartens up and replaces Nooyi with someone who knows what they are doing, the company is fairly valued and any special situation or upgrade to management is already embedded in the price of the company. Although Coca-Cola is also fairly valued too, we reiterate investors who insist on investing in the beverage industry should say to their brokers "Um, yes, I'll have another Coke please." We're displeased that Indra Nooyi found time to write a book (Reverse Innovation) with two other people when PepsiCo's performance was stagnant and somnolent under her watch. We believe that even while she was successful as Steven Reinemund's understudy, we don't believe that her heart was really into working at PepsiCo. We think that Nooyi likes being the PepsiCo CEO but not necessarily doing the work that is required to be PepsiCo's CEO. We repeat that PepsiCo should call up Wake Forest University and make a trade in which PepsiCo sends Nooyi to Wake Forest and Wake Forest sends Steven Reinemund back to PepsiCo.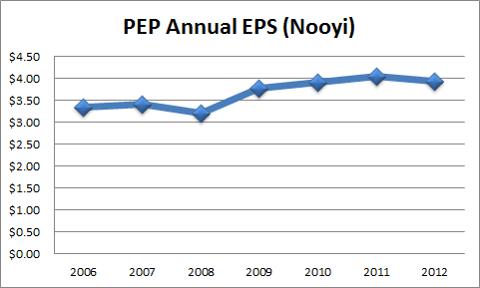 Source: Morningstar Direct
Disclosure: I am long BRK.B. I wrote this article myself, and it expresses my own opinions. I am not receiving compensation for it (other than from Seeking Alpha). I have no business relationship with any company whose stock is mentioned in this article.
Additional disclosure: This article was written by an analyst at Saibus Research. Saibus Research has not received compensation directly or indirectly for expressing the recommendation in this article. We have no business relationship with any company whose stock is mentioned in this article. Under no circumstances must this report be considered an offer to buy, sell, subscribe for or trade securities or other instruments.