It's been a wild week for Netflix (NASDAQ:NFLX). The company signed a large original content deal that could alleviate recent concerns over the loss of some popular children's shows. The company also announced its next new market for international expansion. All of this comes roughly a month before the company reports its second quarter earnings. Today, I'll break down the recent slate of news, discuss what it means for the company, and see where things go from here.
Scoring a deal:
Earlier this week, Netflix announced that it had come to an agreement with Dreamworks Animation (NASDAQ:DWA) on a deal for original content. The groundbreaking deal will bring over 300 hours of new programming to the Netflix platform, from the creators of global box-office hits including the Shrek, Madagascar, Kung Fu Panda and How to Train Your Dragon franchises. This is the largest deal for original first-run content in Netflix history, as well as the first time that Dreamworks' characters will be introduced into the television market as a branded collection of shows.
Back in February, Netflix and Dreamworks announced an original series Turbo F.A.S.T., based on the Turbo movie coming out in July. Netflix will also gain exclusivity to the global hit The Croods as well as Turbo and Mr. Peabody and Sherman, which comes in 2014.
This is a nice deal for Netflix, and it might help to replace some of the lost content that Amazon (NASDAQ:AMZN) picked up when Amazon agreed to a deal with Viacom (NASDAQ:VIAB). Critics argued that Netflix was not catering to the children's genre, but the Dreamworks deal will certainly help. But before we can fully celebrate this original programming milestone, let's not forget that the first show won't be until 2014, at the earliest (excluding Turbo F.A.S.T.). Like some of Netflix's other deals, subscribers will have to wait for this content. Also, as financial terms are not released, some may question how expensive this deal is for Netflix. Dreamworks will receive a hefty sum, and should benefit greatly from the deal.
More international expansion:
Also announced this week was the next round of international expansion for Netflix, which will enter the Netherlands later this year. Netflix had stated that they would launch a new market in the second half of this year, and they didn't even wait until the second quarter earnings report to announce this expansion. Pricing, the launch date, and other details will be released down the road.
Adding any new market will certainly boost Netflix's international sub base, which stood at 7.14 million (6.33 million paid) at the end of Q1. Netflix's guidance for Q2 was for 7.3 million to 7.9 million international subs (6.7 to 7.2 million paid). You can assume that a new market could send them close to 10 million subs by the end of the year.
However, investors and everyone else should realize that like the move into Scandinavia, this isn't very big, which means that this is not a huge country in terms of population. According to the official population clock of the Netherlands, the country's population is a little under 16.8 million as we speak today. For those in the United States, that is roughly 2.5 million less than the estimated population of the State of Florida from July 2012. Don't forget, a country's population does not equal potential subscribers, as you could have a family of four or five that count as one subscriber. So in the next couple of years, what is realistic? Maybe a couple of million subs from this country, at best. This isn't a country like an Italy, France, or Germany with 60 million to 80 million people. Keep that in mind.
This move will definitely increase contribution losses in the international segment, which will reduce Netflix's overall profitability for the short-term. We've seen this happen with other international markets, and it will happen again. Current estimates call for a profit of 44 cents in the third quarter, and I'm assuming that there might be some costs baked into Q3. Assuming Netflix launches this market in Q4, the larger impact will be on Q4. Given how the company has been profitable the past few quarters, I don't think that they will lose money in any quarter. However, they probably aren't going to make much either, which will certainly attract the bear camp looking to attack Netflix and its ridiculous P/E multiple (more on that later).
Previewing Q2 results:
This is going to be a very interesting quarter for a couple of reasons. First, Netflix launched two original series during the quarter, including the re-launch of Arrested Development. Q2 is also the company's weakest quarter of subscriber additions, as the company has now told us numerous times. This "seasonality" was originally questioned, but given the company's Q2 guidance this year and last, it seems plausible. The third interesting item is that Netflix has stopped providing Domestic DVD segment revenue and subscription guidance. The company is still giving contribution profit guidance for the segment.
With Netflix not providing DVD revenue guidance, you kind of have to estimate the overall numbers yourself. In terms of total streaming, the company guided to $821 million to $843 million. If we try to figure out DVD, let's first look at Q1 DVD revenues of $243 million. Since the DVD business is not a focus, these numbers are coming down. I would expect somewhere between $220 million and $235 million. Add that in, and you get a total of $1.041 billion to $1.078 billion. The company also guided to earnings per share of $0.23 to $0.48. Current analyst estimates call for $1.07 billion in revenues and earnings per share of $0.40, which would be towards the upper end of the range. That would assume that Netflix generates a fair amount of new subscribers from the two new originals (yes, we'll count Arrested Development as an original, even though it was a Fox show), and that they can also control costs enough to increase profitability over Q1 levels.
In my opinion, Q2 as well as the Q3 guidance we will receive from Netflix, should really show us how the competition is faring. Amazon's Prime Instant Video recently hit the 40,000 title milestone. Amazon is showing no signs of going away, and as the company continues to build its content library, you can expect Netflix will see some pressure on that front. Q2 was also the first full quarter for Redbox Instant. While the Redbox Instant streaming library is small at this point, the service's DVD aspect could provide trouble for Netflix. Netflix said that they still will provide DVD numbers in their statements, just not guidance. If the DVD business starts to disappear for Netflix quicker than some think it will, it will hurt Netflix's profitability and cash flow. The DVD business is the more profitable unit, and Netflix still needs to depend on the segment for another couple of years. Netflix's Q2 results will really show how the competition is starting to build (or not).
A stretch on valuation?
I've stated in recent times for both Netflix and Amazon that you really cannot use price to earnings valuation metrics. This is because both companies are sacrificing profits in terms of growth. In Netflix's case, their investment in the international business has pushed them close to losses at times, or into losses at others. When they open a new market, it is expensive, but those losses subside over time. For now, I've argued that any time Netflix reaches some level of profitability, they will enter a new international market. That will depress profitability again for a time. Thus, I like to look at price to sales valuations. So in the table below, I've compared Netflix to Amazon and Apple (NASDAQ:AAPL) on price to sales metrics, while also showing expected revenue growth for this year and next.

*Fiscal year growth numbers. Apple's fiscal year ends in September. Apple's 2013 revenue growth number is based off 53-week figure in prior fiscal year. Actual growth rate is a few percent higher.
So how do you view Netflix when looking at the numbers? Well, don't forget the fact that the DVD business is in decline right now. The actual revenue growth rate, from the core streaming business, is a bit higher right now. Maybe that premium is worth the price of admission, because Netflix will be all about streaming going forward. Netflix is expected to break $5 billion in annual revenues in 2014, and there is the potential that the company could get to $10 billion in the next 5-10 years. Is that growth trajectory worth it? Well, given that this stock has rallied from $53 to $232, I would argue that the market is saying yes at the moment.
An update on short interest:
While sentiment regarding Netflix has certainly changed over the last six to nine months, there still is a fair amount of skepticism. There are those concerned about subscriber growth, those concerned about profitability, those concerned about management, etc. All of those concerns have led to a stock with a decent amount of short interest. The chart below shows Netflix's short interest going back to 2012.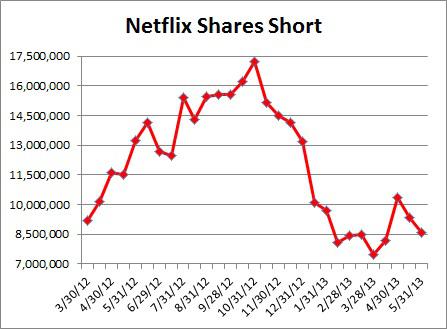 With just over 8.5 million shares short at the end of May, Netflix short interest is about half of what it was at the end of October (17.2 million). Netflix had more than 56.1 million shares outstanding as of March 31st, according to their 10-Q filing. That's about 15.3% of shares short, which still is enough firepower for a decent short squeeze. Additionally, according to Yahoo! Finance, the float in Netflix currently is 49.64 million, meaning about 17.3% of the float is short.
Final Thoughts:
Netflix scored a key original content deal with Dreamworks this week, which will ease some of the concerns regarding the loss of certain Viacom children's shows. Netflix also announced the launch of a new international market. While the Netherlands may be fairly small, it will give Netflix access to more international subscribers, providing the next leg of growth. Netflix's Q2 results will be here in about a month. With the conservative guidance they gave due to their weakest quarter (due to seasonality), there is room for potential upside if their two original shows deliver. The one wrinkle may be profitability guidance going forward with the new international market likely to lower profits for the short-term. Short interest in Netflix is still over 15% of the outstanding share count, and we've seen how short squeezes can really make this stock move. Netflix's valuation can be fair if you realize how fast the streaming business is growing, meaning there is room for upside as Netflix heads towards $5 billion in annual revenues. With Carl Icahn backing the name, decent short interest, and investors looking for growth, it would not surprise me if this stock made a run at its all-time highs if Q2 is decent. Netflix could surpass 40 million worldwide streaming subscribers this year, with more growth to come.
Disclosure: I have no positions in any stocks mentioned, and no plans to initiate any positions within the next 72 hours. I wrote this article myself, and it expresses my own opinions. I am not receiving compensation for it (other than from Seeking Alpha). I have no business relationship with any company whose stock is mentioned in this article.
Additional disclosure: Investors are always reminded that before making any investment, you should do your own proper due diligence on any name directly or indirectly mentioned in this article. Investors should also consider seeking advice from a broker or financial adviser before making any investment decisions. Any material in this article should be considered general information, and not relied on as a formal investment recommendation.