Introduction
When commercial office property investment managers develop a strategy for value creation, job growth is often cited as criteria for selecting markets to target for acquisition. The following is a sample of quotes pulled from SEC filings for public REITS which indicate that these REITs believe job growth in the markets in which they own properties will positively affect their returns.
Parkway Properties (NYSE:PKY) 2012 Annual Report
"All of these investments, representing just under $1 billion in value, are Class A to A+ assets located in high-growth cities throughout the Sunbelt that we expect to have strong net absorption, minimal new supply, and GDP, population and job growth rates that exceed the national average."
Highwoods Properties (NYSE:HIW) 2012 Annual Report
"Economic growth and employment levels in our core markets are and will continue to be important determinative factors in predicting our future operating results."
Brandywine Realty Trust (NYSE:BDN) 2012 10K
"We expect to concentrate our real estate activities in markets where we believe that: There is potential for economic growth, particularly job growth and industry diversification"
Franklin Street Properties (NYSEMKT:FSP) 2012 Annual Report
"We have continued to invest capital in cities such as Houston, Dallas and Denver in which we see significant employment growth coming from businesses in the rapidly-expanding energy industry."
The underlying assumption is that job growth in markets leads to value creation for office properties located in these markets. With so many in the industry making strategic decisions based upon this assumption, a quantitative inquiry into this assumption is warranted.
Private Return Data
In order to determine if job growth is related to office property returns, we need to identify a data set that tracked the historical return on core office properties by market. The most appropriate data set is the NCREIF Property Index, which is a quarterly time series composite total rate of return measure of unlevered investment performance. As of the second quarter of 2012, the NPI tracked $109.2B of office properties across the U.S. The NPI tracks unlevered returns of properties before asset management fees so an investor would have had to pay an asset management fee and likely would have utilized leverage for their equity investment. Adjustments do not need to be made for these factors as the asset management fee would have affected all markets similarly and the use of leverage would have exacerbated the difference in total returns between markets but not changed the relative performance between markets.
Employment Growth
The U.S. Bureau of Labor Statistics (BLS) makes employment data available by market and is accessible on their website. The dataset used for this analysis is the non-seasonally adjusted total non-farm employment by market. The BLS makes historical data available which makes the calculation of cumulative annual employment growth by market possible.
Results
The chart below plots the cumulative annual employment growth by market versus the total annualized return by market between the first quarter of 1998 and the second quarter of 2012. When a regression line is run through this data, the slope of the regression line is not significantly different than zero. In addition, the R-squared value of 0.0067 which indicates that the linear regressing is a poor fit for the data. What this analysis implies is that there is no relationship between job growth and value creation in commercial office properties.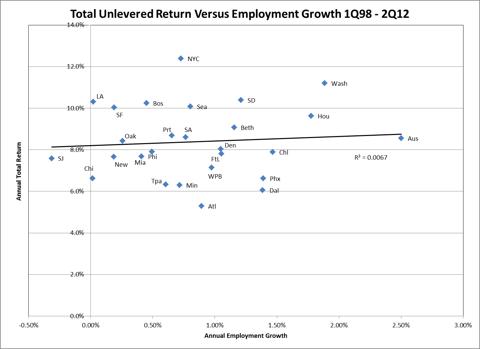 Impact of Poor Strategic Decision Making
Now that it has empirically been shown that job growth does not have an effect on value creation, the question is how does poor strategic decision making affects equity returns. The excerpts from SEC filings from the four public REITs cited indicate that they target properties located in markets that are expected to achieve job growth based upon the assumption that job growth leads to value creation. This is not the case, so when public REITs make strategic decisions based upon this false premise, how does their equity perform? The chart below is a performance chart from StockCharts.com that shows the historical performance of an equity investment in each of the REITs over time, if dividends were used to purchase additional shares of stock. This is the most economically pertinent way to quantify value creation. The chart starts on January 5, 2010 and goes through June 17, 2013 which is approximately 3.5 years of return data.
In addition to the performance of an equity investment in each public REIT, the performance of an investment in the iShares FTSE NAREIT Industrial/Office Capped Index ETF (NYSEARCA:FNIO) is included. This ETF seeks to mirror both the price and yield performance of the FTSE NAREIT Industrial/Office Capped index. This ETF is investable so the performance of the ETF reflects the performance an investor would have achieved had they chosen to invest in this ETF at the beginning of the analysis period.
Results
As shown in the chart above, all four of the public REITs that cited job growth as criteria for targeting markets underperformed the iShares FTSE NAREIT Industrial/Office Capped Index ETF.
The question that should be posed to both public REIT management and private real estate investment managers is, "Why do you continue to make strategic decisions based upon the assumption that job growth leads to value creation for office properties when it can empirically be shown that this is not the case?"
Disclosure: I have no positions in any stocks mentioned, and no plans to initiate any positions within the next 72 hours. I wrote this article myself, and it expresses my own opinions. I am not receiving compensation for it. I have no business relationship with any company whose stock is mentioned in this article.